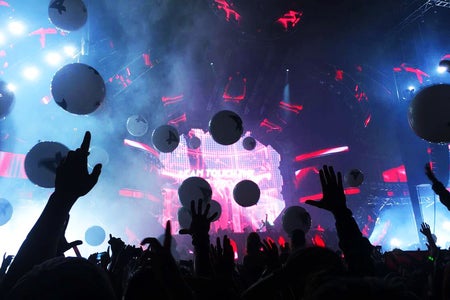 Lindsay Thompson / Her Campus
Playful Rapper Yung Baby Tate Really Is "That Girl"
This is a sponsored feature. All opinions are 100% our own.
"Swifties" and "Arianators" aid the eponymous artists in dominating the airwaves. Rihanna commands her Navy. Nicki's army of fans are called The Barbz. And so on. In a couple years, it's very possible Yung Baby Tate, an up-and-coming Atlanta rapper will have her own cult of fans with their own unique name. I know that I already count myself as one of them.
On Thursday night, Christine Chen, one of UCI's Her Campus Campus Correspondents, and I left campus to check out Tate's talent in person at the intimate OC venue The Observatory. And we prided ourselves on our life choices afterwards because Tate did not disappoint.
Following the mellow and moody tunes of the opener JAMESDAVIS (not to be confused with the comedian, James Davis), Tate came out on stage with a characteristic playful greeting, "Santa Ana, is that you?" I soon realized playfulness and tongue-in-cheek humor are some of Tate's biggest strengths, effectively pumping the mid-size crowd up. Starting her set with her recent "GIRLS" album, Tate clarified that she loved to be wild but only on stage. Fully in charge of her stage presence, Tate even invited the most excitable audience members onstage with her to party for a fabulous three minutes between the albums "GIRLS" and "BOYS".
Despite a minimal stage with a simple neon sign stating "Walk-In's Welcome", Tate maximized the space in a glittery sequined jumpsuit and precarious Barbie-type platform boots. Constantly moving and pantomiming dance moves that matched her lyrics, Tate created a narrative for each performance. For "That Girl", Tate held her hand straight in front of her, miming a mirror and communicating a lovable vanity. When she performed "That Girl", a fan favorite out of a cohesive album that explored her different personas ("Cozy Girl", "Wild Girl" and "Pretty Girl" etc.), the catchy lyrics "baby, I'm a job, you a hobby" produced a significant reaction in the crowd. Beside rapping, Tate sang a couple of her verses at one point before she ended the flex with a playful and defiant, "Didn't I tell you that I was That Girl?"
When Tate switched to her 2018 album "BOYS", I began to notice that Tate was a triple threat. I was more than pleasantly surprised by how Tate supplemented her hilarious lyrics and versatile singing with incredible dancing—a vital difference between listening to an album and experiencing a live performer. Natural and deliberate at the same time, Tate switched in and out of different dance styles easily. Utilizing a lot of show-stopping twerking, Tate also showcased other styles, from jogging in place, to highlight the lyrics "make him want it like a hamster," to tutting. A particular favorite: when Tate pretended to run away from the unwanted suitors in her song "Bugaboo" by faux-shrieking "get away from meeeee."  
Besides her singing, dancing and writing ability, Tate kept me and the crowd fully in the moment with more fun little Tate-isms sprinkled between songs. She called the headliner Leikeli47 one of her best friends and told us little stories of her Atlanta hustle, her exes and her first tour experience. The concert was more than just hearing the songs but experiencing Tate's natural ability to connect to an audience, making you feel special for hearing unique narratives instead of the recycled themes now heard in so many raps.
Before ending her set, Tate invited the audience into her personal world, telling us to follow her on Instagram or else she had to call her ex according to "a bet with a friend." Clever self-promotion indeed.
Many rappers claim to hustle the hardest but with Tate's self-produced albums full of entertaining narratives (about more than just hustling too), Tate has the talent to rise through the ranks. With a fierce work ethic and the talent to match, Young Baby Tate is "That Girl", you should be keeping your eyes on.