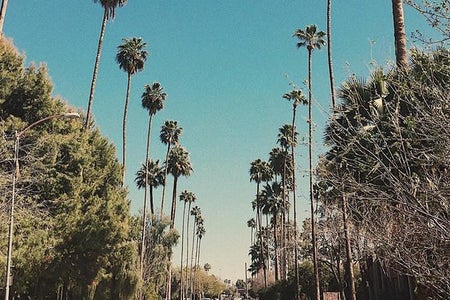 Tessa Pesicka / Her Campus
One UCI Girl's Spring Break Cafe-Hopping Experience
I spent spring break driving up the California coast to Portland on an 11-day road trip. Being a college student, most of my sightseeing was free or nearly free--from taking time-lapses at Fort Bragg's Glass Beach to eating banh mi in front of the Palace of Fine Arts in San Francisco and debating the style of their columns. But one thing that I wanted to splurge on and indulge my inner bougie hipster with were the pricey coffee shops of the Pacific Northwest.
First stop: 7Leaves of Irvine, CA
Technically, the first cafe that I hit up on our roadtrip occurred twenty minutes into our trip. Early on Day 1, we rose, packed our stuff in my car and made a pit stop at my newly-favorite milk tea joint in Irvine: 7Leaves. I have only recently become a 7Leaves believer. Creamy, nutty flavors make up my usual order: Oolong Milk Tea which had more than enough caffeine to keep me going until we reached our first real stop.
Second stop: 11th Hour Coffee of Santa Cruz, CA
The first coffee shop that we tried was actually on our last day in Santa Cruz on the way to San Francisco. 11th Hour was exactly what you might expect from Santa Cruz today: beautiful, hipster-y interior design with exposed lighting, succulents and thick wood tables galore. A pretty and somewhat-stereotypical UCSC student with a nose ring and a Public Housing shirt took our orders, which racked up a hefty $13 order for a latte and--what else--avocado toast. The cafe boasted recycled materials and ethical coffee roasting. A touch that I found funny was their choice of hard spaghetti noodles instead of wooden coffee stirrers. I'll probably check out 11th Hour again the next time that I'm in SC.
Third stop: Wooden Spoon of San Francisco, CA
Brunch here was amazing. Wooden Spoon ended up draining my wallet but it was a nice bit of luxury before we hit the road again for a nearly nine-hours of driving to make it over the border edge to southern Oregon. San Francisco is an incredibly expensive city (with serious issues of homelessness) and I definitely felt it most at WS. But fortunately, our portions were large and I enjoyed dissecting how the kitchen probably prepared our breakfasts. The decor here was also lovely with white marble and old-style wood trays decorating the wall.
Fourth stop: Hither of Ashland, OR
I loved the experience at Hither. The pretty owner sporting a chic pixie cut greeted me on a mostly empty weekday morning, convincing me of the importance of locally grown and sourced food. Cringey as it sounds, I could actually taste the difference. Those Oregon eggs were loved and nurtured before becoming part of my breakfast. I'm hoping to recreate their spiced potato and sausage bowl at home. My goo-goo hipstah was slowly growing stronger with the sudden need to start an ASMR channel stirring almond milk into espresso with every cafe visit.
Fifth stop: Bushel and Peck Bakeshop of Portland, OR
When we finally made it to our destination in Portland, I scoured the Internet for the Next Big Thing in terms of coffee, forgetting that Stumptown's flagship store was in downtown Portland (which we ended up eating across in a ramen place and I told myself that I'd check out next time).
Instead, I looked around the stylish but clearly gentrified Southeast neighborhood that our AirBNB was in and tried a lovely cafe called Bushel and Peck Bakeshop, known for their pastries. The interior felt a lot more homey and lacked a little in the gleaming interior design found in Hither, Wooden Spoon and 11th House. One thing I noticed is how all the cups and cutlery were made from recycled materials and how all pastries were emphasized to have been made from local ingredients and sources from scratch.
On the way back down, we stayed out of civilization in a questionable off-the-land community in the forest of Gasquet. Hurrying our way back to Irvine in time for spring quarter, we didn't make as many stops for bougie coffee, not counting Starbucks to feed our caffeine fix. So do I recommend trying out something similar to my cafe-hopping quest? Yes, on the conditions that you like pretty things, you are okay with shelling out big bucks for the most game-changing breakfast bowl. Also, liking espresso no matter where it's from definitely helps.