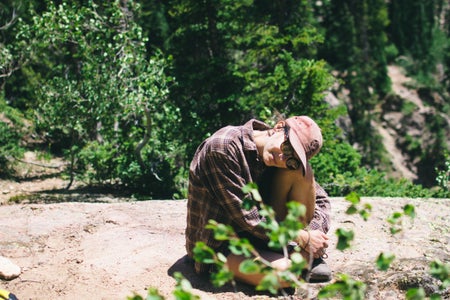 Cameron Smith / Her Campus
The NorCal Influence at UC Irvine
I go to college with an underlying assumption, a bias that isn't challenged by professors or my studies. Interacting with my fellow Anteaters, I carry the unconscious belief that all Californians at UC Irvine...are from Southern California. 
It's easy for me to remember my friends from Las Vegas, China or even Tajikistan (hi, Nigina!) Despite UC Irvine being one of the top public universities in the US, I somehow forget that people from all over the state of California come here. But sometimes in the middle of a conversation, a NorCal friend will be throw out a "hella" and the icy wind of the Bay will come in to knock me away from this unexpected vocabulary.
I honestly forget about the different cultures between Southern and Northern California until I'm in the middle of it or a friend points it out to me. It's not that I think SoCal is better than NorCal. NorCal does a lot of things right that we could learn from, such as their zeal with composting and local gardens. It's possible that I even like NorCal beaches more than SoCal. Their eeriness and bleached wood provide a lot of cinematic potential to my imagination. And many of my NorCal friends have a real knowledge of nature, easily knowing different types of trees and birds. I suppose I could challenge them to list all of LA's freeways? 
From my perspective, NorCal people and culture share a lot more in common with the rest of the Pacific Northwest than with the rest of California. The imagery of NorCal strikes up associations of Twilight-esque fog, dark lush trees and cozy flannel wear. In my own trip to Portland this past spring up through Northern California, my Socal-bred homeostasis wasn't prepared for the chill. I found myself buying what I considered a winter coat in spring during the trip. My SoCal cluelessness with weather jumped out when I was forced to try a number of different thrift stores, looking for an affordable waterproof jacket that I knew I wasn't likely to use again here in Irvine. I found my winner in a yellow Patagonia jacket that lent me strong Winnie the Pooh vibes.
When asked about the NorCal lifestyle, Film and Media Studies major, Thoren Jorgensen '20 of Placerville, tells me that "There's more of this sense of knowing everyone in your hometown. You also don't really go far to do things like how, in LA you [might] drive to different sub-cities for activities. In NorCal there's just your town or nature."
I found this interesting because well, it's quite apparent when you go to NorCal. Even my friends from San Francisco seemed to stick closely between there and Daly City. Everything else is a major excursion. Growing up for me, a weekend might have included time in Santa Monica, downtown, Pasadena or Arcadia. On Saturdays, I would spend mornings in Temple City at art class before being carpooled to USC's campus for more art class (side note: I was indeed that art nerd). Even in Orange County, which has relatively less things to do, there is still the common practice of driving over to Santa Ana, Newport or Costa Mesa to see what's happening.
Being a commuter in LA County is such a norm that people don't really question it. They expect it and they overemphasize it. In more eco-conscious NorCal, I think there is a greater effort to sustain the environment as so many people grow up in it. Thoren added, "People will just kind of go off to the mountains or rivers and spend their whole day there."
Other NorCal natives also consistently highlighted to me that SoCal was more hectic and there is more of a push to be ambitious towards your career. Arguably, this could be because we are all centered here in college but some NorCal friends insisted that career interest prevailed more here. Elizabeth Carlisle, a Public Health major said, "[There are] very casual relationships in Southern California and a lack of emotional commitment while Northern California values [are] possibly wanting to have that really romantic style pack mentality." 
Shaun Chatrath, another Film and Media Studies major, offers another view: "SoCal is more motivating at times. Northern California is almost too positive to the point where most of my time is spent partying and stuff."
While these differences aren't something that I definitively have much experience or knowledge of but from an outside perspective, I can see them being possibly true due to location and culture. The Southern California stereotypes of being beachy babes may align with the need for status symbols through a busy career. The secluded nature of NorCal might lend itself well towards El's argument.
After this foray in sociology research, my NorCal friends start to stand out more distinctly in the UC Irvine student population to me. But at the end of the day, us Californians will always be united by our forest fires, love of fusion food and wack traffic.