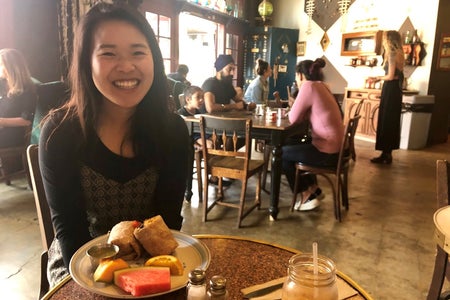 Her Campus at UCI Sits Down With Our Own: Senior Christine Chen
With the 2018-2019 school year wrapping up in just another five weeks, seniors across UCI are getting ready for graduation. At Her Campus at UCI, we have our own senior that we are saying a "see you later" to: Christine Chen. While enjoying a hefty breakfast burrito a la Leslie Knope-style at Costa Mesa's artsy Gypsy Den cafe, Christine opened up about her past four years--from what she thought she was going to study to what she'll miss most at UCI. Coming full circle as the interviewing subject, Christine has conducted her own interviews over her time in Her Campus, speaking with a variety of UCI folks from an alumna of the SCNO club organization to a former Soulstice performer whose band performs around L.A.
Being a Business Economics major with two minors in Stats and Digital Information Systems, Christine might not seem like the expected member of Her Campus where English majors and Film and Media Studies majors like myself are regularly found. Asking her about this, Christine cited a longtime interest in other people and their disciplines. Christine said, "One thing that remains persistent is my fascination in the people here and what their interests are. It still excites me [in my final year]--what my professors are up to and my peers too. UCI hasn't lost that sense of intrigue despite the different technologies, lectures and new experiences that I've had this year."
She elaborated further with a story of going to office hours for a statistics class where another student asked her why she was even there as a Business Economics major. "That didn't sit right with me. Teams benefit from professionals with skills and experiences from a variety of disciplines," she said. As a Film and Media Studies major with a Business minor that often surprises people, I shared with Christine over the belief of having many and multiple interests.
Back in high school, Christine realized her appreciation for all-women organizations as a member of the Miss Temple City Ambassador Program. Coming into UCI, she continued to look for an organization that was all-women. In the end, it was a Facebook post that led her to Her Campus. "There was incident where I found 20 bucks on the ground freshman year and I wrote a long Facebook post and it got a lot of comments," she told me, laughing. "It was the first time I had written out my thoughts and it made me realize that I liked sharing my thoughts and reflecting on experiences. I started looking for clubs that might have something involving writing and I contacted the Campus Correspondent at the time, Manisha."
Since that first entry into writing, Christine has gotten involved in a number of other campus involvements. But she didn't always know what she liked, revealing, "I feel different because I feel more self-assured. Coming in as a freshman, it was hard to make these big decisions for myself. I had to turn to my parents a lot of the time about what I wanted to studied, what job I wanted to apply to. Now I have a better sense of self." A few of Christine's UCI experiences include being an intern at the SSARC (Social Sciences Academic Resource Center), conducting award-winning independent research that she will present at the UROP Symposium later this month and making longtime friends through the Hiking Club.
However, Christine's place at UCI didn't happen overnight. In between bites of her burrito, Christine steadily reflected. "My second year was hard in the sense that I felt like I didn't know what I wanted to do [in terms of career]. I took an accounting class and I ran into a dead end. I realized I didn't want to do accounting and it was hard telling my dad who had recommended it."
Since then, Christine has developed a stronger vision for what she plans post-grad. "I have a better sense of what type of work I want to do." Christine said, "The dream is...pursuing a graduate degree in Economics and doing research in market design, looking into human purchase behavior. It's becoming a really prevalent issue with big data and the monetization of it." She posed an important question: "It's great for the companies but what about the consumers?"
In talking about the past and each individual year, Christine said, "I wouldn't say that I disliked any specific year but I would say that I've really enjoyed this year. Although I loved my first year--that comes really close--in this fourth year, I realized I'm doing things that I wouldn't have expected of myself--being in leadership positions, like being the CC [for Her Campus] for this year. It's nice feeling like a part of community and I feel like senior year has really shown me what the community is. I feel like I've found my place at UCI this fourth year."
The support of many people helped Christine find that community. She gave shout-outs to her faculty advisors, Dr. Ying-Ying Lee and Dr. Damon Clark. She remarked that her mentor championed her as well as her close friend and housemate. Realizing so many people had shaped her, Christine found it hard to name only a few people but she made sure to include our other Campus Correspondent, Elizabeth Greenberg. "Working with Liz this year has been so fun and maybe I'm biased in saying this but, I don't think it would've been as fun with someone else."
As more people came into Gypsy Den in search of brunch, I asked Christine about her favorite memory at UCI. "My first year, I was just so starstruck by my professors' brilliance that I'd invite them out to coffee to talk at the end of quarter. Talking about math logic and proofs, a lot of things went over my head," she said, laughing. "This question is a hard one. There are so many...the ones that I look upon fondly are the small ones--the small daily encounters. The people that I run onto Ring Road...my freshman year roommate. I will definitely miss the people the most."
Being a relatively new student myself, I had to ask Christine what she thought all Anteaters should try or do once. "It sounds super cliche but I think UCI students should do something they wouldn't expect themselves to do. Something out of your comfort zone. That's open to interpretation...that could be joining a club or taking a class out of your discipline, interacting with students that come from completely different backgrounds. It could be studying abroad and going to a country where people speak a completely different language."
Hearing about all of Christine's growth and experience over four years, I came away from our brunch very inspired and touched to hear how UCI shaped her. Although I won't experience a total four years at UCI, I felt more motivated to also step out of comfort zone and pursue my passions. Every day at UCI, I realize the endless amount of opportunities we're given. Christine affirmed something significant for me and all college students, "It's the best time to find out what you like and you don't like. To find people that you share similar values with. To find that thing that really excites you."