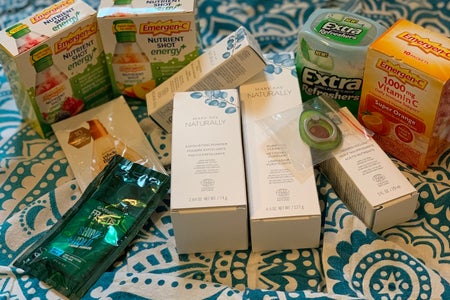 Why We're Falling in Love with Our Fall Survival Kit
This is a sponsored feature. All opinions are 100% our own.
Her Campus gifted us a fabulous fall survival kit this year, and we're so excited to share it!
Her Campus: Which product was your favorite?
Kaylee Giacomini: In the fall and winter I always end up getting sick a few times, so the Emergen-C Super Orange was super helpful. I've been a fan of the fizzy drink for a while and am so excited to have it in bulk now! 
HC: Which product do you find most useful?
KG: Definitely the Extra Gum or the Emergen-C Nutrient Shot Energy+. I'm constantly chewing gum and I always like that extra jolt of caffeine in the morning. 
HC: Which products will amp up your skincare routine the most?
KG: Mary Kay sent us an array of products like the Exfoliating powder, Nourishing Oil, Moisturizing Stick, and Purifying Cleanser. The Mary Kay of the past is no more, they have officially gone the natural route and is saving my skin of blemishes. 
HC: Which products will leave you with fabulous hair?
KG: Garnier sent us some fabulous products like their Whole Blends 10 in 1 Miracle Nectar Leave-In Serum and Fructis Men's Liquid Stylers. Although I don't have much use for the Liquid Stylers, I passed them on to some guy friends who love the product. 
HC: Which products do you hope to see in the future?
KG: I'd love to get some more makeup in the future! I remember in the past HC sent us a lot of Buxom products and I really liked those and some mascara would be especially useful. 
Thanks for the survival kit, Her Campus!