As the fall and winter months are slowly approaching, your skin may be a bit more sensitive because of the change from humid, hot weather, to drier, colder temperatures. It's important to look after your skin carefully during these upcoming months since your skin is extremely fragile and may be prone to itchiness, dryness or even redness. Here are five skincare products that can ease that transition from summer to fall, and help keep your skin glowy all year round.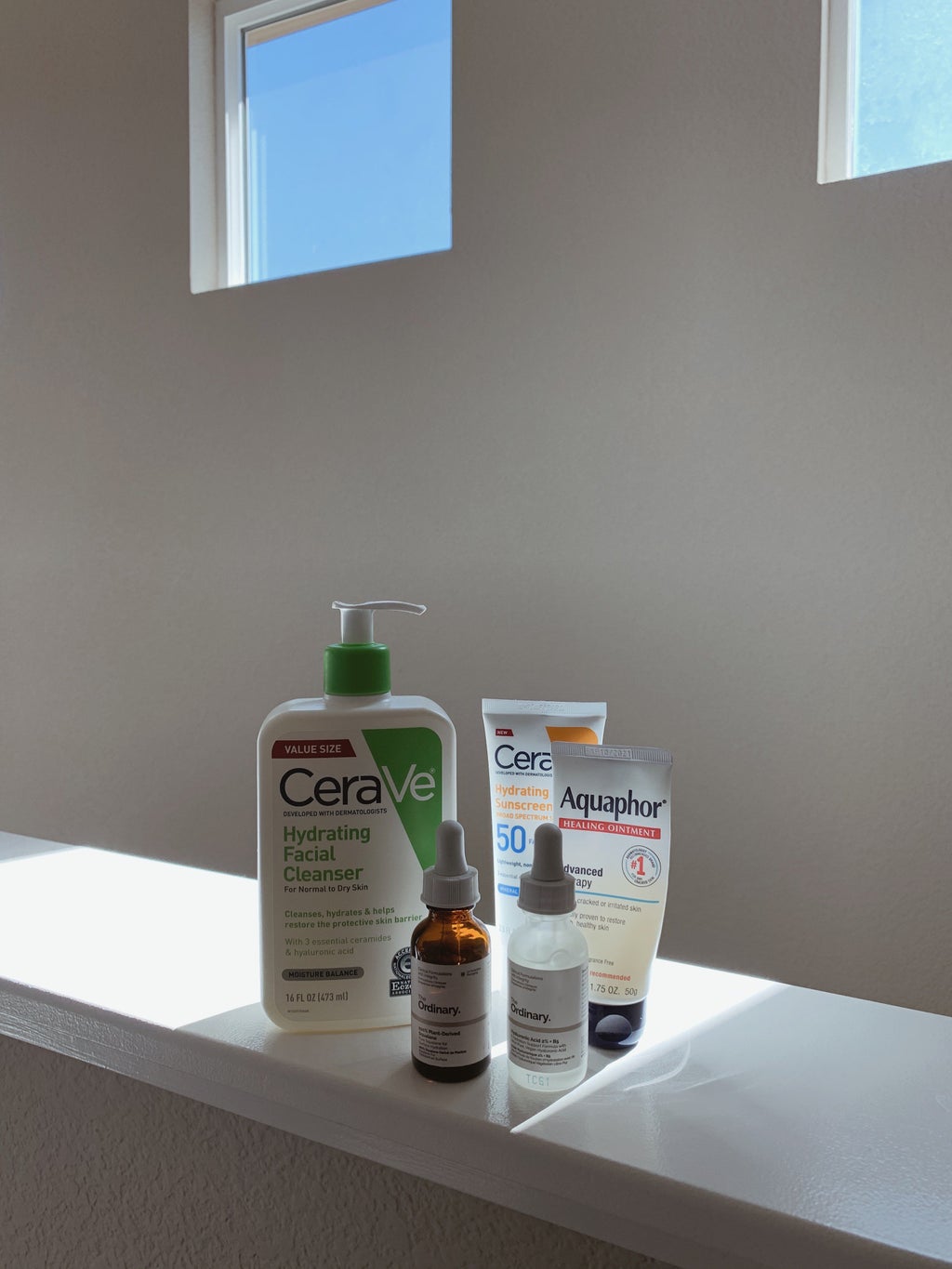 1. Cleanser
It's especially important to use specifically hydrating cleansers, as the colder weather can leave your skin feeling a little dull. Using a cleanser at the end of day will cleanse your skin of build-up and keep it hydrated throughout the night! The Vanicream Gentle Facial Cleanser is an affordable and hydrating cleanser that works well for all skin types. This cleanser works to maintain moisture and deep clean your skin. This is an extremely gentle, hydrating cleanser that's essential for these upcoming months.
2. Serums
Serums that target moisture are perfect during these months, as many of them help your skin look as glowy as possible while giving your skin the extra nutrients it needs. Hyaluronic Acid, a common active ingredient in skincare, helps promote hydration while minimizing the look of pores. The Ordinary's Hyaluronic Acid 2% + B% serum is one of my favorite affordable serums. It's helped retain moisture in the dry areas of my skin, all while making my skin extremely radiant.
3. Moisturizer
Moisturizer is essential year-round but is even more important during the colder months. The moisturizer does wonders for your skin and helps manage extreme cases of dry skin as well as an evening out oily skin. Moisturizer not only maintains surface hydration but protects your skin from any kind of breakouts or redness. An affordable drugstore moisturizer is the CeraVe moisturizing lotion. This complements multiple skin types and leaves your skin feeling smooth as ever.
4. Sunscreen
As bizarre as it may sound, sunscreen is still necessary during colder months. Although the sun may not be visible, UV rays are still present behind all those clouds, causing your skin to age faster and encouraging sunspots. A drugstore, budget-friendly sunscreen option is the CeraVe SPF 30 sunscreen. It works great to protect your skin from any kind of UV damage. A sunscreen I recommend specifically for those with deeper complexions would be the First Aid Beauty Weightless Liquid Mineral SPF 30 Sunscreen. It is a bit more pricey but doesn't leave a white cast on darker skin tones like many other sunscreens.
5. Lip Balm
Chapped lips during the fall and winter months are much more frequent since the air is much dryer. Lip balm is great for creating a protective layer over your lips and preventing them from being cracked and dry. My favorite lip balm is the Aquaphor Immediate Relief Lip Repair Balm. This is perfect for those with more sensitive lips, as it's made specifically for those who may have severely dry lips. It's even fragrance-free!
Try out any of these recommendations? Tag us on Instagram or Twitter @HerCampusSJSU!