Black Women Who Rock at SCAD Atlanta: Meet Raymetta Johnson-Bracey
Hello Beautiful! I'm back again with another interview for the "Black Women Who Rock at SCAD Series." Today's guest is Raymetta Johnson- Bracey, Coordinator to the Dean of Student Success. Follow along as we dive into her life as a mother, an advocate for student success, and a lover of community service. 
Serica:  Hi! Thank you so much for meeting with me. Let's jump right into our first question. What drew you to work for SCAD?
Raymetta: Well, I took a break before I had my son, Richard Johnson, who is 19 now. I applied for SCAD, went in to SCAD, and was given the position. 
                                                                                    Richard Johnson, Image Courtesy of Raymetta Johnson-Bracey 
Serica: Was it super spontaneous or did you have plans of working here before? 
Raymetta: I don't know if it was spontaneous, but you know, I had some money in savings, so I was able to take a little time off. I applied to several different places and when SCAD called me…. 
Serica: That's great! What do you love most about your job? 
Raymetta: Working with the students. I supervise work-study students and since I don't get to teach in the classroom, to me, it's another way of teaching students. I have about 7 work study students and I really enjoy seeing the change from becoming a student to a professional. 
Serica: Nice... What are some of your aspirations you would like to achieve outside of your duties at SCAD?
Raymetta: So, now that I am an empty nester, I may go back to school. I don't really have a five year plan right now. I have to be honest. It's kind of open. Now that my son has graduated from college and my daughter is 25, having an empty nest is wonderful. The opportunities are endless now. 
                                                                                                    Image Courtesy of Raymetta Johnson-Bracey 
Serica: That's a great way of thinking. 
Raymetta: Now, I don't have to worry about getting someone off to school, making lunch, or dinner ….*laughs.
Serica:*laughs exactly.
Raymetta: Recently, I have been able to focus on myself and think about maybe volunteering more. I used to volunteer for Foster Care Support Foundation. The organization worked with adoption and there were two parts to my job. One part was to work in the kids room. Parents came in to the shop to get clothing for their adopted children and I got to work with the children in the nursery. It was so much fun! The second part of my job was actually helping parents select the clothing and items like, strollers, baby cribs, and bicycles. I actually got a group of people to volunteer for the organization because I was so passionate about it. 
Serica: Speaking of volunteering, is that your favorite organization that you've volunteered for so far?
Raymetta: Yes! Lately, I haven't volunteered, but to me it incorporates some of the things here like SCAD Fashion. 
Serica: Absolutely. What are some of your goals that you would like to achieve while at SCAD?
Raymetta: I would like to move into a senior role. I haven't achieved that yet. So, whether that's becoming a manager or adding senior to the title, I'd like to move into a senior position. 
Serica: Awesome! How do you see SCAD evolving over the next four years?
Raymetta: Wow. I mean I can only speak for what I think. I don't know 100% because that's going to be up to the President and Vice President, but honestly, I see them opening up another campus. I'm not sure where, but maybe California.
Serica: *Phew that would be nice…
Raymetta: Yea, maybe New York. You never know. SCAD is continuously growing. So, I personally don't know, but I look forward to being a part of it. 
Serica: Me too! What is one piece of advice you would give to students at SCAD?
Raymetta: Career and Alumni Success. A lot of students don't go to Career and Alumni Success until their senior year and of course it's not too late. However, I recommend going to career and alumni success in your freshman year. I also as part of professional development for students who work here at the front desk, require them to go to career and alumni success every quarter. What you learn in the classroom as well as what you learn from career and alumni success is important. For example, if you have an interview coming up, they'll do a mock interview with you. They also help you find internships. The more you are front facing with career and alumni success, the more they'll be able to help. If they know that there is a position that would potentially be a good fit for you, they will reach out to you. 
Serica: I feel like that should be a requirement. As an Interior Design student, we have a lot of requirements to complete outside of our projects. 
Raymetta: I worked on your accreditation at one point.
Serica: You did? 
Raymetta: Yes, because I've been here for 18 years and my thing is, a lot of times students think that career and alumni success is not as important as what you have to do in the classroom, but it is. 
Serica: Yes, but I think it's really hard to find time when we have so many things to do. We have to complete our projects and pass our classes. I think that's the mentality of most students. If I have a project due, it's just difficult. 
Raymetta: Yea and I understand you have 10 weeks, but in those 10 weeks you have 30 minutes to come in. Maybe that means taking a 30 minute break instead of an hour. You have to find 30 minutes to dedicate to it because they work hand in hand.
Serica: Right. Right.. 
Raymetta: Recieving additional support and resources that you pay for should be a priority.
Serica: Yes, I completely agree. I think it should be a requirement. They don't enforce it enough in our program. 
Raymetta: Right, but you also have to think about it as adulthood.
Serica: Yes, that's true. 
Raymetta: You have to say, "What is my end goal?" Your end goal is to graduate and to be employed. So, you know that after these projects end, your goal is to be employed. That has to be on your to do list. You're not just going to college to do projects and get an A. You have to think about your end goal. That's what I enforce with the students. However, students are adults and they get to make decisions. You choose your college and you choose your major. You have to choose to go to career and alumni success. 
Serica: *laughs Yes, I struggle with that.
Raymetta:*laughs I know that you have a job. You work at SCADFit and you're going to class. You're not working everyday right?
Serica: No. 
Raymetta: Okay so you dedicate time to go to SCADFit and you earn money, that's your reward.  Just like you get that reward from going to SCADFit, you have to do the same thing with career and alumni success.
Serica: Gotcha.. You're speaking to me *laughs 
Raymetta: *laughs yes, I'm an advocate for it. 
Serica: Thank you. We need that. 
Raymetta: I also worked in career and alumni success. In my time working at SCAD, I've had a few different jobs and the skills that I learned in that department, I share with students.
Serica: That's awesome. How would your 10 year old self respond to what you do today?
Raymetta: My 10 year old self would be really excited because I always thought I would be an educator. I just didn't know in what aspect. I thought I would be in front of the classroom teaching. As I reflect back on my life, I realize that as a child, I actually played being a teacher. So, my 10 year old self would say, "wow, you're doing what you thought you'd always do, but in a different aspect." I get to train students, faculty, and staff. In my span of work, I've had the opportunity to be an educator. 
Serica: Wow… 
Raymetta: Yes, it's exciting to me. 
Serica: What's the career highlight you're most proud of? 
Raymetta: I have to think for a minute…. Most people wouldn't see this, but I almost had to let a student go. Fortunately, I was able to work through the situation with the student. I won't say exactly what the situation was, but I was able to work through it. In the end, they learned the importance of communication. In the real world, if you're "no call, no show," you can be let go. Once we had a verbal meeting about the issue, the student flourished after. I think that was the best highlight for me. As a supervisor, I've never had to do that. I don't think students understand that supervisors get nervous too. I was nervous about it, but the end result was really positive. The student began to understand work ethic. When I interview students, and look at their resume, I'm looking to see what kind of work ethic they have. To me, "no call, no show" is not showing respect for the institution. It's simple to send an email or text message. If an emergency happens, you should be able to let someone else know to get in contact with your supervisor if necessary. Calling in, to me, is one of simplest things.
Serica: Oh yea. I definitely agree. I think communication makes a big difference. Regardless of what's going on, if you let someone know, it could change the situation. 
Raymetta: Right. For me as a supervisor, there aren't many deal breakers, but not calling in, is one of my deal breakers. 
Serica: *laughs as it should be. What is your definition of success? 
Raymetta: For a student or for myself?  
Serica: for yourself. 
Raymetta: To me, if you're kind. 
Serica: I love it! 
Raymetta: Yes!  I mean honestly .. You're successful when you're kind. No one can change your character. No matter where you work or what you do, if you are not kind, you won't be successful. 
Serica: Wow, I'm so glad I picked you.
Raymetta: *laughs it's the truth. 
Serica: You know what, I live by that. My mom always told me, "No matter what, always be a kind person. No matter how people treat you or what you go through, always show up and be kind."
Raymetta: Exactly…
Serica: I believe that… Okay so the last question is, if you could do anything else besides what you're doing now, what would you do?
Raymetta: I think I would…. Now, some people may think this is a canned response, but honestly I'd work for Oprah Winfrey. *laughs 
Serica: *laughs No, whaaaat.. Why would I think that? 
Raymetta: *laughs because it's Black History Month. 
Serica:*laughs nooooo.. I would freeze if I was able to meet her. 
Raymetta: You know I've actually gotten to meet her. 
Serica: Have you? Oh my.. 
Raymetta: Yes. I just feel like you would be able to learn so much.
Serica: Yes, I agree. She has so much wisdom and she's been through a lot in her life. Those are the type of people I like to be around. I'm like, "teach me something!" 
Raymetta: *laughs yes… I'm like, "Can I just learn a tid bit of what you know?"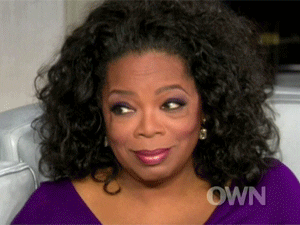 Serica:* laughs wow… that's amazing. 
Raymetta: Yes, that would be a dream job, but then I wouldn't get to take the students with me. They're like my children. Since I have two children, a couple of them even call me mom. Especially international students. A lot of them are away from their families.
Serica: I can't imagine.. It's hard for me and I don't live that far away.
Raymetta: How far are you?
Serica: Like 2 1/2 hours away. I'm originally from Augusta. 
Raymetta: Okay.. How often do you go home? 
Serica: *laughs I don't go home. 
Raymetta: Why?
Serica: Because if I go home, I won't get any work done. 
Raymetta:  I got it. So, you go during the break? 
Serica: Yes. 
Raymetta: Got it. That's one of the things that I love about my job. I get to know the students that work upfront and I'm very protective of them. All of the directors know that I'm always making sure that my students are doing exactly what they're supposed to be doing at the front desk so they don't have outside professionals saying, "you need to do this and this." 
Serica: Right. 
Raymetta: That's one thing that I've learned as a supervisor. You have to make sure the people who are working for you are doing their main tasks and nothing more. I don't want them to have 30 supervisors.
Serica: Got it. This was such a lovely interview. Thank you so much for meeting with me. 
Raymetta: You're welcome… and I have two or three more people that you could interview. 
Serica: That would be awesome! 
As the interview came to a close, Raymetta shared a few other amazing women who turned out to be great intwerviees. I really enjoyed learning more about Raymetta's story. Here's a quick summary of what we discussed: 
1. You don't have to have it all figured out. Keep an open mind. 
2. USE Student Success; the resources they provide are just as important as your classwork.
3. Determine your end goal. 
4. Participate in community service; it's always nice to share your light.
5. No matter what, ALWAYS BE KIND. 
To Raymetta Johnson- Bracey, thank you so much for your time. I really enjoyed interviewing you. I appreciate your kind, warm, and motherly spirit. We'll talk again soon!