Pet adoptions are skyrocketing with families staying home more during the COVID-19 pandemic which is decreasing the amount of animals that are being put down due to lack of interest in adoption.
More and more we are seeing our family and friends adopting furry friends through our social media feeds. Pictures of these cats, dogs, rabbits and other animals bring joy to not only the adopting family, but their friends who may not be able to adopt one of their own.
Families and caregivers are finding themselves spending more time at home and it can sometimes get lonely, especially with the recent spike in COVID-19 cases. These animals also tend to bring a sense of comfort when we've had a year like this one.
Caelan Harrington, a first-year social sciences student at McMaster University, already had a two-year-old family cat, Crackie. The Harrington's felt Crackie was getting lonely with no other cats to play with so they adopted another tabby cat, a four-week-old kitten they named Olympia.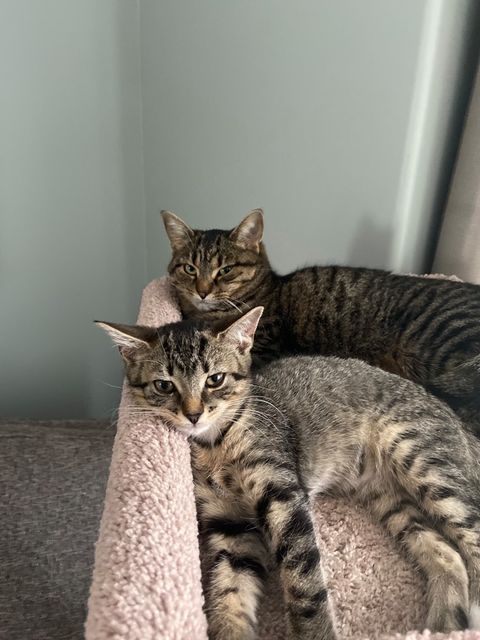 Photo by Caelan Harrington
The Harrington family's cats, Crackie, and their new addition, Olympia. (Caelan Harrington)
"It was actually quite difficult to find a kitten to adopt during this time," said Harrington. 
"Eventually we came across the Brantford North End Cat Rescue. I reached out to their organization and began talking to the wonderful woman behind it all, Susan! My mom and I had the pleasure of going to meet Olympia when she was four-weeks old, we finally brought her home when she was about eight weeks old."
One of the worries workers have at adoption centers is that people will go back to their regular routines when the pandemic is over so what will happen to the animals?
For Mackenzie Smith, a second-year psychology neuroscience and behaviour student at McMaster University, her family used to have two cats but one passed away near the beginning of the pandemic. 
Her family also decided to adopt another one to accompany her seven-year-old tortoiseshell cat, Spookies. They recently adopted Kiki from Niveah's Charity of West Lincoln Cat Rescue. 
Photo by Mackenzie Smith
The Smith family's new cat, Kiki. (Mackenzie Smith)
Smith moved back home when the pandemic hit so that allowed her to be around when they got their new kitten. Her parents usually work from home so they've also gotten to spend more time with her and their other cat. 
"I think it's wonderful that there's been an increase in pet ownership globally," said Smith.
"I just really hope people are adopting because there are so many wonderful kittens looking for homes. I think with a lot of loneliness in the world right now, as single people who were living alone before COVID-19 now find themselves stuck at home, getting a new pet is a great option." 
For others, they've found that getting their new pets have allowed them to connect with other new pet owners. 
The Boudreau family in Ottawa adopted an Australian Shepherd puppy named Juno. 
Katherine Boudreau, a second-year creative industries student at Ryerson University, said her friend texted her letting her know that there were dogs at a farm that were going to release them and let them be strays. 
The Boudreau's already have an 11-year old cat named Oreo. 
"Not having to go to Toronto for school made it easier since my brother goes to school so I spend my whole day with the dog," said Boudreau. 
All the dogs in her neighbourhood are "quarantine puppies" so she says they all talk about how much easier it is to raise dogs during the pandemic.
If you are looking to adopt a pet during this time, please remember to adopt and don't shop!