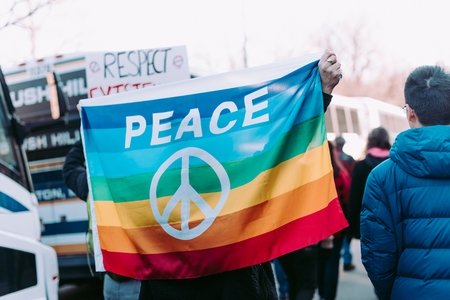 Opinion: Rallies Against Abortion Suck But They Don't Warrant Violence
We've all been there; en route to your favourite coffee shop when suddenly you're struck by a massive poster of an aborted fetus blocking your path.
For most, the gory image generates discomfort, disgust or debate about the right to abortion. For one woman, the images used by opponents of abortion triggered a violent confrontation in the Toronto core.
On Oct. 1, a protestor associated with the group Toronto Against Abortion was allegedly assaulted by Gabby Skwarko, a member of the Ryerson Reproductive Justice Collective. In a YouTube video, Skwarko is shown kicking posters of aborted fetuses to the ground, throwing a metal clamp and grabbing the protester by her backpack and pushing her repeatedly.
This event came only a few days after a Toronto man roundhouse-kicked on an abortion opponent protesting on Bloor Street.
While I support a woman's right to choose, violence of this nature is brutish and simplistic. Despite being the first to often roll my eyes at a group of abortion opponents publicly protesting, it is unacceptable to react to a person exercising their right to free speech with brute force.
In Canada, we are lucky to have the Charter of Rights and Freedoms which cites freedom of speech as one of the four fundamental freedoms – along with religion, association, and peaceful assembly.
Believe it or not, this right to free speech applies even to the abortion opponents who shove gory pamphlets at you on the sidewalk. It does not, however, apply to the use of physical violence against another person.
Anyone claiming that the use of violence is warranted against groups protesting abortion is not of a rational mind. Just because it offends you does not mean it doesn't have a right to be there.
According to James Turk, protests against abortion, however graphic, breach absolutely no limits of free speech. Turk is a journalism professor at Ryerson University and the creator of the school's Centre for Free Expression.
Turk, who thinks the posters are "disgusting," said just because he does not want to look at them does not give him the right to stop anyone else from doing so. "Everyone is in favour of freedom of expression, except for expression that they hate," he said.
In order for Canadian democracy to succeed, all views, no matter how controversial, must be protected; so long as they do not cross a line into hate speech.
Hate speech has been a recent hot topic on campuses across Ontario after the Ford government's demand for increased free speech on campus, which would allow a platform for xenophobic, racist protests by proxy. Rallies against abortion, on the other hand, do not constitute hate speech.
People can continue to complain that these displays are disgusting, distracting and potentially dangerous. Nonetheless, in the eyes of the law, there is nothing wrong. As obscene as the images are, they are not illegal to show in public. The illegality only appears once violence erupts.
Those who oppose the views of public protests, like rallies against abortion, must find other, more peaceful ways to express their distaste. "They have every right to express their views, they just don't have the legal right – and I would argue the moral right – to shut down their freedom of expression," Turk said.
Although it may be challenging to engage in civil debate or write letters about the things we may not agree with, it's the only way to keep democracy in Canada alive and well.
So the next time you feel the urge to attack a protester in the street, you may want to find another outlet for that anger – try taking up kickboxing instead.