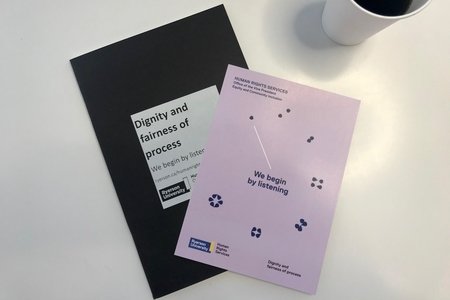 My Experience at Ryerson's Women's Writing Circle
A recent goal of mine is to treat myself at least once a day. Treating myself doesn't necessarily mean lavishly spending money on expensive clothes and massages, like Tom and Donna from Parks and Recreation. It just can't involve something I need to do for school, work or extracurricular activities. 
Treating myself is something I otherwise wouldn't do unless I go out of my way, such as applying a face mask, taking a stretch break or listening to a podcast. Although this goal seems simple, it's easy to lose track of taking care of yourself when overwhelmed with everything else going on.
When I went to Ryerson University's Women's Writing Circle on September 18, I was reminded of the importance of making time for self-care. 
I wasn't sure what to expect but was put at ease when immediately greeted with hellos and welcomes. There was a large table full of snacks and beverages which we were encouraged to take advantage of. A classical soundtrack softly played in the meeting room, which reminded most of the women of work. As a broke student, I couldn't remember the last time I sat in a chair that comfortable. Thankfully, there was also tons of space to sit and walk around. Feeling crowded affects my writing ability so having space to think creatively was super appreciated.
We began the session with neck and arm stretches then an icebreaker. I'm not the biggest fan of icebreakers. 
To my surprise, it was genuinely interesting to hear how the other 12 women found out about the Women's Writing Circle and why they decided to sign up. I ended up being one of two Ryerson students to attend. There was a good mix of faculty members and women who just wanted to write more. 
Afterwards, we each walked around reading the inspirational quotes hung on all four corners of the room and stood by the one that spoke to us the most. I chose, "I am the creator of my own myth."
We discussed with a partner why we connected with that specific quote and what it meant to us. This allowed the women to get to know each other on a bit more of an emotional and spiritual level. 
The last activity was a stream of consciousness writing exercise. It was all individual so we didn't have to share our thoughts with the group. This gave us a chance to break away from the structured way of writing we're used to.
A few women mentioned how they faced criticism and critiques when attending writing circles which welcomed all genders. I had never been to a writing circle outside of an English class, yet I can understand how environments with a hierarchy of experience can create competitiveness. The organizers of Ryerson Women's Writing Circle were successful in creating a safe space for women by making sure there was no editing and no revisions. We were able to escape formal writing styles and especially unwanted criticism with the help of the calming setting, group discussions and bonding experiences.  
The final 30 minutes of the Women's Writing Circle was dedicated to free time. We were provided with more inspirational quotes and colourful papers with random words, like Pink Elephant and Lagoon Rock, to get ideas flowing and avoid the pressure of thinking, 'What the hell should I write?' I stayed the full hour and a half since I ended up enjoying the workshop a lot more than I thought. 
I really encourage other female students to sign up for the next Women's Writing Circle on October 11.
Even if you don't particularly love writing, it's a relaxing space to take a break from the stress of midterms. Take care of yourself by doing small things like this to make a big difference in your mental well-being.