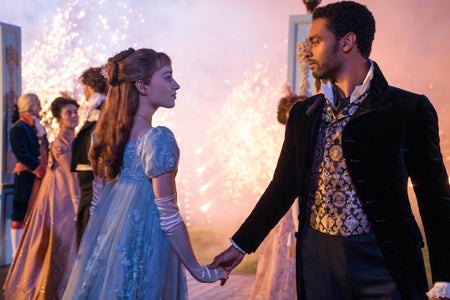 Lady Danbury Is The Real Queen Of Netflix's Bridgerton
By: Jessica Mazze
It's safe to say that Bridgerton has become Netflix's "incomparable'' this season — one of the Holiday variety at least. 
Critics everywhere have been applauding Shondaland production for making this adaptation of the series Gossip Girl meets Jane Austen fusion. 
While people are talking about the chemistry between the two leads, the commitment to historical accuracy and that goddamn Bridgerton spoon, this author argues that there is one character who has become revered amongst fans and dubbed the "Lioness" of London's elite. 
Such a title is fitting for the lady: proud, regal and overall strength are conflated with the symbol behind a lion. 
Lady Danbury (Adjoa Andoh) has become a fan favourite among Bridgerton fans for her biting humour, sharp tact and a presence that commends the attention of an entire room. 
Although she is an enigma among her peers, Lady Danbury has a seemingly minor role throughout the first season. Don't be fooled, she is a dynamic character that has plenty of influence on the ultimate fate of the hero and heroine (Regé-Jean Page and Phoebe Dynevor)
Not much is known about Lady Danbury's early years, the show itself does not give her much of a backstory in the first season —focusing on the set up between Daphne and Simon— though what we do know is that she was a close friend to Simon's mother, the late Duchess of Hastings. 
According to the author of the book series, Julia Quinn, Lady Danbury is a widow whose husband was an idiot. 
The show makes no mention of this husband as of yet, though it would make sense as to how and why she is an affluent member of London's elite, who is known for her plentiful social connections (especially one with a particular Queen Charlotte) and infamous "den of iniquity" for the wives of nobility.
If widowhood is the case for this sharp-tongued maternal figure, then it would make sense as to how and why Lady Danbury is a strong woman. 
For widows, the regency era is a precarious time in which married women rely on their husbands for support —both in the economic and social sense — and the expectations for widows in comparison to widowers are far and few between.
For example, it was expected for the wife to spend a full year in mourning to demonstrate the grieving process. Meanwhile, it was expected for the husband to quickly and quietly find a new bride to take care of the home, children and any social obligations the late wife left behind. 
What's more, should the wife remarry or remain single, it was often frowned upon in high society! According to the book rat, a literary blog that reviews Jane Austen books, it is said that remarrying is a "consequence of a voracious sexual appetite" since the wife has, after all, been exposed to lust by her first spouse!
Nevertheless, this was a necessary action for a woman in this era, for she would have no income from her late husband and had no means to support herself.
For Lady Danbury to be a single, yet affluent woman is not an easy choice, yet she prevails nonetheless.
Fans fell for her hard and fast during her monologue to a young Simon, where she avows that he will one day be deserving of the attention he commends one day, despite his stammer and lack of a fatherly figure. 
Many people resonated with her speech, in which she describes how she once used to be afraid of the spotlight; yet over time, Lady Danbury learned that there was one thing she could do to gain respect amongst her peers — fear, a sharp eye and a keen fashion sense. 
Yet the speech reveals much more of Lady Danbury's inner strength, without revealing the circumstances that molded her into the woman she is.
The audience understands that as an affluent single woman,  she must draw upon intimidation in order to stay five steps ahead of anyone who would dare to try to take advantage of her, such is the reality a woman of the regency era is surrounded by. 
From there on out, Lady Danbury becomes a surrogate mother to the young Simon, guiding him in his early life when his own father refused too. Furthermore,  for she is the catalyst that sparks the idea of a match between her handsome ward with Daphne's mother. 
Despite her love for Simon, she ensures that his intentions with Daphne are clear and that he does not ruin her prospects had he been leading her on. 
Though her scenes are far and few between, Lady Danbury manages to have a pulse on everything happening in London's elite society and in turn, the main characters. 
Fans can only hope that the writers will expand more on her character, there is so much to work with. Like what is the relationship between  Lady Danbury and Queen Charlotte? How is the Lady able to afford her lavish lifestyle if she is a single woman? 
Hopefully, we will have more answers if there is a season two in the works, so fans should keep their fingers crossed if they'd like to see more of the incomparable lioness dowager.