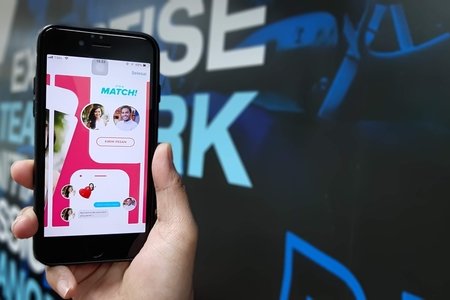 International Dating Using Tinder Passport
By: Madison Schuliakewich
With the COVID-19 pandemic in full swing, and a whole lot of people bored out of their minds in quarantine, it's no surprise that companies like Tinder are offering solutions to encourage people to stay inside. 
(And download their app, of course.) 
Recently, Tinder made the call to allow users to swipe internationally using their Passport feature; one normally only available to users who pay to upgrade to Tinder Gold or Tinder Plus accounts. 
In an article put out by Tinder Newsroom, the company wrote, "While we all know we need to stay home, the Tinder community has shown us that this doesn't mean we have to be alone with our thoughts and a tower of Top Ramen."
"Our hope is that our members can use the Passport feature to transport themselves out of self-quarantine to anywhere in the world," they wrote.
Many people from all around the world have already utilized this feature and are chatting with people in completely different time zones. Tina Makuto, an 18-year-old journalism student from Toronto, is one of these people. "You may not meet the 'love of your life,' but you can definitely meet some people who can keep you entertained even for an hour or two," she said.
While at home in my room with assignments on a rapid increase and my motivation to complete them at an all time low, I'll admit my curiosity got the best of me and I may have begun travelling the world. 
I thought it would be fun to see what people around the world think of the feature (since I know a lot of us in Toronto are loving it), so I asked some of the people I found using the feature myself. 
I matched with Mick Nierath, a 21-year-old creative business student from the Netherlands, who was also using Tinder Passport. "I wouldn't pay for it because in my normal life I'd rather meet people who are close to me," he said. "It gives me hope that one day I'll be able to travel to all these countries in real life, and it's always nice to meet new people from all around the world."
This feature is a really exciting way to meet people worldwide - often bonding over a mutual feeling of insanity from being inside seven days a week. 
Tinder Passport made the world feel a lot smaller and a whole lot more connected. Even if you aren't looking for a relationship, Passport gives users an opportunity to make friends from cities all over the world. 
Nick Stefan, a 19-year-old chemical engineering student from Germany, was hesitant of the feature at first. "I thought it might not even work," he said, "or that it would be impossible to get a match, but it proved to be the opposite."
If you're interested in the Passport feature, the time to try it out is now as it's only available now through April 30, 2020.
Sidenote: be prepared to develop a huge desire to leave the country.