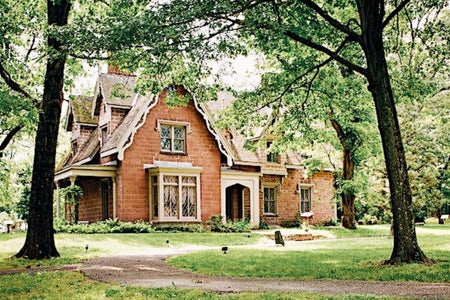 5 Ways to Live Your Best Cottagecore Life at Home
If you're a young person with access to the internet, odds are you've come across the cottagecore phenomenon. As defined by Urban Dictionary, the cottagecore subculture is  "a niche aesthetic based around the visual culture of an idealized life on a Western farm. Common themes include sustainability, gardens, farm animals, rural living and nature." I first came across the cottagecore lifestyle on TikTok and quickly became obsessed! Over the past few months, I've found ways to change my suburban home into a rural farmhouse and you can too!
Whether it be a small batch of cookies or an entire pie, there are recipes for almost everything on Pinterest. My favourite thing I've baked this year is vegan apple pie! Baking is a staple for everyone who follows the cottagecore lifestyle and it's a relatively easy way to start living slowly and enjoy the simple things, whether it be in your marble counter kitchen or in a cottage in the woods.

My cottagecore activity of choice has to be crafting! Your opportunities are endless, from painting to embroidery you can add a cottagecore twist to any of your favourite crafty hobbies. I recently made myself some mushroom earrings with some polymer clay and the help of a TikTok tutorial. If crafting isn't your thing, Etsy is a great place to find unique cottagecore accessories like the earrings pictured above. 

The cottagecore subculture has a pretty specific style in terms of clothing. I'd call it a beautiful mix of grandma chic and  Beatrix Potter illustrations. Style basics include lots of cardigans, skirts, florals, embroidered pieces and wicker. The best place to find clothes that fit the aesthetic is at your local thrift store. Other great options include Etsy and Depop. If you have the skill, making your own clothes is another great, more sustainable option. But if you're not looking for anything new, almost anything in your closet can be cottagecore if you style it and make it your own!

Cottagecore is a subculture based around living surrounded by nature and a great way to experience this is by going for a walk around your neighbourhood or on a trail.  You may come across a few aesthetically pleasing cottage homes to admire or get lucky enough to see some local wildlife at play.  Whatever benefit you get out of your walk, it's a great way to experience the outdoors even if you live in the big city.

5.

Immerse yourself in Cottagecore

The most effective way to make your living room feel like a faraway forest escape is to immerse yourself in a fictional cottagecore world! One of the easiest ways to do this is by watching movies. My favourites include Little Women (2019),  Kiki's Delivery Service and Moonrise Kingdom. Another great way to create a cottagecore mood is through music. Hozier, Chloe Moriondo and the Lumineers are some amazing artists with some great, calming songs to listen to. My playlist Magickal Times includes some of my go-to's. 
However you choose to start living your cottagecore life, make sure that you're enjoying yourself and stopping to enjoy the process of every step.  Hopefully, these five tips will help you curate your perfect make-believe escape to the woods easily!