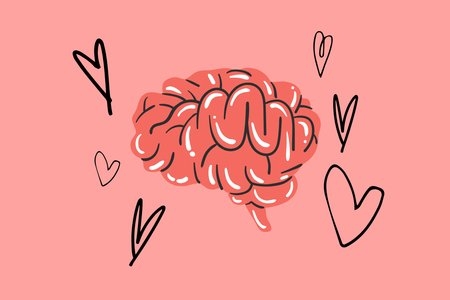 Original Illustration by Gina Escandon for Her Campus Media
5 Activities to Help With Your Mental Health While Social Distancing
After a couple of weeks of social distancing, and with several more on the horizon, cabin fever is beginning to peak. On top of that, many of us may be torn between being productive, learning new skills in our free time, and taking care of ourselves by letting our bodies deal with the anxiety of a pandemic. We all have different ways of coping, but one sure-fire way to stop your mind from overthinking (or getting bored) is to spend your time trying to consciously pick up healthy new habits that will benefit your mind during and after quarantine.
So, without further ado, here are my top five recommendations for things you can do from the comfort of your own home to keep your anxiety at bay or just help take your mind off things:
Bullet journaling is that one thing you always want to try but never got around to. The concept  can seem pretty overwhelming or tedious to start - I know from personal experience that while I've always loved the idea of it, I've never had the 'time' for it. Now, with nothing but time, it's finally the perfect time to master the art of BuJo! Plus, it's nice to have an outlet where you can put your thoughts on paper, especially at a time like this.

2.

Take a course on Skillshare or Coursera

I know, I know. Getting a break from school means you're finally free of studying and learning. But throughout the year, we're far too busy with schoolwork to spend time picking up skills that actually intrigue us or push our passions. Plus, with nobody to distract you and nowhere to go, you'll be able to concentrate and finish this course much quicker than you would otherwise! If there's a skill you've been wanting to master or a course you've wanted to have in your back pocket, get on it, there's no time like the present!

3.

Try your hand at painting

Regardless of whether you have any artistic abilities, order some paint supplies and try your hand at it. Painting is a therapeutic practice to incorporate in your life for many reasons. Aside from being beneficial for your mental health, painting is said to stimulate both sides of your brain, which helps to combat diseases like Alzheimer's! But most importantly, you'll find your creative voice. We all have something unique to share and painting could help you figure out what that is. Who knows, you could be the next Bob Ross!

4.

Meditate, meditate, meditate!

Uncertainty brings up a lot of unwarranted feelings, the main ones being anxiety and stress. Meditation can help you stay grounded and reduce your anxiety levels. Actively taking time out of the day to meditate will help clear your mind and put you in a better, calmer mood. Plus, being positive and happy is good for your immune system! There are many free online classes so you can get the very best right from your living room. I'm trying out Core Power Yoga right now!

5.

Master one Adobe program

Take advantage of Adobe's offer for students to access the Adobe Creative Cloud for free until May 31, 2020, though please note this offer only works if your school already has an in-classroom license. Without that hefty price point, you could finally master the art of Photoshop, Premiere Pro or whichever program suits your needs best. These skills can go a long way, especially in your future career.
With little time to worry about all that is wrong, you'll find yourself feeling much better and not to mention, so much more accomplished! It's also important to acknowledge that staying home doesn't mean you have to do something productive or educational. You can definitely use the time to rest, recharge and replenish. These recommendations are for those that are looking for something to do and some place to redirect their time and energy.
Hopefully, we will all come out the other end stronger, more grateful and more gracious.