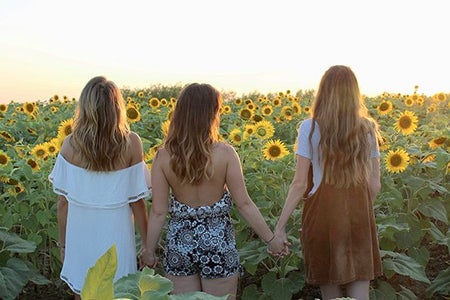 Maria Scheller / Her Campus
10 Fun COVID-friendly Activities To Kick Off Your Summer
With summer quickly approaching I know it can be hard to get excited about the warm weather when it often feels like there's so little we can do to truly enjoy it. That's why I've written out this list of ten COVID-friendly summer activities that will help keep spirits lifted during this time. These 10 activities are definitely on my 2021 summer to-do list!
This is a great way to spend time with friends and family outdoors and socially distanced. A backyard fire pit can be relatively inexpensive if you're willing to shop around a bit. With some music, blankets, drinks and s'mores this is definitely how I'm going to enjoy being outdoors this summer.

I love the Drive-In! This is the ultimate COVID-friendly activity. You're probably going to want to save this one for someone inside your bubble. When I last went I put all the seats down in my SUV, took the cushions from my lawn chairs and laid them down and covered the whole thing with blankets and pillows. It was so comfy I almost fell asleep during the movie. Oh, and obviously don't forget to bring your own snacks!

Tie-Dye everything was all the rage last summer and a go-to in anyone's summer wardrobe. Pull together various pieces of white clothing, it could be a hoodie, a tank top, a scrunchie, whatever you want to dye. Head to your nearest Michaels and pick up squeeze bottles, elastic bands, plastic containers and of course, the dye - I used and really liked the RIT bottle dye. Call a friend over and set up space to dye your clothes outdoors, follow the instructions and remember that with tie-dye, more is still not enough. If it looks like the shirt is covered and the colour is dark enough, I promise you it's not; for best results, make sure you fully saturate the clothing you want to dye! 

Now I know what you're thinking - another boring picnic— but it doesn't have to be! If you're like me then you're physically incapable of keeping anything mildly chill. It's either the picnic of the century or it's nothing. Grab five or six friends, pick a sunny day and find an open spot in a park in your area, have everyone bring their own lunch items and have a picnic potluck! You can bring take-out, popsicles, a soccer ball, water balloons, etc. With some creativity and a good speaker, there's no reason your picnic has to be a sad tuna sandwich in the park.

5.

Backyard BBQ / Pool Party

Depending on the restrictions in your area you might be able to get away with having a handful of people around for a BBQ one evening. You can keep things socially distanced with games, music and of course the food! If you have a backyard with a pool, take your BBQ up a notch and tell your friends to bring their bathing suits, nothing says summer like a pool party!

This is another outdoor activity you can do with a few friends. Search Pinterest or Youtube for a good-looking cocktail or mocktail -if you're under the legal drinking age, go shopping for your ingredients and set up a bar in your backyard, with liquor, a cocktail shaker, fun ingredients and cute glassware. This can be a cool way to experiment with new drink recipes. One of my favourite drinks to make in the summertime is a Tropical Mojito. For this drink, you'll need ice, Malibu coconut rum, pineapple or orange juice, lemon juice, mint, simple syrup - if you like it sweeter, a mint leaf and of course a drink umbrella for the finishing touch! 

*Please drink responsibly*

Look for a farm in your area, grab someone in your bubble and go strawberry picking at a local orchard. This is an awesome and cheap outdoor activity that allows you to stay relatively distanced from others. Most visiting farms are operating at a limited capacity but if you can, go during the week to avoid the crowds! You'll come home with plenty of fresh fruit for baking or homemade popsicles! 

8.

Party Jenga / Custom board game

Custom games are a great way to elevate your classic Snakes and Ladders board game or Jenga. Get out your paint and markers, invite a couple of friends to your backyard and get creative, you can add chance cards, special instructions, whatever you think would make the game more fun and interactive to play. This activity acts as a two-in-one, jazz up your old board games then host a backyard game night, just don't forget to sanitize!

Now I know the words 'Car Rally' may take you back to your senior year in high school but think about it, this is really an ideal COVID-friendly activity. Everyone pairs up with someone in their bubble and shares a car, you can collaborate with the group on a list of practical and safe challenges that must be completed during the car rally, each group is competing against each other to finish all the challenges on the list. When a challenge is completed a picture must be taken as proof. The first team to complete all the challenges and make it back to the starting location wins!

Now I know this doesn't seem the most COVID-friendly but depending on the restrictions in your area, if your group is willing to play it by ear until a few weeks before there's no reason why you shouldn't be able to plan a weekend getaway somewhere up North. For safety and peace of mind, everyone can get tested before the trip. You'll be able to enjoy a few days with your friends on a vacation rental, hopefully on a lake! My friends and I used Airbnb and took this same trip last summer and it was so nice to spend time with each other under what felt like normal circumstances again. If you can organize the logistics I highly recommend this option to brighten up your summer and give you something to look forward to over the next few months.