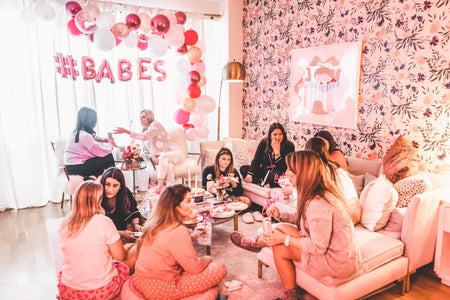 I know this time of year gets a lot of stick for being consumerist nonsense, with every possible supermarket having a 'Valentine's' section with pink PJS, candles, chocolates, making their fortune on our susceptibility for tat. But, I have to say, I love this time of year… not because I've always had a boyfriend to spend it with (lol) but because I love Galentine's Day!
I love the excuse to get together with your besties and spread the love and appreciation of each-other. Because Gals, your best friends, are the only constant in your life. The ones who will be there by your side no matter what. Partners come and go all the time, but your best gals, they're there to stay, and you need to spend time being grateful for them! And what better day to do it. 
Here are some ideas for you and your gals to do this weekend… I am so sad all my besties are living in different places now, so there are also some ideas for the fellow long distance gals too. Also, let's put the #galentinesday to good use and spread all of our ideas on insta! I can't wait to see what some of you get up to. 
Giphy
Galentine's Day Ideas
1. A Bottomless Brunch. That's right, unlimited Prosecco for two hours along with the best meal of the day: brunch. What could be better? Loads of places do this, just simply google 'bottomless brunch' and let Google do the work for you.
2. Cinema night. Is Little Women still out? If not, Emma is out this weekend! Go and watch a beautiful film all about female and sister solidarity with your best gals, and maybe go to Turtle Bay afterwards and get on the cocktails! 
3. Facials! Treat not only your gals but your faces, and enjoy some facials and a spa day together. I love getting facials, my skin simply beams afterwards - strongly recommend a Décleor one, and if you're based in Leicestershire like myself, Eden Skin Care and Beauty in Sileby is the place to go. 
4. Wine Tasting Evening. That's right, broaden your palate and book you and your gals into a wine tasting at a local wine bar. They are sooo much fun! The wines are delicious, usually served with cheese boards, and you're positively tipsy by the end. A lovely treat to do together. I've been to Darley Abbey Wines, based in Derby, if anybody is local to there.
5. Craft Classes. Go and make something together! I personally love this kind of thing, whether it be candles, jewellery or pottery. There's always somewhere local that offers these kinds of classes. My favourite has been Pretty Little Acorns, based in Lincolnshire, where me and my bestie made each other silver rings - it was the best present ever! And really reasonably priced. 
For those long distance gals…
A group FaceTime would be my first piece of advice. Second, do Secret Galentine's Gifts! Each one of you has one person to buy something for, (and it's done out of a hat… all a secret, or one person delegates and it's only that one person who knows who everyone else has got). The pressies need to be posted to each person by Thursday 13th Feb. Spread the love long distance in the post! Moonpig are doing some adorable Galentine's gifts - from candles to flowers, to face masks to plants, to books. Get yourself on there!