Why November Should Be All About Thanksgiving
Now, I love Mariah Carey's "All I Want for Christmas" as much as the next girl, but don't even think about playing it until Thanksgiving is over.
We see it every year, the Christmas craze that appears almost instantaneously after Halloween ends. November 1st rolls around and out come the jingle bells.
Thanksgiving gets lost in the shuffle of gift-getting and tree-decorating, and year after year, remains an underappreciated holiday.
But why? Why does everyone want to rush through Turkey Day? I mean, who doesn't love waking up to the Macy's Thanksgiving Day Parade on TV? It's not every day that four-story high Snoopies and Pillsbury Dough Boys float down the streets of New York. Then there's football to be watched, a feast to be cooked, and hand-turkey place settings to be crafted.
Thanksgiving is a holiday to unwind, relax, and smile in appreciation for the little things. A holiday to celebrate all that you have. It's a day of (get this) giving thanks for all the good things in your life, and to remind us all of how fortunate we are. It's time to be spent with family, friends, and of course, food.
After all, what better way to celebrate thankfulness than with an enormous feast? The sound of the turkey in the oven, the smell of the pies baking, the sight of everything laid out on the table, it's almost too much to handle. There are very few things more enjoyable than sitting around the table at Thanksgiving, laughing and talking with your family, surrounded by warm, delicious comfort food.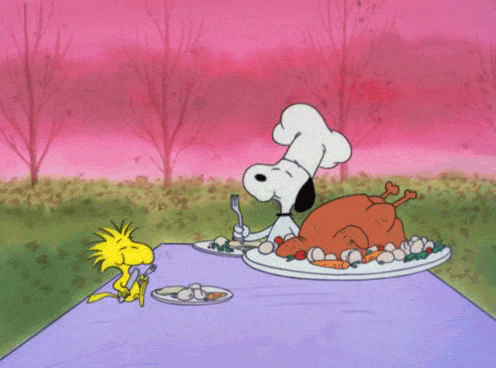 Even if your family is constantly on each other's nerves, Thanksgiving is a holiday that lets you all slow down and take this moment in time to be more appreciative of each other. We give thanks for the support of our families and our good health, and even if everything's not perfect, we all realize things are still pretty great.
Thanksgiving is the calm before the storm that hits as soon as the clock strikes 12 on Black Friday. So it's time we stop rushing to Christmas and forgetting how great Thanksgiving is.
It's time we all slow down, and learn to be a little more thankful for Thanksgiving.