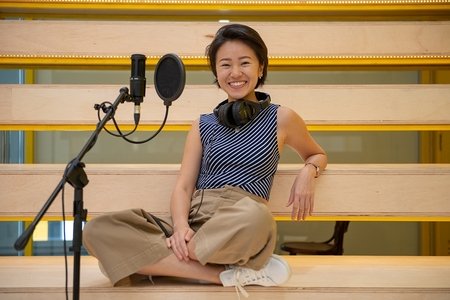 An Interview with Singapore's Rising Female Wellness Podcaster
"I'm a girl learning on my journey, and I want you to come with me: together we can do better." 
De-mystifying Female Sexual Health in Singapore
Recently, I got the chance to speak to Nicole Lim. She is the founder of Something Private: Singapore's first podcast focused on female health and wellness. She talked to me about empowering other women through enhancing their knowledge of sexuality: from STDs, masturbation (yep, I said it) to polyamory. 
Something Private is an educational podcast seeking to keep women informed on feminine topics in today's society. From gender and sex, to health and wellness, it aims at providing honest and engaging guidance to women. 
Nicole's podcast comes as the first of its kind in Singapore, one dedicated specifically to women's issues. Her initiative arises at a timely juncture with the Association of Women for Action and Research (AWARE)'s gender equality manifesto, which declares that: "The time for gender equality is now."
Her Journey
Nicole's drive to start a podcast "about vagina-havers, for vagina-havers", was actualised after a harrowing experience involving a friend's Sexually Transmitted Disease (STD) scare. 
"I felt lost. She was in the hospital crying, and I didn't know what to say, how to assure or give advice. I realised the need for this bank of information about female wellness, in order to protect yourself and to affirm other people."
Soon after, Nicole started interviewing healthcare experts on her podcast to bridge the gap of knowledge between medical professionals and everyday people. She then branched out to more sensitive topics like identifying assault, loving a man with HIV, and female circumcision. 
Through having conversations with women from various fields, Nicole found that they were unified by a common goal: to have important discussions about women's health and intersectionality in society.
"In the conversations I've had with women: be it experts or influencers, they genuinely feel and understand these are important conversations to have. It encourages me and makes me feel like there is hope for future generations to be more aware of the issues we don't really know about today."
This initiative brought forth by Nicole on female empowerment has opened up conversation on seemingly taboo topics in conservative Singapore. Not surprisingly, her listeners have doubled since her first episode.
Throughout the interview, I noticed Nicole's keenness to empower other women of her generation in her blazing, bright eyes. She spoke to me honestly, providing sound advice to other college women out there.
"Focus on loving yourself. When you love yourself, you do things that benefit yourself: you seek better information, and work with other people that would make you grow. Know your worth, because you're worth a lot."
---
Stuck at home in isolation? Check out Nicole's podcast here!