The Lessons I've Learned in 21 Years
On December 7th, I turned 21. If you know me, you would know that aging does not bother me. I'm not one to get all misty-eyed and cry about another year of my youth that has come and went. I had a nice birthday actually. I spent it with my family and best friends. What more could I ask for? However, it also got me thinking—like most things usually do. Since 21 is such a milestone age, especially in the United States, I thought about everything that I have learned in my 21 years. From family to fashion and friendship, I consider myself pretty lucky in all three of those areas and decided what a better way to celebrate the big 21 than to look back and compile a list of life lessons.
The Importance of Family
Family is everything. I have been truly blessed to have wonderful parents, aunts and a grandfather who support me wholeheartedly in everything that I do. However, something else I have learned is that the term family is one that is not necessarily defined by genealogy. In my life I also have people who, despite not being related to me through blood, are equally as supportive, helpful and loving as people who are a part of my nuclear/extended family.
Friendships
I've always been proud of the fact that I simply do not have 'friends'. I keep my circle small, therefore, the people who I associate with I see as my best friends and know that I can rely on them for anything. I've learned firsthand what toxic friendships can do and how they can take a toll on everyone involved. Life is too short to be involved in petty drama. It is unfair to yourself and others involved to associate with those who continually bring you down or cause unnecessary issues. Surround yourself with positive, loving people and you'll be all set. I have amazing friends and know that we will be friends for life. The memories we have together are some of my most cherished and they truly mean the world to me.                   
Go on A Road Trip
To segue off of the 'Friends' lesson, everyone should take a road trip with their best friends. You'd be amazed how much fun it can be to be trapped in a small car for hours on end. Although that statement might sound sarcastic, it's not meant to be. You do make some memorable moments. This past summer, I went on a road trip to Virginia Beach with two of my best friends and it was so much fun. Between singing along to throwback songs in the car to eating some really delicious food—we ate the best BBQ chicken macaroni and cheese in Washington D.C.—I'd highly recommend everyone reading this list to do just that. Even if it's to a place two hours away from home, exploring America is something every person should do at least once. What better people to do it with then your best friends? In fact, we've already started planning next year's road trip!
Buy The Ticket, Take The Ride
Concerts. Who doesn't love to experience live music? My favorite artist of all time is Stevie Nicks and my dream had always been to sit in the first five rows at one of her solo shows. Stevie toured this past fall for her 24 Karat Gold tour and I treated myself and purchased a VIP ticket to sit 5th row floor at her Mohegan Sun show. On November 25th, I did just that. For two-and-a-half hours I stood transfixed, watching my idol perform less than 100 feet away from me. It was truly a life-changing experience and something I believe every person should do at least once. Yes, the ticket might be a tad more than your average, however, the feeling of being so close to your favorite performer is truly priceless.
Travel
Traveling is essential because it helps you to step away from the craziness of your daily life and just reflect on what it means to simply live. This past summer, I had the opportunity to return to Hawaii (we had gone ten years prior) and visit the islands of Oahu and Kauai. Not only did I do things that I wouldn't typically do—since these opportunities don't readily make themselves prevalent in Connecticut—I also found a whole new appreciation for nature. To visit a place so untouched by man kind is humbling and allows for a person to appreciate the beauty of a scenic landscape uncluttered by skyscrapers and billboards.
Do Something Crazy
I went cliff diving. Yes, you read that right. While on the island of Kauai, my father and I got the opportunity to jump off a cliff. Mind you, this is something that I had wanted to do since I saw Jesse and Rebecca cliff dive on the episode of Full House when the Tanner family went to Hawaii. Was I scared? Yes. Did I do it? Yes. Honestly, it was one of the most liberating things I have ever experienced. Everyone should do something that absolutely terrifies them—within reason, of course. Looking back on it will make you feel incredibly  proud. Look at it this way, it's another opportunity to scratch something off of your bucket list.
Love What You Do
We've all heard the cliche. Enjoy what you do for a living, because you will end up doing it for a long time. Well, I have a job that I absolutely adore and if I can find a career that makes me feel the same way, then I have achieved something. I work as a receptionist at my mother's hair salon and I truly love it. I love the people I work with, and I love the clients at the salon. I like to work there, which I feel is essential not only for your happiness, but because it aids you in producing work of the utmost quality. It also helps you to feel like you are a part of something when you enjoy what you do. It creates a camaraderie between people that makes everyone more motivated to achieve a common goal or objective. 
Get a Tattoo
This one might not be for everyone. However, for my 21st birthday, my friend Grace and I got matching tattoos. Regardless of who you get the tattoo with or your reasons behind it, I believe it is important to get a reminder as to who you were while you were still young and carefree. When the 9-5 life starts to wear you thin, it is important to be able to look back at something that will forever remind you of who you are and where you came from.
Live In A City
When I was 20, I moved to New York City. I used to attend college in Amherst, Massachusetts and to be quite honest, I was not happy there. I had always loved New York and I would wake up every morning wondering how my life would be different if I had gone to college there. So during my sophomore year of college I decided to make a change. I decided to transfer colleges and I ended up at Marymount Manhattan College which is honestly one of the best decisions that I have ever made. Not only do I love school, I'm living in the city that I love and am proud to call it home. Living in the city is truly amazing and it's something I believe everyone should experience, even if it's for only a short while.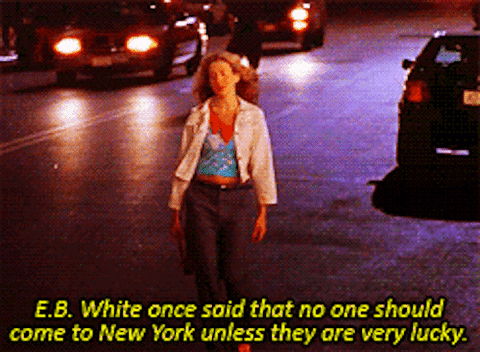 Get a Pen Pal
About four years ago I was lucky enough to meet someone over Instagram who not only was my penpal, but ended up to be one of my best friends. Grace lives in England and I live in the United States. We started out emailing each other everyday, but then emails lead to sending each other care packages and FaceTiming. We were lucky enough to be able to meet face to face twice and we recently spent my 21st birthday together here in Manhattan. I know I never thought when I sent that first email that the friendship would grow into what it has. In fact, Grace and I ended up getting matching crescent moon tattoos together this past Tuesday. It is truly shocking to think that had I not answered Graces' initial Instagram post, I would have missed out on a very important friendship.
Treat Yo' Self
Parks and Recreation taught me well. It is important to "treat yo' self" every once and awhile. You want to have ice cream for lunch? Treat yo' self. Feeling the urge to buy a new pair of shoes? Treat yo' self. By embracing the treat yo' self mindset, you are rewarding yourself for succeeding at life and who doesn't love that?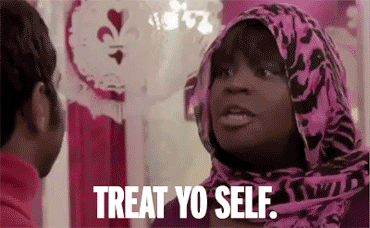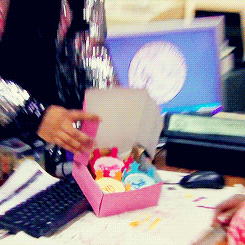 Don't Follow The Trends, Set Them
Following fashion trends are fun, but isn't it exciting to set them? Wear whatever you want, whether it be couture or thrifted. By embracing your own personal style it allows for your personality to shine through the clothes you wear and be accepted and received by the people you meet. Plus, it might start a whole new fashion trend, whether it be at your school or your workplace!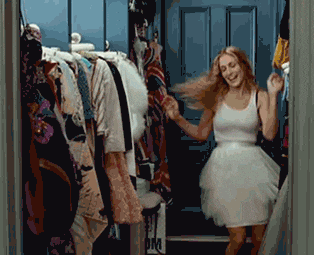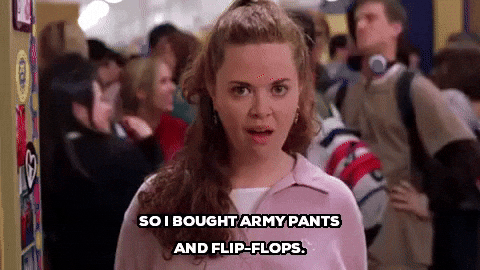 As we go through life, it is important to not dwell on the past but look back on it fondly knowing we are better people for our past experiences. We live and we learn. Cheers to 21 years full of life lessons!