10 Songs for When Dating Gets You Down
Before we begin, I have not been through a break up for over two years. which also means that I have been single for over two years. We can chat about break ups and how yucky they are all day - I get you, girl - but let's apply this list to being ghosted, recovering from a bad first date, and any other dating experiences that put a bad taste in your mouth.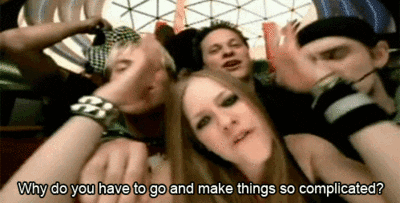 image credit
Complicated - Avril Lavigne
A song for when you're hurt, confused, or straight up pissed off. Avril Lavigne gets you when no one else does. She has your back. Bonus song, "What the Hell" by Avril Lavigne, for when you're finally over it.
Not only does "F**k You" slap, but sometimes you just need tell someone to buzz off. I have been there. CeeLo has a great voice, a sweet beat, and a message to send. Jam off into the sunset with this song, and forget your problems.
image credit
Hollaback Girl - Gwen Stefani
"Hollaback Girl" is the pinnacle of female empowerment. Gifted to us in 2004, Gwen Stefani said "hey, I ain't no hollaback girl", and I really felt that. Show the people in your life that you're in charge of yourself by blasting Gwen all day long.
Too Little, Too Late - JoJo
If you cry while listening to this song, I won't tell anyone. If you're going through it and JoJo comes on with this emotional banger, it's so easy to say "ME!!!" and ride the waves of catharsis to the end of an epic 3 minutes and 40 seconds.
image credit
Footloose - Kenny Loggins
This song is just fun. Dance your little heart out. Great movie too, it'll lift your spirits too.
Since U Been Gone - Kelly Clarkson
Kelly Clarkson is out here pulling our thoughts directly from our heads and putting them in a song. People suck big time, and I have been making jokes but sometimes missing someone can really hurt - and that's valid and important. Take time that you need to heal from any hurt you may be experiencing.
image credit
Sleepin' In - The Postal Service
If you're not familiar with The Postal Service, you may be familiar with Death Cab for Cutie. Each band has the same lead singer, Ben Gibbard, who has the voice of an angel. This song is a sit-in-the-sun-and-close-your-eyes type of song. Let it calm you down, and you could learn something from its words.
Another One Bites the Dust - Queen
A song to let shit go, accept losses and be alone. Acknowledge your support system, and let whoever did you dirty bite the dust (also, Freddie Mercury is a God and we have never deserved him).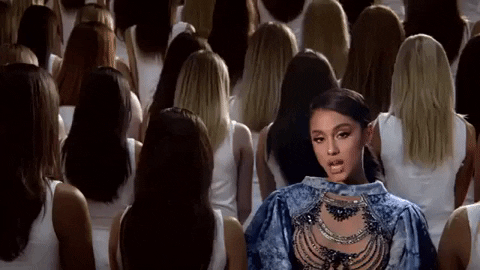 image credit
successful - Ariana Grande
If you could look me in the eyes and tell me this song doesn't make you smile, you're a liar and it's not funny or nice. This song feels like Ariana Grande is reaching through my Spotify and giving me a hug, and telling me everything is going to be okay. Let her strength permeate through your entire being. You're successful, even she thinks so. I'm going to cry.
Much like Footloose, this song is just super fun. Plus, it can ground you if maybe you've lost your way a little bit through your romances. You can be whoever you want to be and don't let anyone think otherwise. You're in control of yourself, no one else.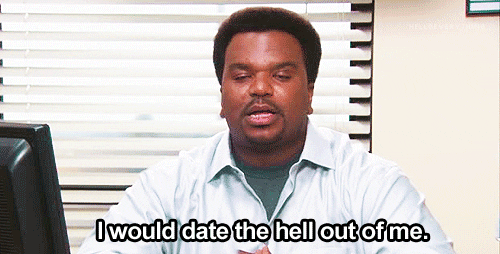 image credit
I hope this playlist could help you navigate through the confusing, frustrating, and occasionally heart wrenching world of dating. You're a queen, you're in charge, and you're absolutely wonderful. Keep it up.