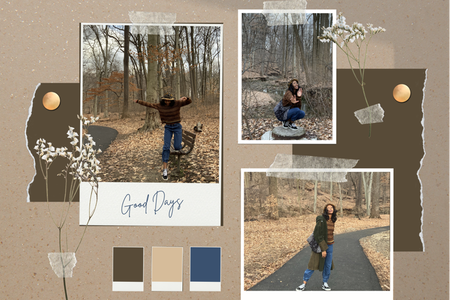 Original photo by Jalyn Green
Why SZA's 'Good Days' Is So Therapeutic
I think many of us can agree that there is something very therapeutic about SZA's song "Good Days."  It's clear the world has this song on a loop considering it made the top ten on Billboard's HOT 100 chart. So what is it about this song? Is it the sound of birds chirping, or the resemblance of chimes blowing in the wind? The music alone sounds like peace, and SZA's voice elevates the song to something truly magical. Lyrically, "Good Days" is very simplistic and that makes it absolutely genius. 
"Heavy on my empty mind sh*t," has to be one of many of my favorite lines from "Good Days."  This song is perfect for coping with the best and worst of times that is this game called life. Listening to "Good Days"  is perfect for a much-needed cry session, scream, dance, walk in the park, spark up and most importantly just existing. SZA was so appreciative of her supporters streaming her new song, that she decided to incorporate footage from her supporters' highest and lowest moments as a contribution to part one of the "Good Days"  music video. This video is absolutely adorable and highly recommend giving it a watch to brighten your day.
This song is a reminder that dark times don't last forever and we must not let them take over us. Don't get me wrong this is totally easier said than done but you continue. You take all that energy that remains and you do something incredible no matter how big or small it is. Hearing SZA harmonize, "I gotta keep from losin' the rest of me" gives me absolute chills. A reminder that you need to take hold of whatever it is that's draining you. The classic line that life is too short will never get old. Sometimes inconveniences come with hard work. Whether it's work, friendships, or relationships there will always be a decision to continue or simply let go of a situation that is troubling you.
Personally, on days that feel like complete sh*t, I turn to making a playlist, journaling and finding ways to be creative. SZA is known for making craftful alternative R&B music. SZA without a doubt makes good music and for that, she is on many of my playlists. Collegiettes if you ever feel lost, sad, angry, or overjoyed I recommend listening to both SZA's "Ctrl and Z" album. Some of my favorites are "Drew Barrymore," "Prom," "Warm Winds" and "HiiJack." Curious to device in the genre of alternative r&b can't be done without taking a listen to one of the ogs that is SZA in the genre. There is a rawness to SZA's voice that makes her so special that leaves you wanting more.
With that collegiettes, if music is a form of therapy for you "Good Days" is a wonderful song to add to your library. Leaving you all, to yet again another amazing lyric from SZA, "always inside, good day living in my mind."