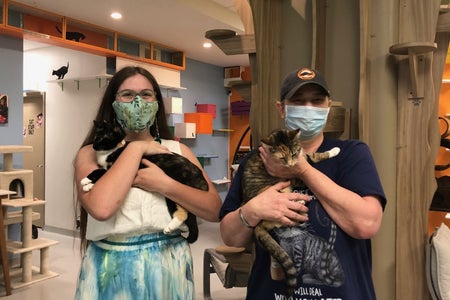 Patriot Pawsabilities: Forging Connections between Humans and Cats
For the past two years, Patriot Pawsabilities has created an inclusive community; bringing people and cats from all backgrounds together. I recently visited the University Mall cat lounge and met with its founder and owner Mo Ryan. 
Mo is both a military veteran and spouse, as both her and her husband have served in the Army. After 20 years, Mo retired and wanted to make sure she was doing something purposeful. "I had always been the person that everybody calls when they find a dog or a cat or a gerbil or whatever," she said.
Along with this lifelong passion for animals, Mo took inspiration from cat cafes she had seen while stationed in South Korea. In several Asian countries, cat cafes have seen a boom in popularity due to the fun atmosphere where urban residents can enjoy spending time with animals, something they may not get to do on a regular basis. In the U.S. it's a bit different, as almost anyone can have a pet. This is where American cat cafes and lounges differ in that they focus more on getting their cats adopted.
Patriot Pawsabilities presents a unique opportunity for both people and cats to get to know each other in a friendly and normal environment. The lounge has several comfy couches, rugs, chairs and many, many cat toys. It feels like a place that's both a paradise for cats and a calming environment for humans. This set up helps immensely with giving the cats the opportunity to share their true personalities and tendencies before going to their future homes.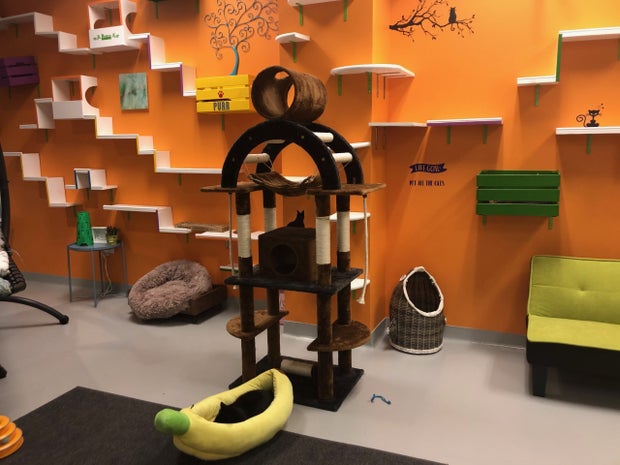 Photo by Olivia Garcia
Mo elaborated on how this environment can help with adoptions. "Because when you go to PetSmart on the weekend and you see all those cages, they're not doing anything. Yeah, the dogs, you can take the dog on a leash and walk them around to see if you can take them away from all the people and see if you have the connection with a dog. You can't take the cat out of the kennel," she said. 
Additionally, it helps cats who may not have gotten adopted at first glance to shine. A recent addition to the cat lounge is a shy older cat called Miss Betty. Since arriving, she had been extremely hesitant to leave her kennel, though just recently she stepped out for the first time. "A cat like her would never get adopted at an adoption fair because everybody would walk right past her," explained Mo. This emphasis on inclusion extends to the patrons as well. "I was always the underdog at school, so I wanted this to be a place where everyone felt safe, no matter who you are." 
The COVID-19 pandemic has hit small businesses hard, and this has been especially the case for Patriot Pawsabilities. As a place that runs mainly on admission fees, the beginning of the pandemic and lockdown were especially difficult. Many of the volunteers at the time were students at George Mason University and with the closure of school they had to return home for the remainder of the semester. 
What has been able to keep them going however, is the immense support from the diverse community that they have created. Prior to the pandemic, Patriot Pawsabilities was a popular place for nearby college students to destress. "My own daughter was heading out to college. And she has a cat and was just like, 'What am I going to do? I'm gonna miss animals.' And I know that kids that go to school would have a hard time with their own animals being back home," Mo says of her inspiration to open near the university.
The impact of this supportive and inclusive place was seen by the support Mo received from patrons and their families. A parent of a George Mason student sent a large check during the pandemic because of how highly their child spoke of the cat lounge. Other support has come from people throughout the nearby Fairfax community. The Belle Jar store in Clifton, Virginia decided to give 10% of their sales for a month to the cat lounge. 
In the two years that the lounge has been opened, 335 cats have been adopted. For every adoption, the cat lounge always has the new family sit in for a portrait to share on social media. I asked Mo how she knew that a cat and a person were right for each other. "You know, you always hear the stories that the cat will adopt the person. And I'm just like, okay, yeah, so cute," she says, "But it really is. It's the weirdest thing. Sometimes we have people that come in and we think that they're gonna be like the perfect fit. And the cat won't come out, won't talk to them. And we're apologizing because we're like, sorry. And then, you know, they leave and 10 minutes later, somebody else walks in, and the cat is just like 'Hi, I'm your cat. When are we going home?' And it really happens that way."
A memorable adoption story that came to Mo's mind was that of Inky and Earl. A seemingly very unlikely duo, the two have become inseparable best friends. Inky was an extremely grumpy cat that the team at the cat lounge thought would never leave. "We had to tell everybody, whatever you do, don't pet Inky," remembered Mo. 
One day, an older man came in who had lost his wife and just recently his cat. He ended up sitting next to Inky and just talked to the cat the whole time he was there. "And one day he goes, 'Mo I think Inky and I could be buddies.' And I was like, 'Earl, I don't know that Inky knows what a buddy is. What makes you think that Inky would be your buddy?' And he was like 'I think he hates me less than other people,'" said Mo.
When it came time for Earl to take Inky home, the whole team was nervous to get Inky into a cat carrier. But then, something amazing happened. "If he could have closed the door behind him he would have, he just walked right in. And he said 'Alright dad, we're going home.' And that was it. And that night, Earl sent me a picture of Inky laying next to him. And Earl sits on the couch and Inky has to be touching him," remarked Mo. 
Additionally, the influence of her years in the military has also been woven into the lounge. The "Wounded Warriors" is a loving nickname for a group of cats living at Patriot Pawsabilities who have a unique condition or may be missing a limb. Each of these cats are named in honor of fallen servicemen. For example, Bulldog Six, a large gray cat with three paws and the self appointed leader of the cats, was named after the call sign of Tom Bostick, a friend of Mo's who was killed in Afghanistan. This nod to her military service is another way that Patriot Pawsabilities is uniquely Mo's. 
She hopes that soon she can start a program where Patriot Pawsabilities brings cats to visit wounded servicemen and veterans, and to children in hospitals as well. "I came back with all my parts and my husband also, and we know how lucky we are because there are so many of them that are not that way," she says.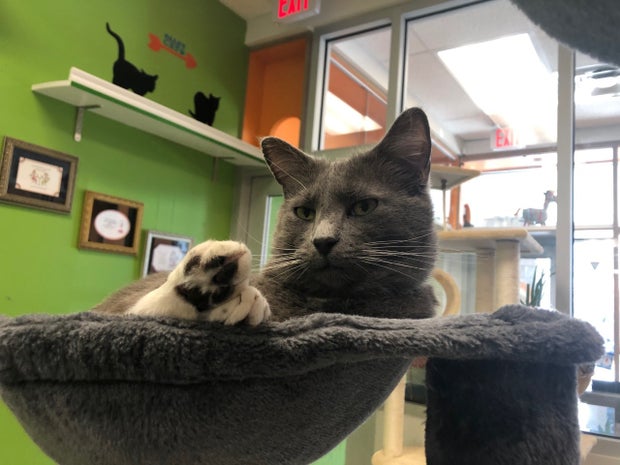 Photo by Olivia Garcia Just this past March, Patriot Pawsabilities celebrated their second anniversary. Despite the hardships of the pandemic, they are still able to do the work that they love. The cat lounge has become an important member of the community and continues to bring people together. 
You can visit Patriot Pawsabilities behind Giant in University Mall or check out their website. And if you're looking to fill up your social media feed with cute cats and kittens, follow them on Instagram @patriot_pawsabilities and on TikTok @patriotpawsabilities.