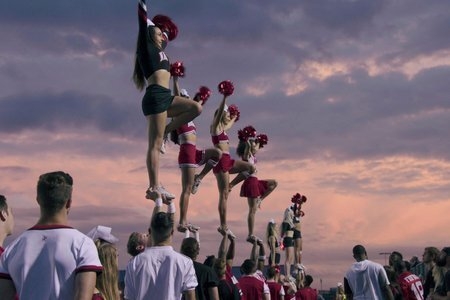 How Netflix's "Cheer" Sets Examples for Leadership, Teamwork, and Loyalty
If you've seen Netflix's new docuseries, "Cheer", you're probably wishing you could "make mat" and compete for Monica. You probably also saw how unconditional loyalty drove the Navarro College cheer team to their 14th national title in Daytona Beach. How can their teamwork be used as an example of how we carry ourselves and make decisions at work, at school, and in life?  
Just by watching five minutes of the show, it's obvious that cheerleading is more than pom-poms and chants, but it's a physically straining, often even dangerous, sport. However, "Cheer" doesn't only tackle the physical hardships of competitive cheering; it confronts the emotional and daily hardships of the members of the team as well. While numerous injuries are shown on camera, so are their true emotions. 
Many of the cheerleaders - namely Lexi Brumback, Jeremiah Harris, La'Darius Marshall, Morgan Simianer, and Gabi Butler - bared all and told the audience about their individual tough backgrounds. 
Brumback opens up in episode one by saying, "I didn't have much going for me. I was a high school dropout, and I didn't see the light at the end of the tunnel until Monica gave me this chance." Marshall, Harris, and Simianer also share their childhood struggles on camera. Marshall with bullying and abuse, Harris with the passing of his mother, and Simianer with coming from a broken home. All of these stories demonstrate to the audience that the past does not define your future, and the importance of kindness- you never know what someone else is going through. Their maturity, leadership, and persistent positivity are all qualities that we can take an example from and put to use in our day-to-day activities. 
Cheerleading is a sport that requires an immense amount of trust. A cheerleader must be fearless and trust their teammates to catch them as they fall. While some teams may do the trust-fall exercise, their stunts are an ultimate display of teamwork and cooperation because it has real consequences should someone fail to be caught. The support, loyalty, and trust they have for each other can easily be seen and is what leads their team to success. These are exactly the kind of qualities that can lead any group to success, no matter the end goal. 
More than the cheerleaders lives themselves, the show also delves into coach Monica Aldama's relationships with team members. In episode four, Aldama addresses the public's response to male cheerleaders saying, "Yes, I'm religious, and I would say I'm more conservative. And I might be a little bit old-school with values and stuff like that, but I get angry." She goes on to express her care for the men on her team adding, "I will debate you up one side and down the other if you talk about my boys." Aldama's support without reservations is the perfect example of love for others that is very much needed in our world. Other instances in the show also portray this: Lexi Brumback went through online harassment during the filming of the series and, without judgment, Aldama went with Brumback to the police as they worked to end the harassment. 
After the release of the docuseries, the Navarro champs received an outpouring of support from fans. One fan, @troublewithprabal, said via Instagram Stories, "The hard work, determination, grit, passion, angst, nerves, teamwork and above all their love and friendships, it was not only heartwarming but incredibly inspiring. I cried my heart out." 
Another fan, @PollyEdsell, talked about her feelings about "Cheer" via Twitter: "I wanna be best friends with La'Darius and Jerry more than anything in the world" and "I need Monica to be proud of me." So, obviously, the series resonates and inspires the audience, but not only because of the big personalities. It's the positive attitudes and constant mutual support after overcoming adversity that keeps viewers wanting more. 
After their win at Daytona Beach, it was clear to me that leadership, positivity, trust, teamwork, faith and loyalty were the most important things that led them to their well-deserved triumph. Personally, I will be starting to put these into my own life in order to achieve my goals- personal, academic, and professional. I urge my fellow collegiettes to try this as well and see where it takes them! And if you haven't streamed "Cheer" on Netflix yet… what are you still doing here? 
Go watch it!