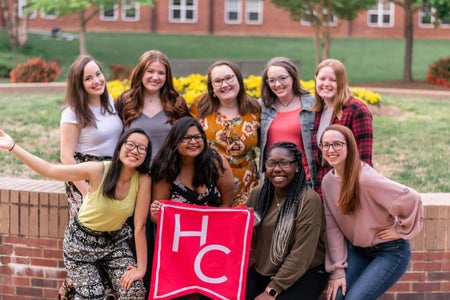 Her Campus Helped Me Find My Home
I grew up in a small town hanging out with the same group of friends since I was a kid. Going to college is scary enough but going to a school where the number of undergrad students is a few thousand more than the population of your entire county is terrifying. I never saw myself going to a big university but I fell in love with George Mason and decided to make it my home. 
From about second grade all the way through high school, I hung out with the same tight-knit group of friends, most of which ended up choosing other colleges. I didn't know what to do. I've always seen myself as an introvert and had no idea how to make friends. 
Enter Her Campus. The summer before my freshman year, I was scrolling through one of the class of 2021 Facebook groups when I saw a post from an upperclassman saying that her organization was looking for new writers. On a whim, I applied and got in. Little did I know how much it would change my life. 
As awkward as I probably was when I first met the rest of the team, I knew I had found my home. I was passionate about writing and looking for a group of girls to call my friends and here it was. 
Photo courtesy of author
Little did I know during that first meeting how many opportunities Her Campus would bring me. I have been a National Chapter Advisor, been to College Fashion week twice (once as an attendee and once as a model!), attended Her Conference twice, and served on the e-board as Senior Editor, Editor in Chief and, now, President. All because I filled out an application on a whim. 
Photo courtesy of author
If you are passionate about writing, PR, social media, photography or graphic design and looking to find a group of empowered, kind and talented women on campus, I highly recommend you apply so you can find your #GirlGang like I did. You can apply here from now until the end of the day on July 14th!