How to Throw the Perfect Friendsgiving
Turkey season is here! But let's not forget about the true meaning of this season. Thanksgiving is a season filled with giving back and being thankful for your surroundings. For most of us, returning home during this season means being reacquainted with our families and our hometown friends. That alone can be something you're thankful for. Hosting a friendsgiving is the perfect way to catch up with your old pals and celebrate how much you appreciate each other!
picture: https://www.dgreetings.com/thanksgiving/letters.html
picture: 
Here are some steps to throwing the perfect Friendsgiving
Step One: Find a host or BE THE HOST!
Step Two: Create a guest list
Invite your closest friends. Don't miss out on this opportunity to catch up with some of the friends you aren't able to see during your busy school schedule. 
Step Three: Create a menu
This is Friendsgiving we're talking about here, people. We don't want to skimp out! I like to break things down into categories: appetizers, starters, main course, sides and, dessert. 
Here are some examples:
Appetizer: Cheese and cracker platter or chips and dip
picture: https://barefeetinthekitchen.com/how-to-make-a-cheese-board/
Starters:  Salad and/or soup
picture: https://sweetsimplevegan.com/2017/11/butternut-squash-pear-soup/
Main course (your protein): Ham,turkey or even tofurkey for my fellow vegetarians out there
picture: https://www.tasteofhome.com/recipes/marinated-thanksgiving-turkey/
Sides: Mashed potatoes, green bean casserole, stuffing, sweet potato casserole, cranberry sauce. SO many options!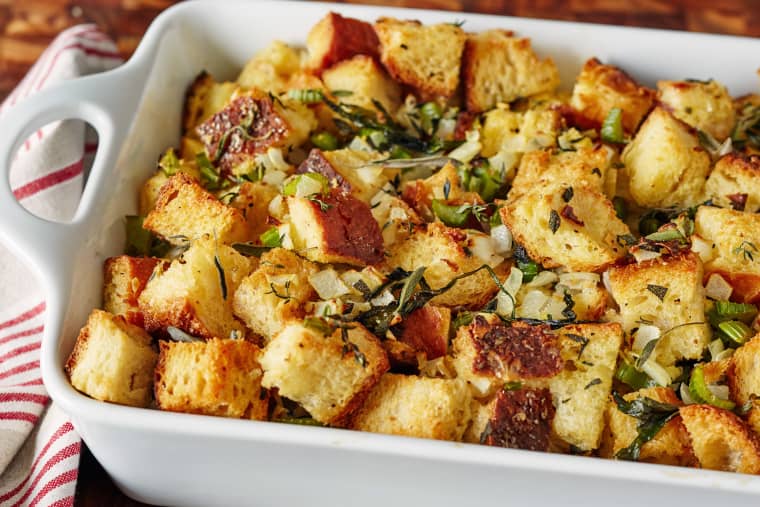 picture: https://www.thekitchn.com/how-to-make-the-very-best-thanksgiving-stuffing-237564
Dessert: Vanilla ice cream, apple pie and pumpkin pie 
picture: https://www.highhillranch.com/apple-pies.php
Step Four: Make it a potluck 
After you have narrowed down the perfect dishes you would like at your feast, ask your friends to help out and bring a dish. This step is especially important, as cooking a whole feast on your own can be rather stressful and costly.
Step Five, the final step to a perfect Friendsgiving: Place Cards
This step is optional but it will take your feast to the next level, as well as add a rather cute and thoughtful touch to your Friendsgiving. On each plate setting make a festive name tag. Inside that name tag, add a thoughtful message, and tell the person why you are thankful they are in your life and attending your feast. 
Most importantly, don't forget to have fun. Hosting can get stressful, but don't let the little things get you down. If something doesn't go as planned and someone flakes on you, remember this is your chance to spend time with your closest friends and enjoy each other's company as well as some great food. 
picture: https://www.eleganceandenchantment.com/thanksgiving-place-card-and-tent-card-printables/
Happy hosting and enjoy giving thinks with the people you love!