4 Lessons from Parks and Rec That We Could All Use in College
It is a truth universally acknowledged that a short trip to Pawnee, Indiana offers the perfect combination of comfort and motivation to make even the most stressful of days feel a bit less exhausting. Here are some pearls of wisdom from Parks and Recreation that can be applied to any situation, especially college
1.) It may take some time to find what you're passionate about
Parks and Rec is obviously famous for its go-getter protagonist Leslie Knope. With a summa cum laude in history and a boast-worthy collection of "Spirit of Pawnee" awards, Leslie always had big goals in mind. And she was never hesitant to run after them, no matter the setbacks that stood in her way. Leslie is one example. But let's look at the other end of the spectrum to the beloved Andy Dwyer, who we first met when he had 2 broken legs from falling into a giant pit. Andy started off with no direction, slowly take advantage of any opportunities life threw his way— first as a shoe-shine boy, then as Leslie's assistant, then as a kids' musical performer until he finally had his own children's TV show. Of course Leslie's growth is inspiring, but there is something uniquely beautiful about Andy's character progression. Each experience he garnered led him one step closer to where he was supposed to be— even if it took some time. His mission in life did not materialize before him. He took a circuitous path, but years later, he ended up where he was meant to be, alongside his supportive wife, April. Most importantly, he made the best of every stage in his journey, never losing his childlike optimism and unwavering loyalty.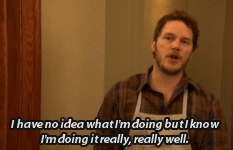 I think this lesson rings true especially in college culture as you're driving down the fast-lane, trying to find a major that excites you while speculating how that can translate into a sustainable career. Not everyone's perfect fit comes to them in freshman year— I personally think a little bit of disequilibrium from your intended plans can sometimes be exactly what you need. If anything, college is the time to question what you'd always imagined for yourself and maybe find something you'd never considered. Perhaps you'll find your way back to your original trajectory. Perhaps you'll gravitate towards a different one. Whatever the case, it's okay not to have all the answers right at the starting line.
2.) There is no shame in admitting you need help
For this lesson, I find no better character to look to than Chris Traeger. Chris was seemingly the most perfect man that had ever graced the streets of Pawnee. Not only was he extremely athletic, relentlessly optimistic, AND A SPEED-READER (you've got to be kidding me!), but he was genuinely one of the most caring and understanding people on the show.
Yet, along the quest to cultivate this perfect exterior, Chris went through periods of extreme emotional vulnerability, feeling lonely and as though his life was pointless without someone to love. The important thing is, Chris understood that he needed help. He sought out a therapist, Dr. Richard Nygaard, and eventually made progress towards maintaining his mental health and focusing on the parts of his personality that he loved.
It is easy to feel pressured to make sure all the boxes in your life are checked off in college: perfect grades, social life, and extracurriculars. But if there comes a point when it feels too overwhelming, it is important and healthy to seek support— whether it be from friends, family, or a professional.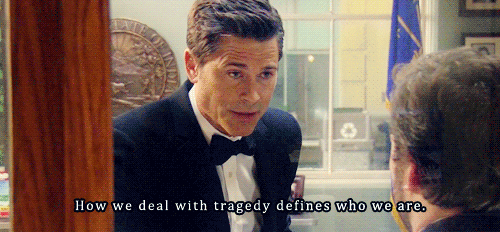 3.) Find the People that Appreciate Your Inner Dork
Writing this, I can only think of Ben Wyatt. When Adam Scott's character first stepped into City Hall, it seemed impossible that there'd be an ounce of quirkiness underneath that uncompromising, mathematical exterior. Yet, as the show progressed, we realized there was an genuinely adorable, dorky personality that the right people had to let out. As a state auditor, Ben was constantly travelling from town to town, reluctant to let down his guard and make friends, since he'd have to leave anyway after slashing their budgets. Of course, finally reaching Pawnee and meeting the right group of friends allowed him to be unapologetically himself, even if they did tease him about calzones and Cones of Dunshire relentlessly.
The point is, it's not easy to meet friends who make you feel truly at ease anywhere, and especially in college… But the right people will let you be your nerdiest, oddest self without you having a gnawing feeling of self-consciousness. Sometimes you may have to wait, but as Ben showed us, your people are out there somewhere. You will find them.
4.) Patience and Living in the Present
I've realized that college has instilled in me a relentless sensation that I'm always waiting for something. Waiting for the next opportunity, waiting for the next time I'll get to visit home, waiting for something I can't even pinpoint yet… It is a feeling that I tell myself is hope. And yes, I think there is something so optimistic about always believing that there is something just around the corner or something to be working towards. But always wishing for something can dampen the beauty of now.
Leslie put forth her absolute best effort to build the park in Lot 48. And while it took 7 seasons, she did it. But along the way, she made such a life for herself in other ways, unexpectedly meeting her best friend Ann and her soulmate Ben, all the while forging her path in the career she loved. The show kicked off with her mission to build the park behind Ann's house, but had Leslie operated with tunnel vision all those years, aiming and waiting uncompromisingly for nothing but Pawnee Commons, who knows how different her life would have been.
I think this moment exemplifies living in the present more than any other: when Leslie literally stopped Ben in the middle of his proposal to cherish and crystallize how perfect her life felt in that particular moment, she truly showed us that sometimes the best way to live is simply to breathe in the present.
These are only some of my favorite lessons from the wonderful characters on Parks and Rec. Let me know yours as well! I'd love to do a second part focusing on the storylines from the rest of the gang  (even Jerry/Larry/Terry/Gary).