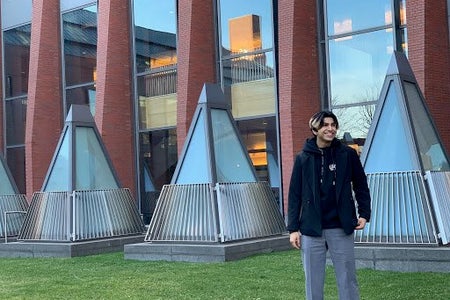 Name: V Jain 
Year: 2023
Hometown: Los Angeles, California 
Concentration: Economics and Public Policy 
Favorite movie: umm… best movie ever.. Hmm .. Parasite. But that's probably not a hot take right now…. Just write "Cars." 

Favorite song: 20 Minutes by Lil Uzi 

Favorite spot on campus: Jo's, Does that count? But, for studying, the Hay or the CIT. 

Favorite restaurant in Providence: V Dub 
(He does go to VDub a lot. I've seen him there.)
Dream Job: Trophy Husband? It doesn't get better than being a Trophy Husband. 

Where do you see yourself in 10 years: Somewhere in New York. 
He actually said "being 29" at first. (He's funny). 
One thing you want to cross off your bucket list: Being Campus Cutie. 
Congrats! :-))))) 
One thing you can't live without?: My Docs.
We love some style. 
Do you have a secret talent: Making Fire A** Beats. 

Currently crushing on someone?: Yes. She has Pink Hair. *heart eyes*

Celebrity crush: Playboi Carti

What do you look for in a girl : Vibe. Like, the ease of our conversation. 

What is your ideal date:  AQUARIUM 

Spring Break plans?: Going to the Motherland. 
(He is going to India). Seriously so funny.