In honour of our Women's Health Week, Her Campus Bristol interviewed Ellie Adams, President of Bristol University's CoppaFeel! team, who represent the national breast cancer awareness charity. They work around the year to raise funds and awareness, reminding people to check their boobs and pecs regularly. You might have seen their giant boob shaped designs around campus!
The positive, informative and welcoming approach the team take is both wonderful to see and effective in spreading the important messages they have to share. As Ellie makes clear, the last thing they want to do is scare people. Breast cancer is curable, early detection is key to this. You should be encouraged not to look for signs, but to raise your awareness in everyday life.
Read on to find out more about the amazing work the wonderful Uni Boob team get involved in, and the key things you can do today.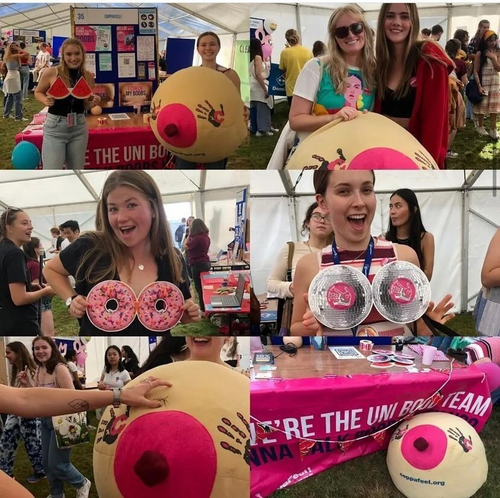 What Inspired you to become involved in CoppaFeel!?
"CoppaFeel! has always been a charity close to my heart and is one I had followed for years before coming to uni. I first encountered CoppaFeel! at a festival back in 2018, and after talking to the volunteers I saw how important of a charity CoppaFeel! is. After seeing my sister being a part of the Uni Boob Team over in Cardiff, and having personal experiences with cancer, I was inspired to join the team here in Bristol. With CoppaFeel! being such an amazing cause, being a part of it is really rewarding. The community here is so lovely, and I couldn't wait to join!"
What sort of activities and areas of awareness have you wanted to focus on?
"The main area of awareness we focus on is encouraging young people to check their boobs and pecs regularly and encouraging them to get to know the signs and symptoms of breast cancer. We say, the most important thing is to know what is normal for you, as every person is different and unique. We hope to give people the confidence in knowing their body and to show them the importance of doing so. We encourage those of all genders to check their breasts regularly as breast cancer can affect all those who have breast tissue."
"One way we encourage people to check their boobs is through our free monthly text reminder service which sends out monthly reminders for people to check their breasts. We also host events where we can talk to people and show them the importance of checking regularly, as well as fundraising for CoppaFeel! while also having some fun. We hope to plan some amazing events and fundraisers in the next few months now we are allowed back to return to in person events! Whether it be a glitter ball, a coffee morning or our annual Exhiboobtion!! We'd love to see some of you there!"
Text UBT BRS to 70500 for free text reminders every month!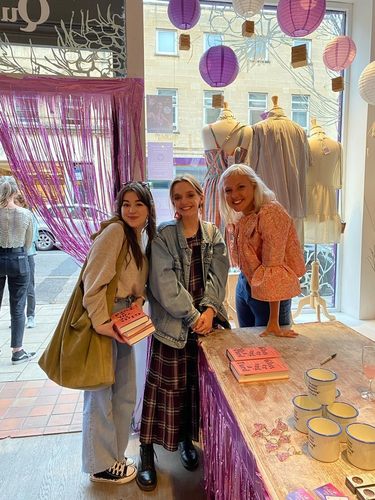 Do you often have to deal with stigma or misconceptions? If so how have you engaged with the community?
"All the time. Sometimes when walking around campus with a massive boob we can get a few odd looks as people don't realise who or what we do, so we are all about starting open and honest conversations and not letting any taboos get in the way."
"When we speak about breast cancer many people aren't aware of the importance of checking their boobs and pecs as people often don't realise that you can get breast cancer at a young age. Our charity was founded on this basis, after our founder, Kris Hallenga, was repeatedly told her symptoms were hormonal by doctors due to her young age, before she was diagnosed with secondary breast cancer at age 23." 
"The last thing we want to do is scare people, and we explain that while it is less common to be diagnosed at a younger age it is not impossible. On average around 950 young women aged 34 and under will be diagnosed each year in the UK. But breast cancer is curable! It is early detection that is the key to this, which is why it is important to know your normal, so you can have the confidence and be empowered to go to the doctor if you notice any signs or symptoms of breast cancer. It is often a surprise to men that they can get breast cancer, so we also advise them to check regularly, and make sure they and people of all genders are included in our conversations. We don't encourage people to actively look for symptoms but to just be aware of them in case they do arise. As we say, if in doubt get it checked out."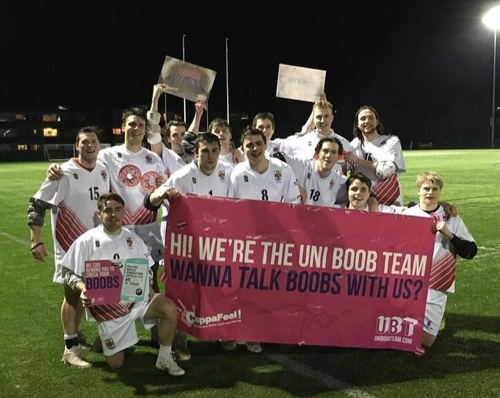 What have been the most encouraging and rewarding outcomes and moments from your efforts?
"It is often encouraging to hear that due to the presence of Uni Boob Teams and the services CoppaFeel! provide, people have felt confident enough to go to the doctor when they have noticed something unusual, in some cases it is all clear, and sometimes it is breast cancer. Knowing that you are a part of something that has the potential to save lives is truly rewarding."
"Really just having conversations with people and letting them know the importance of checking themselves and spreading breast cancer awareness, is why we are a part of the Uni Boob Team. It makes us happy to know people leave our events or conversations feeling a little more confident or informed about breast cancer." 
What or who around you do you personally take inspiration from?
"Personally my biggest inspiration is my mum who was diagnosed with secondary breast cancer a few months ago. She is honestly the strongest person I know and constantly amazes me with how brilliant she is. In the face of hardships she continues to show her kindness and joy. She is one of the main reasons I was inspired to get involved with CoppaFeel! after going through treatment a few years ago for primary breast cancer. Seeing someone I love so much go through this journey has shown me the true importance of raising breast cancer awareness, she's a star and I'm so proud of her!"
How can Readers find out more and get involved?
"Readers can get involved with us in many ways. For one, we are a completely free society to join, and we host a range of fun fundraising and awareness events across the year that we'd love for your readers to come to. For example, we are planning to collab with many societies across the year to put on boob schools to help spread awareness and to help fundraise for CoppaFeel! So look out to see if your society is getting involved and we'd love for anyone to reach out if they or their society want to collaborate with us in the future."
"You can also find us on the SU website and on Instagram @coppafeelbristol, for the latest information, we even have some committee roles available! Above all, I hope readers take away the importance of checking their breasts regularly and feel empowered to do so. If you want to sign up to our free monthly reminder service, text – UBT BRS to 70500. We are a very welcoming group so please do reach out if you want to be a part of our society and come and say hi if you see us around campus (look for pink and a big boob), we'd love to see you!"
"Boob love to you all x"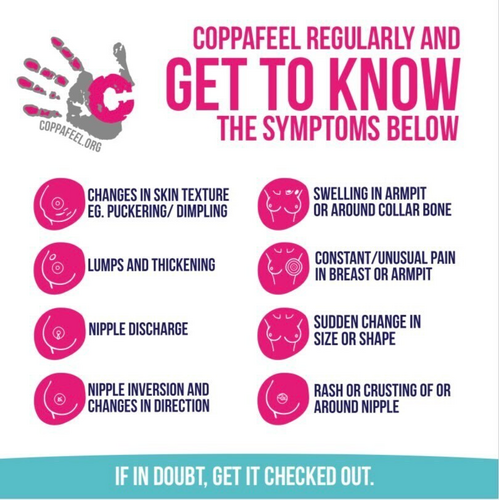 This piece is part of a themed content week at UOB centred around Women's Health