Inspirational Student: Gigi Aulsebrook
Inspirational Student: Gigi Aulsebrook
"Honestly the best thing we can do, while engaging with the community, is broaden the message. We're not just checking boobs as in line with CoppaFeel!'s line of awareness -  we're asking people to check everything's in line with their own 'normal'"
Gigi Aulsebrook is president of Bristol Uni Boob Team CoppaFeel!, working to fundraise for the breast cancer awareness charity. CoppaFeel! promotes the early detection of breast cancer by encouraging regular breast checks and educating people under 30.
Gigi is one of HerCampus' inspirational students as she used an unimaginably painful experience to make a real difference in her community. She fights daily for awareness, information and safe spaces in the university. With important support group initiatives down to her efforts, she has laid the foundations for students in coming years to express themselves safely.
Under Gigi's direction, CoppaFeel!'s set up Cancer Coffee Mornings won 'Campaign of the year' on March 10th at the Volunteering Ball & Awards Ceremony 2020. Her personal nomination for  'Leader of the year' speaks volumes of the quality and dedication she has been deservedly recognised for.
Find her thoughts and message below.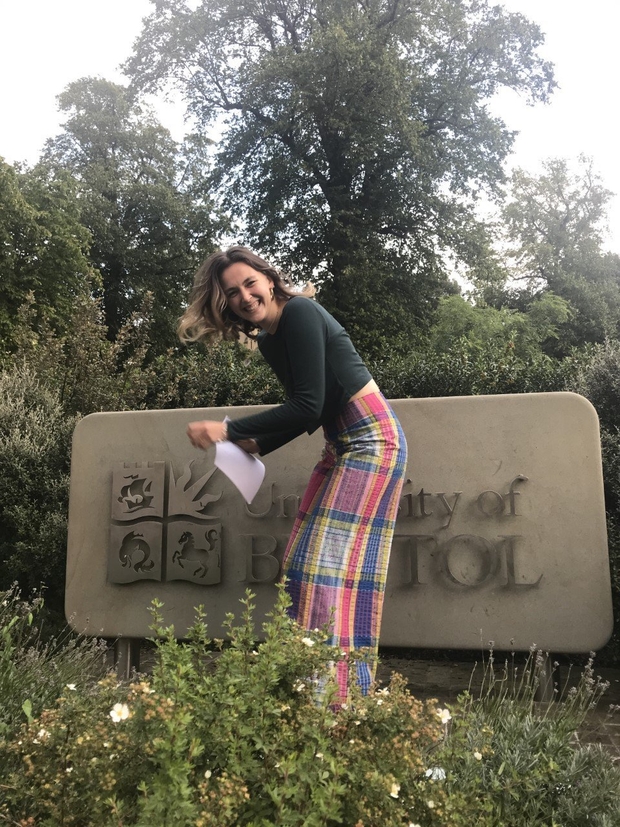 Take us through your journey: When did you become aware of CoppaFeel, what inspired you to get involved and so actively?
I was able to find out a fair bit through friends, one of my best friends at uni was involved as the Social Sec and I lived with the previous president.
In December 2018 my mum died from metastatic breast cancer. She had been diagnosed in 2005 and sailed through admirably before being getting it again in 2017.  It's crap and there's no way around saying that - and that's why I got involved. I wanted to try and put a spin on a bad experience and I knew two girls involved already. So I thought about it and thought it would be a positive addition to my life.
I ran for President because I have lots of ideas and wanted to take CoppaFeel! in a specific direction.
What sort of activities and areas of awareness have you wanted to focus on?
CoppaFeel!'s mission is to educate the public on signs and symptoms, encourage people to check and to empower people to demand referrals when they think something's not the norm.
 In honour of these aims we do loads of activities including:
Documentary screenings

Bake sales

Mocktail making

Pumpkin carving at Halloween

Naked calendar - which was super fun and very liberating for everyone involved

Pottery society collaboration making boob related pottery
We continue to collaborate with an increasing number of societies including art society, cell society and EFM. At the beginning of the year we worked with UBTV to campaign to be one of RAG's charities; so we put in an application, were shortlisted and worked with UBTV to receive a free promotional video. The video was incredibly useful because loads of people who previously might not have known about CoppaFeel! were reached.
This year in particular we've worked with loads of sports societies including women's hockey, women's rugby, women's football and men's lacrosse who recently did an event in aid of us. It's great to partner up with willing sports societies because throughout the year we're fundraising and raising awareness and so their support helps make our jobs easier.
Do you often have to deal with stigma and misconceptions? If so, what's the best way to engage with the community?
There's a lot of "aha boobs" especially when people see the stickers. You'd think that perception would mostly be among guys but that's not always the case and we haven't had many bad experiences thus far. Honestly, if someone is clearly not going to engage then we won't try and force them but it's also quite interesting to talk and hear their previous understandings. For example while it's mostly women affected, 400 men a year in the UK are also affected by breast related cancers. It's small but it is something worth talking about and when we're talking with men on the streets unsurprisingly they often say they have no idea.
Honestly the best thing we can do, while engaging with the community, is broaden the message. We're not just checking boobs as in line with CoppaFeel!'s line of awareness - we're suggesting people check their neck, bums and legs. Any changes you are aware of are important - we don't ask people to check for cancer because that message scares people - we're asking people to check everything's in line with their own 'normal'. If there are changes then we want to empower you to check - it's funny that people are willing to touch avocados in the supermarket because they're squishy but they don't want to talk openly about boobs because they're so sexualised.
Any advice for readers on how you manage the responsibilities alongside studies?
Time-keeping, management and organisation.
We have a Google drive that everyone has easy access to, we have an email also. I'd like to say the committee has been really good this year, we all came with good ideas but didn't know each other and yet everyone has been supportive. It can often feel like you're pulling dead weight but with the Bristol CoppaFeel! committee it's really not.
I also really enjoy it, it's like a distraction for me. Sometimes it does distract from work but talking openly and communicating priorities helps a lot.
What have been the most encouraging and rewarding outcomes and moments from your efforts?
So far as a Bristol student unit we have raised £2200 which is brilliant. With the addition of RAG who have so far raised £4000 nearly for us as well as nightline and student minds, this takes our total to over £5000. I thought that number would be amazing but having surpassed it I now want to get up to £7000! With the exhibition coming up I think this is possible - it's truly amazing how receptive people have been.
It's also the more personal moments that encourage me. People telling me that it is my specific efforts that encouraged them to check themselves. One girl told me she saw me speaking at an event and it inspired her to go to the doctors. Beyond helping CoppaFeel! in their aims it's these specific encounters that personally mean the most to me.
The Cancer Coffee Mornings I set up also mean a lot to me. They're student-led support groups for affected people; since CoppaFeel! is focused on raising awareness I personally wanted to add a welfare element to our efforts. So every Tuesday fortnight from 10-12 in the SU we meet to introduce each other and create a supportive network just by sitting and chatting. We actually won the first SU group of the month, which was great publicity alongside someone in the SU putting CoppaFeel!'s meeting in the SU living room promotional video. This support network is my baby, I wanted it to be there for people when they need it and it is a base success for me.
Our goals to directly reach people are also going really well. As the Bristol unit we have probably reached around 500-1000 people through events directly and then around 5000 indirectly because of social media. With the help of RAG our outreach is expanding incredibly well and I'm very proud of the direction CoppaFeel! is heading.
Who or what around you do you personally take inspiration from?
My mum - she was a strong, independent inspiration. While arguably sometimes stubborn she was a woman who always got things done and I pride the independence and strength of my brother, sister and I from her. Even though she's not around anymore these qualities have definitely stayed with me.
Also my friends for their positivity and drive, I've made some really nice friendships and relationships at uni that will stay with me forever. Genuinely, when I reflect and think about it, they're all great.
How can readers find out more and how can they get involved?
There are brilliant free text reminder services you can set up when you text UBT BRS to 70500. They start off saying 'welcome to the uni boob revolution' and then on the first of every month you'll receive a funny text reminder to check your boobs. They're fantastic for spreading the word.
We've also got some events lined up:
We have a DogSoc collaboration occurring in March where we'll get to walk, chat and bond with dogs.

On April 26th CoppaFeel! ExhiBOOBtion! takes place with loads of stalls with local artists selling boob themed prints, jewellery and t-shirts

Booby Bingo on the 30th April

CoppaFeel! AGM takes place on May the 7th for all those interested in being part of the 2020-2021 committee. It would be fantastic to see people turn up.
*All events have temporarily been cancelled due to the coronavirus outbreak, but the ExhiBOOBtion on the 26th will now be an online raffle of all the artwork on display. Follow them on their social media below for updates of when tickets will be released!!!*
Please spread the word about our social media
Check out what's happening and see the funky art on our Instagram coppafeelbristol

You can find us on Facebook as Bristol Uni Boob Team

Or contact us via email through [email protected]