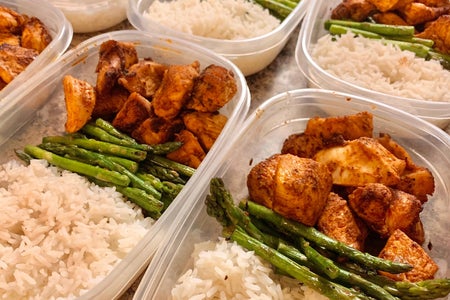 Original photo by Miryam Bevelle
While meal prep can be simple, it may seem like a daunting task for anyone who hasn't tried it before. It includes planning your meals, buying your groceries, cooking your food, and then storing it all for the week. It sounds like a lot of work, but it's actually highly efficient for those who already find themselves in a time-crunch during the week. But what if I told you it would actually SAVE you time during the week?
I plan my meals on my notes app every Friday which takes about 10 minutes at most. On Saturdays I go grocery shopping which takes about 1-hour max, and Sunday afternoons are reserved for actually cooking my meals, which can take anywhere from 1-2 hours depending on how intricate I decide to get. Altogether, meal prep only takes 2 hours and 10 minutes––at most––out of my week. What a time saver! If you keep reading below, you'll get to see what my week of meal prep looks like!
Breakfast: Apple Cinnamon Yogurt Breakfast Parfait
Ingredients for 1 serving: 
1 medium Honeycrisp Apple, cut into small pieces
1 tsp Honey
½ tsp of cinnamon
½ cup of honey nut granola
2/3 cup of Greek Nonfat Yogurt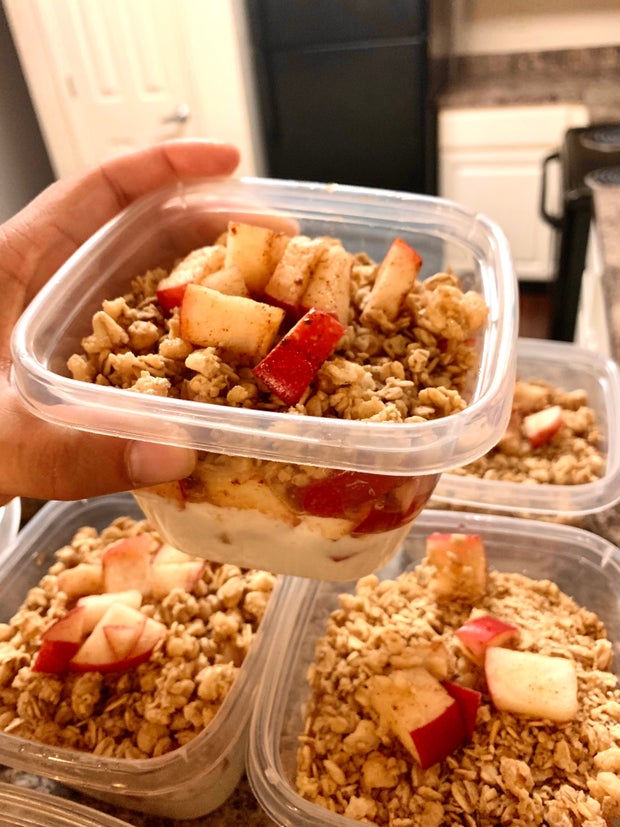 Original photo by Miryam Bevelle
Total Calories: 468 calories
Review: I would rate this meal about a 9/10 because I love how efficient and cheap it was but I'm not a huge fan of super sweet breakfasts. Despite its inherent sweetness, prepping a week's worth of this meal only took me about 10 minutes. Being less than 500 calories and having only 5 ingredients makes this fall-inspired breakfast so worth it!
Lunch: Pork and Veggie Ramen Noodle Bowl
Ingredients for 1 serving:
1 packet of Ramen Noodles (no mix)

½ lb of Center-cut Pork

1 tsp of chopped green onions

½ cup of sliced green beans

¼ cup of shredded carrots

½ diced onions

Sauce: sesame oil, liquid aminos (healthier form of soy sauce), sriracha, salt and pepper.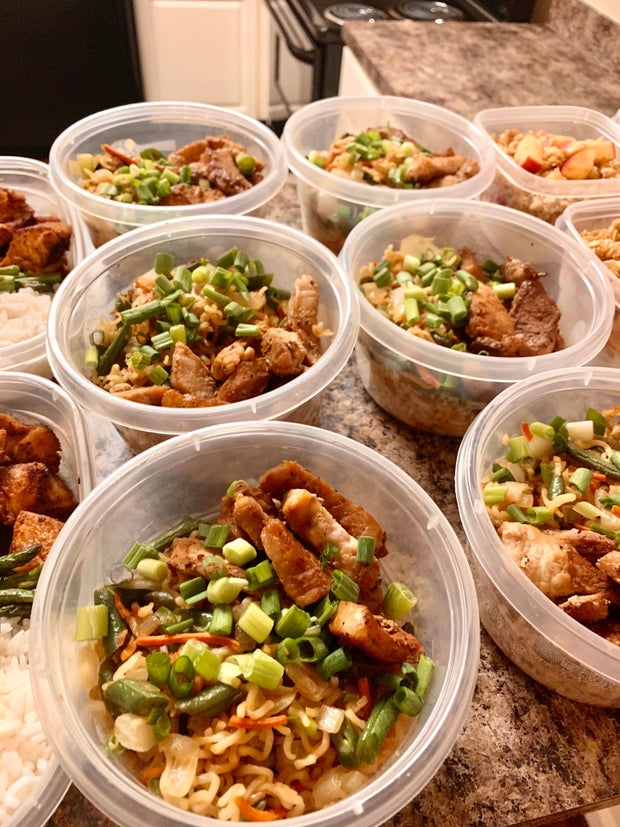 Original photo by Miryam Bevelle
Total Calories: 623 calories
Review: This meal would be a 7/10. Super tasty but it fell short when it came to the shelf-life of the ramen noodles which I didn't think of when I prepped this meal. While the noodles can stay perfectly fine in the fridge for a week of eating, they got softer and soggier towards the end of the week. What I would change is not putting the sauce on the noodles when storing, just on the meat and veggies only.
Dinner: Cumin-spiced Chicken and Asparagus with Rice
Ingredients for 1 serving:
½ cup of white long-grain rice

½ lb of largely diced chicken breast

½ cup of halved asparagus

1 tbsp of Olive Oil

Spice rub: cumin, paprika, chile powder, onion powder, garlic powder, salt, and pepper.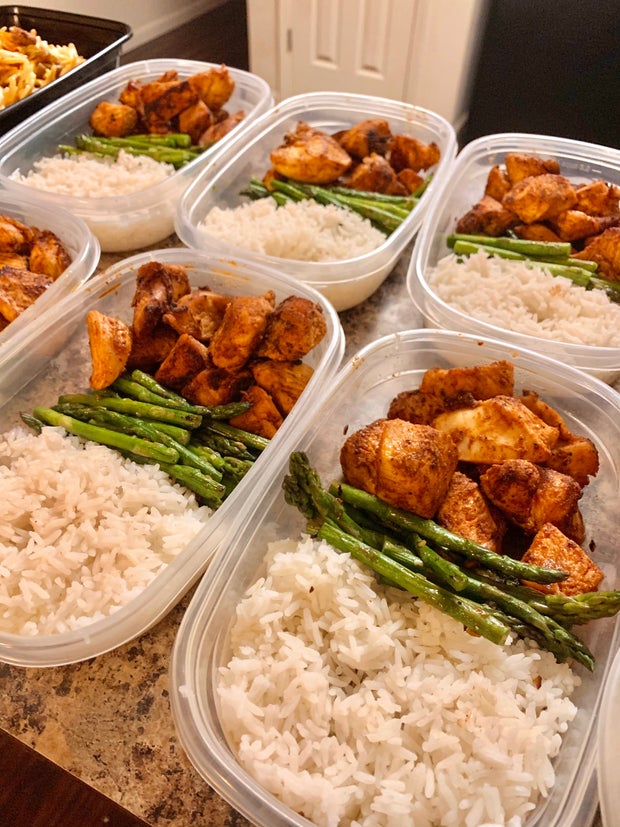 Original photo by Miryam Bevelle Total Calories:  560 calories
Review: Definitely my favorite meal of the week at a 10/10! My rice was cooked perfectly, the asparagus was cooked but still has some crunch, and the spice rub on the moist chicken was dynamite. This is a perfect example of what a picture-perfect meal prep would look like.
Overall, I'm pleased with my meals for the week. If you add up the total calories of my meals combined, I had about 1,651 calories of planned food per day. However, my daily calorie goal is about 2,000-2,500 calories so I usually have room for some snacks in between my meals. 
It's always best to have a little wiggle room in your calorie expenditure for the day (mine this week is about 349-849 calories/day) so that you can give in to a random ice cream craving that you might have, which is honestly my go-to at night, because you want to have a good relationship with food that doesn't have restrictions. It's all about balance! 
Let this article be your inspiration to start experimenting with meal prep, and be sure to come back for more Meal Prep with Miryam!