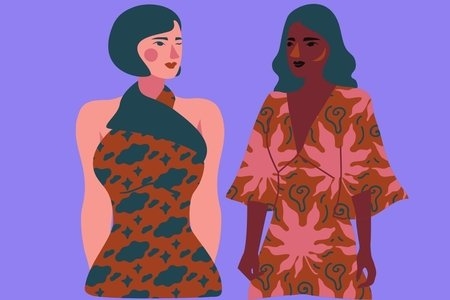 Original Illustration for Her Campus Media
HCAU's Use of Gender-Inclusive Language
Her Campus American takes pride in our use of gender-inclusive language. We aim to promote gender inclusivity and diversity in our organization and hope to educate, inform, and improve the journalistic use of gender-inclusive language. 
"Her Campus" was created and continues to maintain the position of being a space for young women to create, share, and collaborate. Her Campus Media's mission statement is to "empower young women with the tools, passion, confidence, and training they need to succeed, no matter what they dream of doing." However, with our name itself, we acknowledge that our publication has been put into a gender-conforming box and the implications for this are that we have been positioned as a space for cis-women.
The binary that has been placed on us as an organization due to the implication of our name and does not reflect the goals or the values of Her Campus at American. We should have never been just a "women's space", but we are taking responsibility for that aspect of our past and the national organization we are a part of. At AU's chapter of Her Campus we seek to fully embrace the lens of intersectionality, we acknowledge those who do not fall into gender binaries, and we strive to be inclusive to all who lack representation.
Her Campus American embraces the diversity, intersectionality, and identities of everyone who wants to be involved. We also seek to tell diverse narratives through our writing and other content. In recognizing our limitations and the changes we need to make, we are going to start using the term "womxn" instead of the term "women" in our writing and other content. We are invested in interrogating all forms of sexism and misogyny, not just sexism toward cis-women and we hope this change reflects that.  
What is Womxn?
Womxn refers to anyone who is affected by sexism, misogyny, or any issues that are coined as "women's issues". Whereas "women" is usually used solely to discuss cisgender women, "womxn" is applied to not just cisgender women but also transwomen, non-binary folks, femmes, butches, or anyone who is affected by misogyny. 
How Should Writers Use Gender Inclusive Language? 
Use womxn in your articles when you feel it is appropriate. Do not use the spelling womyn because that is seen as a word for white cis women that excludes trans women and women of color.
When to use "women": When you are using the title or name of something
When to use "womxn": Anytime you are discussing an issue about sexism, misogyny, or anyone who faces these issues.
How to use womxn: Just simply replace the spelling of "women" or "woman" to "womxn" You can put a note at the top of the article or a footnote at the bottom defining womxn and explaining it's usage.
Photos: Her Campus Media Library