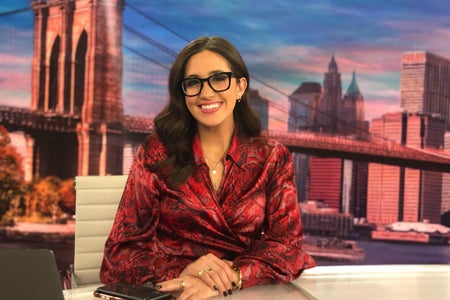 How Savannah Sellers Became the News Correspondent We Know and Love
When Savannah Sellers was in sixth-grade, she stood on the TODAY Show Plaza and decided she must work there one day, and guess what? Now she does! As a correspondent for NBC News & MSNBC, she wears many hats, from co-anchor for Morning News NOW and co-host for NBC Stay Tuned. Needless to say, her days are extremely busy. From one conversation with Sellers, you can tell she is extremely passionate about her work, and takes pride in how she approaches journalism. Read on to learn more about her journey with NBC and the road that led her where she is today.
Her Campus: What does your current job entail? What's your favorite part?
Savannah Sellers: I'm a correspondent for NBC News and MSNBC, a co-anchor of our new streaming morning show Morning News NOW and a co-host of our NBC News Snapchat show 'Stay Tuned.' This means my day is usually pretty busy! I'm up around 3:30am to get read in and talk with our team as we get ready to go live at 7am. After Morning News NOW, I might have an interview for a piece for the TODAY show or I'll spend time writing the script for a story or pitching new ones. In the afternoon, I film our twice daily Snapchat show. I feel so blessed to be able to honestly say: I LOVE my job. It's hard to pick a favorite part! I love getting to share people's stories. Many of the topics I tackle aren't easy to talk about, and I am honored when someone opens to me. 
HC: What is one lesson you have learned along the way?
SS: A huge lesson I've learned is the concept of knowing what you don't know. The true meaning and embodiment of this took some time to sink in for me. And what it really means is this: it's important to admit and speak up when you need help. It's OK to not know the answer to everything. Ask a question, get a mentor, and don't pretend to know something you don't. It will make you a better colleague, a better journalist and a better person. 
HC: What has been the most surreal moment of your career thus far?
SS: When we launched 'Stay Tuned' and it hit me that I was hosting an NBC News show produced out of 30 Rock that was reaching a whole new audience of millions. Also, being on the TODAY show from Studio 1A for the first time was pretty cool! One of my favorite assignments for the network was getting to travel to the UK to cover Prince Harry and Meghan Markle's royal wedding.
HC: As a woman in broadcast journalism, what's been the best part of your journey? What's been the hardest? 
SS: The best part of my journey has been proving to myself that I could do it. I've had an unconventional career path and there were times I wasn't sure I would achieve my goals. And as a young woman operating in this space, unfortunately, sometimes other people make you believe you can't do it. Persevering and believing in myself is one of the aspects of my journey I'm most proud of. The hardest part goes hand in hand with that: battling the imposter syndrome.     
HC: What inspires you to tackle incredibly challenging, often emotional stories? 
SS: The people I interview who are the ones actually dealing with or witnessing those challenging situations. If a story is difficult to tell because it's emotional, it likely means it's a story that *must* be told. That doesn't mean it's easy to tell, though. I am honored when someone opens up to me and is vulnerable and brave, and I take the job of sharing their experiences very seriously.  Oftentimes, those are the stories that will make real change in the world and that's what made me want to do this job in the first place. I'm also a self-proclaimed cry baby. I can be quite emotional. But I think that's an asset in this job. When you're the bearer of a message that is going to make the audience feel something, it deepens that connection and makes you work harder to produce good work.
HC: With your upcoming focus on how the pandemic impacted how students cheat, what was the biggest surprise you learned as you researched?
SS: For my reporting for NBC News' Kids Under Pressure: College Edition series, the biggest surprise is how honest students are with me. One of the greatest joys of my job is the relationship I have with the viewers of my Snapchat show, Stay Tuned. Snapchat is a platform young people use to connect directly with their close friends, and sometimes I feel that way about our viewers too. It means I get to have really raw conversations with teenagers and young adults because we already have a relationship established. And our cheating reporting was no different. Students expressed to me the immense difficulties they've faced while trying to learn remotely. And I was surprised to hear from a lot of them that the truth is...they aren't learning. So they're cheating. Just to get a passing grade. I think it's going to be a real problem for future semesters because many students were not able to get the foundational learning they needed in the past year.
HC: Your new research focuses on how the pandemic directly impacts and leaves vulnerable, first-generation students, as you continue to report on this, what is a takeaway you want readers to understand?
SS: I was a first-generation college student. And even though my parents didn't go to college, I was so blessed to have their support both emotionally and financially. In these incredibly difficult times, many students who either are or were planning to be the first in their family to head off to college are not receiving that support. A UC Berkeley survey of nearly 30,000 students found that first generation college students were more likely to face financial hardships during the pandemic, including housing and food insecurity. Families across the country are hurting…and that makes this a difficult time to be the one to push your family forward. I think the biggest takeaway here is a reminder that you never know what someone else is going through. And the best way to navigate that is to be kind to others and lend a helping hand when you can.
HC: If you could tell your younger self one thing, what would it be?
SS: I wish I could turn back time and tell the younger me so many things! Middle school and high school was the height of my anxiety disorder. I am still struggling with my anxiety quite a bit, but I now have tools to help me through it. I know I might not have taken my own advice, but I wish I could say: don't worry so much! Now if I'm being honest, the version of me that got up just this morning could use that advice, too. But I would want the younger me to know that if you work hard and be nice to people, things will work out. I'm also constantly reminding myself to remember when I wanted exactly what I have right now. I think that's a great lesson at any age.
HC: What advice would you give to students wanting to go into broadcast journalism in the future?
SS: Lean into the new technologies and platforms that you, as a young person, know best. This is the future of not only our industry, but of our world. There's never been a greater need for truth-based journalism and we need it on all platforms. As media consumption habits continue to evolve, I encourage students to be on the frontlines of the new platforms that they are likely the experts on. I am where I am because I seized the opportunity to bring the NBC News brand to Snapchat and I was the right person for that job. Snapchat also happens to be a platform where viewers crave authenticity and reject anything but. Which brings me to my next piece of advice: never shy away from being your authentic self…especially in a broadcast role! Never forget that you bring something special to the table that the world wants to see.
Tune into NBCNews.com every morning at 7am EST to see Savannah and connect with her on Twitter, Instagram and TikTok.