This Company Is Picking 150 Recent Grads For A Free Digital Portfolio Review
Even on a good day, recent graduates often find themselves struggling to find work in their field of choice. The job market has always been highly competitive, but thanks to hiring freezes and budget cuts across the board it's positively volatile. Now, more than ever, a flawless application is a must, and digital product and brand experience agency Instrument wants to help you navigate that curve. They'll be accepting entries into a lottery for their new digital portfolio review initiative–called Office Hours–until 10am PST Thursday, May 21, and winners will be drawn by noon PST the same day, so if you're interested in digital design, web development, advertising or user experience, apply right now! This could be a great opportunity for you to prepare for upcoming job applications and interviews, or to get insider info on your industry of choice.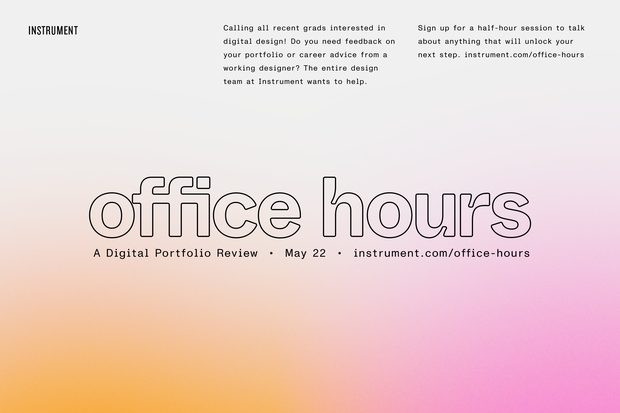 On Friday, May 22, Instrument's design team will dedicate their time to providing feedback, career advice, tips for making connections and more to the winning graduates (or soon-to-be) in the form of a 30-minute Google Hangout for each winner. They're also factoring diversity into their lottery system, prioritizing applicants from historically underrepresented groups in an effort to dismantle systemic bias. 
You can learn more and apply here!