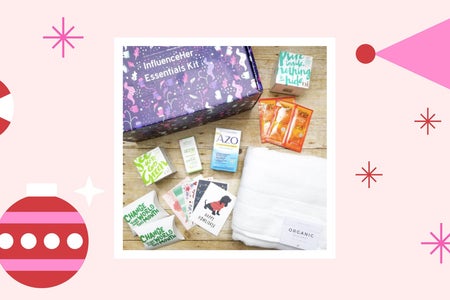 Emily Veith / Madison Loveday
You Can Win This Dream Winter Box
This is a sponsored feature. All opinions are 100% our own.
The post-holiday season is here and we're counting our pennies and snuggling up watching movies. And basically doing everything to avoid the wintry weather outside. 
You nailed the gift-giving thing this past month so I think we think you deserve a present, too! 
Lucky for you, Her Campus has teamed up with Under the Canopy, Hallmark, Oi (Organic Initiative), Alba Botanica, and AZO® to give you all the items to make this winter the best yet—from cozy, organic bedding to good-for-you products. Here's what we're giving away!
A cozy holiday from Under the Canopy
Holiday cheer from Hallmark
Reliable feminine products courtesy of Oi (Organic Initiative) 
Glowing skin from Alba Botanica
A healthy holiday season with AZO®
Enter to win all of these holiday goodies!