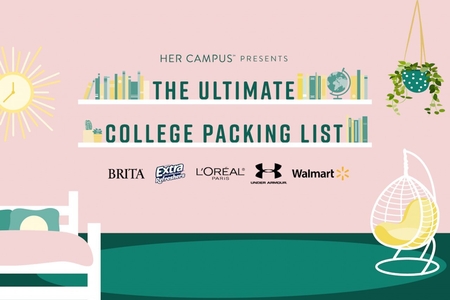 What to Bring to College: The Best College Packing List Ever
This is a sponsored feature. All opinions are 100% our own.
If you ask me, one of the most exciting parts of college is packing. Think about it: you're grabbing everything you need to build your ~brand new life~ as a college student, and it's a pretty big deal. But while it's super exciting, it can also be really, really stressful. And that's where, with help from some of my fave brands, I come in. Welcome to the College Packing list, your guide to everything you need for college.
Packing up your life to move into your (really tiny) dorm or apartment at college, especially if you're a freshman, can be super daunting. What do you need to bring with you? What sounds like a great idea to pack now, but will just end up unused and taking up precious closet space (hellooo, you've got clothes, and they need a home)? What if you forget something important (*cough cough, health insurance card*) and you can't get it until Thanksgiving?
I know exactly what you need to bring to college because I've been in your current situation. Read: wanting to buy all of the things but unsure where to begin. Just use this all-inclusive (and totally cute) checklist that covers everything from bedding to food to medicine. 
Wanna keep me forever? Same. Download a printable version of this list!
Bedding

Is anything more important than the perfect bedding for your first college bedroom? As far as I'm concerned, nope, not really. Your bed is where you'll end up spending a good amount of time, from eating late-night take-out with your roommates to cramming for your final. So make it a cozy space you can be proud of — and take some amazing shots of for Insta. 
Bedbug-protecting mattress cover
Foam topper
Mattress pad 
Twin XL sheet set 
Duvet and duvet cover or comforter set 
Twin XL bed skirt
Pillows 
Pillowcases 
Reading pillow
Throw blanket 
Throw pillows 
Underbed storage 
Sleeping bag or air mattress
Room

In college, your room is like... your entire living space. So don't underestimate the importance of a really killer set-up. Picture brand new friends walking into your room. What do you want them to see? What's the vibe you want to give off? If it was up to me, here's what I'd get.

Welcome to college, otherwise known as your introduction to doing your own laundry 100% of the time. Want clean leggings? You've gotta wash them yourself. Want to not run out of underwear before the week ends — hey, it happens — throw them in the wash. The last thing you want is to realize that, no, college laundry rooms actually don't provide you with stain remover or drying sheets, so come prepared. 
Laundry hamper or bag 
Lingerie bag
Laundry detergent
Bleach
Color catchers
Fabric softener
Stain remover
Dryer sheets
Drying rack
Garment bag
Iron
Ironing board 
Lint brush
Portable stain remover pen
Quarters
Sewing kit 
Food

Food doesn't grow on trees in college. Well, it might, if you live in Florida or something. But your pantry (or, more likely, the plastic storage bin under your bed) isn't going to suddenly appear stocked with snacks. So stock it up with just a few of my faves, because bulk snacks are a lifestyle.
Bulk snacks (candy, granola, dried fruit, etc.)
Bottled water
Granola bars
Popcorn
Cereal
Coffee
Coffee creamer
Sugar
Instant hot chocolate
Microwaveable mac and cheese
Ramen
Soup
Instant oatmeal
Peanut butter and jelly
Desk/School Supplies

Who doesn't love the fresh smell of school supplies? School supplies are a little different in high school than they are in college, mostly because you'll definitely have one professor who will totally chew you out if you don't own a stapler (trust me). You're at college to learn, so do so ~in style~ so you can impress all of your new classmates and also inspire yourself via your fave notebook. Plus, keep your desk as stocked as your closet and you'll never run into an awkward, last minute, "Wait, can I borrow a highlighter?" situation. 
Backpack 
Tote bag
Binder clips
Paper clips 
Binders
Business cards
Calculator
Calendar
Clicker 
Desk chair 
Desk lamp 
Desk organizer
Envelopes
Stamps
Cards/notes to send home
File folder for important documents 
Desk storage box 
Folders
Glue
Notebook paper
Notebooks
Notepads
Index cards
Sticky notes
Journal
Laptop fan/stand 
Pencil case
Pencil sharpener
Pencils
Erasers
Pens/colored pens
Permanent marker
Highlighters
White out
Planner
Portfolio/portfolio case for interviews
Lunchbox 
Rubber bands
Ruler
Scissors
Stapler
Staples
Staple remover
Tape 
Textbooks
Three-hole punch
Kitchen Supplies

Depending on where you end up going to school, your kitchen could be anything from a microwave and a mini-fridge to a legit kitchen you're sharing with your roommates. Your college kitchen has to serve your needs whether you're trying to save money by making your coffee at home and taking it to go, or trying to dabble a bit in being a college foodie. 
Blender 
Microwave (if your school allows it)
Mini fridge (if your school allows it)
Toaster (if your school allows it)
Coffee maker 
Oven mitt
Water boiler
Water filter pitcher (HC Pick: Brita 10-cup pitcher)
Water filters 
Reusable water bottle (HC Pick: self-filtering water bottle)
Utensils
Knives 
Dishes 
Mugs 
Travel mug
Bottle opener
Can opener
Chip clips
Napkins
Food storage containers
Plastic wrap
Paper plates
Sealable plastic bags
Tinfoil
Dish towels 
Paper towels
Dishwashing soap
Hand soap
Disinfecting wipes
Glass cleaner
Sponges
Duster
Broom
Dustpan
Mini vacuum
Mop
Trash bags
Tech

School supplies in college definitely require a new category: tech. You'll have papers to send, emails to write, and endless photos to take. Keep your documents fresh (and fast!) with my tech essentials. 
Laptop (HC PIck)
External hard drive
Flash drives
Keyboard
Wireless mouse
Lap desk/stand 
Laptop case (HC Pick)
Camera
SD card for camera
E-reader
Tablet (HC Pick)
Chargers (phone, laptop, camera, etc.)
Portable phone charger (HC Pick)
Ethernet cable
HDMI cable
Extension cords
Adapters (HDMI, ethernet, etc)
Headphones and spare headphones (HC Pick)
Speakers (HC Pick)
Printer (HC Pick)
Printer ink
Cord organizer 
Printer paper
Router
Surge protectors (HC Pick)
TV (HC Pick)
TV stand (HC Pick)
Batteries
Bathroom
Air freshener
Shower curtain and rings (if needed)
Shower mat
Shower organizer (if your school allows it) 
Upgraded showerhead (if your school allows it)
Bathroom rug
Shower shoes
Shower cap
Shower caddy 
Bath pouf
Loofah
Washcloths
Bath towels
Hand towels
Bathrobe 
Tumbler/cup
Bathroom cleaning supplies (if you need them for your dorm: i.e., drain cleaner, glass cleaner, rubber gloves, shower cleaner, sponges, toilet brush, toilet cleaner)
Scale
Toiletries

While borrowing toiletries from your roommates can be fun, it gets a little awkward when you have to ask for shampoo the third time around. Shopping for toiletries is kind of an adventure, so grab this list of products and supplies and make an afternoon out of it. 
Products 
Supplies
Hand mirror
Toothbrush
Floss
Toothbrush holder
Razor
Tweezers
Hairbrush
Comb
Bobby pins
Blow dryer
Diffusers
Hair curlers
Curling iron
Hair straightener
Hair ties
Hair clips
Headbands
Contacts, solution, and case
Eyeglasses and case
Eyeglass cleaner
Cotton balls
Cotton swabs
Tissues
Makeup brushes
Nail clippers
Nail files
Pumice stone
Tampons and pads
Toilet paper
Clothing

The fun part: your closet. Prepare for every single girl's night in, party, tailgate, formal, and that really fun time of year where your professor makes you dress up to give a presentation. Don't forget your favorite high school sweatshirt for when you're feeling nostalgic. 
Documents

You're a grown-up, now. Carry your own stuff. The fun part? You'll be ready to jet-set come spring break without panicking about your parents being able to get your passport in the mail on time. Bon voyage! 
Bank documents
Credit card
Debit card
Checks
Driver's license
Car registration and insurance information
AAA card
Copy of birth certificate
Copy of Social Security card
Passport
Student ID
Emergency contact list
Financial aid documents
Health/dental insurance cards
Lease (if you have an apartment)
Renters insurance (if you have an apartment)
Product warranties
Medical

Sadly, college is a breeding ground for germs. I know, I wish it wasn't the case. But that many bodies in such a small space? Boom. Suddenly everyone has that same weird cough-sneeze-combo. Dorms definitely don't come with stocked medicine cabinet, so come prepared and save yourself, and your roommates, a rush trip to the drugstore. 
Contains Content Sponsored by Mylan
Allergy medicine
Aloe lotion
Antiseptic wipes
Cortisone cream
Vaseline
Bandages
Blister bandages
First aid kit
Birth control 
Condoms
Menstrual pain medication
Cold medicine 
Decongestant
Throat drops/lozenges
Throat spray
Eye drops
Hot and cold packs
Humidifier
Insect repellent
Multivitamins
Supplements (iron pills, etc.)
Over-the-counter pain medication
Prescription medicine
Prescription refill information
Retainer/mouthguard
Rubbing alcohol
Thermometer
Thermometer covers
Upset stomach medication
Extras that make college better

Are you a weekend adventurer? Or more of a stay-at-home gal? Either way, you'll want to grab the below to make sure you can handle whatever random moments pop up. Because college is all about random, little moments, and turning them into memories. 
Beach towel
Bike
Bike helmet
Bike lock
Board games
Books to read for fun
Video game console
Playing cards
Art supplies
DVDs
Musical instruments
Religious materials
Earplugs
Sleep mask
Flashlight
Lightbulbs
Safety pins
Safety whistle
Pepper spray (if legal in your state)
Tool kit
Duct tape
Weekend bag
Travel organizer for toiletries
Suitcase/duffel bag
Luggage tags
Umbrella
Vacuum
Hand weights
Yoga mat
Sports equipment