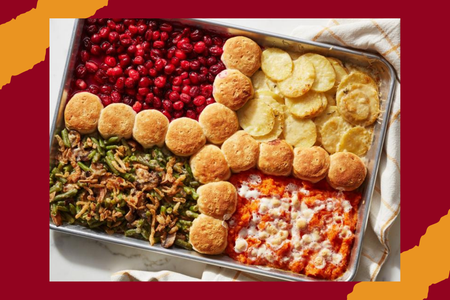 These 5 Recipes Are Perfect For Virtual Friendsgiving
This is a sponsored feature. All opinions are 100% our own.
I have to say, fall is by far my favorite season. Between the colorful leaves, transition to cooler weather, and anticipation for the holidays, there's something magical about this time of year. 
One of the best parts of November is waking up on Thanksgiving morning to the aroma of savory casserole, turkey, and freshly baked pie, and the knowledge that soon, you'll be enjoying it all with people you love. Although you may not be traveling to see family this year, who says a virtual Friendsgiving can't be equally as festive? If you're looking for easy-to-follow recipes or master classes for Friendsgiving this year, look no further than the Food Network Kitchen app. 
Check out Food Network Kitchen's schedule of live cooking classes throughout the holiday season to enrich your cooking skills or share a fun activity with your housemates. They have a ton of options to fit every palette, and with a little planning and creativity, your kitchen will be filled with dreamy fall aromas in no time. Let us know how your recipes turn out, and in the meantime, I'll be baking pumpkin butter cake until the end of time.