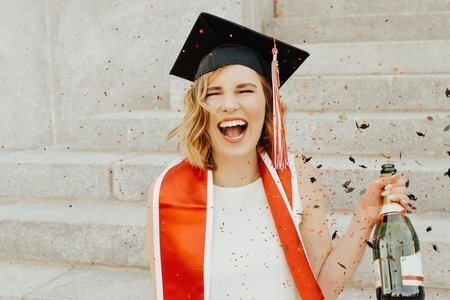 Tips From a Photographer For Taking Your Grad Photos At Home
This is a sponsored feature. All opinions are 100% our own.
Not having an IRL graduation doesn't mean you have to miss out on graduation photos. Take it from photographer Emily Dukes, who is sharing her best tips for DIY grad pics. Follow these and tag @HerCampus on Instagram so we can see how amazing your pictures came out!
Create the aesthetic you love: "Here's the thing: we are all referencing each other in some regard, so feel no shame for pulling inspiration from some of your favorite influencers. That's how I got started, actually. I had several influencers I admired dearly and attempted to recreate their photos with my own spin on it. I've poured syrup on my face and thrown glitter all over my living room all in the name of experimenting with what makes me me. We're here for all you've got, honey." 
Pick an outfit you feel confident in: "I tell this piece of advice to all of my clients because how you feel comes through in every photo. If you choose an outfit you love and feel good in, your photos will instantly feel more natural and confident. I've worn everything from ripped jeans and leather jackets to bold colors and loungewear. I know what I feel best in. When I'm comfortable in that, my inner lioness shines."
Prep your skin with products you can trust: "I'm religious with my face routine, so take it from me: stop sleeping in your makeup, ladies. Stop touching your face. Drink water. Neutrogena® has plenty of products out there with salicylic acid to fight those blemishes that you don't want appearing on photo day, like Neutrogena® Oil-Free Acne Wash Pink Grapefruit Facial Cleanser and Pink Grapefruit Oil-Free Acne Moisturizer. Something different works for everyone, and once you find your fave products, use those to get photo-ready."
Natural light is your best friend: "Wait for the right light, because you deserve it. Play with different angles, be it indirect or direct light, even shadows, and see what highlights your complexion the best. A well-captured photo will cement fond memories of this special milestone for years to come."
Give yourself time: "Don't rush the process. Above all, allow yourself the grace to try different, maybe even funky, things, and enjoy yourself. You've made it to the end of the finish line. Relish in it. You've got all the time in the world, babes." 
Avoid broad daylight: "Harsh light is rarely enjoyable, particularly when it's hot. It's best to stick with mornings or evenings to capture the best glow for your skin (remember that thing about waiting for the right light because you deserve it?). If you have to shoot in daylight, research the relationship between camera functions (shutter speed, aperture, and ISO) and aim for full coverage shade if possible."
Make your own tripod: "You don't have to spend money on expensive camera equipment to get amazing photos. Set up your camera or iPhone on something stable, be it outside or indoors. Think a stack of books, even a picture frame." 
Get creative with editing apps: "It's not just the right lighting or best angles; it's the editing that changes it all. If you're new to the game, research some of the top, free editing apps, reference your favorite influencers for ideas on aesthetic, and know this: a little bit of grain and sharpness go a long way."
 
We hope you try out some of Emily's tips and tricks! And for skincare inspo, check out this graduation get-ready routine featuring Neutrogena® Pink Grapefruit collection. Happy graduation, grads!