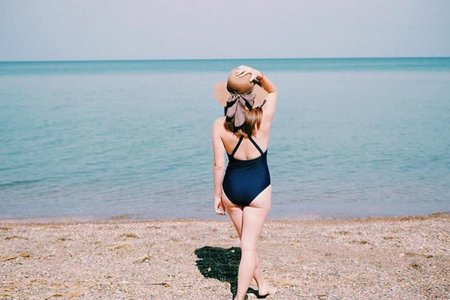 Anna Thetard / Her Campus
How to Spring Break Sustainably, From Traveling the World to Staying Local
Whether you are choosing to spend it close to home or you are going far, far away, you deserve to have fun on your spring break! But having fun doesn't mean having to throw your eco-friendly practices out the window.
Believe it or not, tourism is one of the worst causes of environmental destruction. According to an article from The New York Times, traveling by airplane, ship or train is causing extreme harm to the planet because of emissions and fuel usage, and is a huge factor in climate change. Not only is the act of getting there an issue, but the consistent growth of the tourism industry is a big problem, too. Tourism leads to depletion of local natural resources and land, pollution and waste problems, and the overuse of water, according to The World Counts.
While you alone can't control what big tourism industries or airlines do (and corporate resource depletion is a way bigger problem in the grand scheme of things), you can lessen your own carbon footprint while traveling this spring break season. Because hey, a little can go a long way!
Avoid using plastic bags for anything
The dangers of plastic bags have become more and more pressing and alarming to the public eye in recent years. The convenience of the product is undeniable - it's so easy to throw your shampoo or body wash into a plastic bag to prevent spills all over your clothes in your suitcase, or make a few snacks for the trip and store them with a few sandwich bags. But there are easy ways around this. Invest in a few reusable travel bags and snack bags - boom! Your plastic problem solved. Not only does it reduce the amount of trash you produce, but it's also healthier for you to use less plastic in general.
Switch to bamboo to-go essentials
Bamboo is one of the most sustainable materials on the planet. As a fast-growing grass, it requires no fertilizer and self-regenerates from its own roots, so it doesn't need to be replanted, according to Goodonyou.eco. The plant can be made into almost anything, including eco-friendly travel essentials. You can find bamboo reusable water bottles, toothbrushes, reusable utensils, toilet paper, travel bags, travel pillows, soaps, tumblers, and so much more. You can get all of these on Amazon or at local retailers.
Drive to your destination (and carpool)
Driving alone is boring anyway! If you're taking a trip that doesn't require a flight or train ride, try to get your group to fill up a car or two (safely, of course). Not only is it a blast, but it is one of the easiest ways to decrease your carbon footprint and the number of emissions being spewed into the air.
Eat and drink local
Drinking and eating locally-made products wherever you land during spring break not only supports small businesses, but it lowers your carbon footprint by decreasing transport mileage. Transport of food and beverages is one part of the three leading causes of large carbon footprints. So do what you've always said you were going to but never do - eat locally when you go away and skip McDonald's and the Walmart wine.
Buy local and fair-trade souvenirs
Everyone loves to bring their mom home a t-shirt when they go somewhere new, but you might want to reconsider where you get it from. Just like eating and drinking locally, buying locally made souvenirs that were produced ethically greatly reduces transport mileage. Your mom will still love whatever it is you bring her.
Don't get your towels changed every night
If you're staying in a hotel, it's nice to be able to have fresh towels brought to your room every day, but it's really not nice for the planet. Hotels are actually encouraging you to lessen the number of towel changes you request to be more sustainable. The fewer towels they have to wash on a daily basis, the less energy and water they have to use.
No matter where you go this spring break, be mindful of how your activities are effecting your carbon footprint. There are so many simple ways to do so and not a lot of excuses not to. Happy spring break!