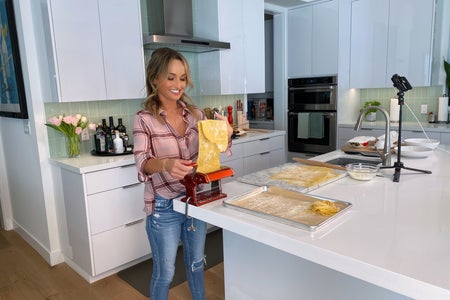 Marshalls Teamed Up With Giada De Laurentiis to Kick Off Their New 'Share WOW, Get WOW' Initiative, & You Could Be the Next One to Be WOWed!
At this point, it's really been hammered in how much the last few months and dragged. I don't have to tell you again how much more time we've spent at home than ever before, or how things like shopping trips have changed – we all know. Going out just doesn't feel like it used to, and the team at Marshalls knows it. To help bring some of the excitement of browsing back to shoppers, Marshalls has launched a new initiative called "Share WOW, Get WOW," designed to celebrate your in-store finds and take the excitement surrounding them to a whole new level. Through October 31, 2020, shoppers can post their most exciting in-store finds on Instagram using the hashtags #MarshallsWOW and #contest for a chance to turn your brag-worthy finds – from an affordable designer coat to a home decor piece that couldn't fit with your aesthetic better – into a real-life WOW experience, hand picked for you.
The first winner (virtually) spent a day cooking with Giada De Laurentiis
To kick off the program, Marshalls teamed up with celebrity chef Giada De Laurentiis to turn one shopper's find into a customized, virtual cooking session, including all of the supplies necessary. After Liz Cumberbatch, a school teacher and bakery owner, excitedly shared the sifter she'd scored at a Marshalls store on Instagram, her one of a kind find turned into "an even bigger WOW by giving her a culinary worthy experience." 
Liz was excited to find the sifter in store, as it was much bigger than what she'd had before and would allow her to sift more flour at once, thus making more cakes. But though her passion lies in baking, she wanted to learn how to make fresh pasta. Marshalls sent the two matching sets of equipment, and Liz and De Laurentiis were able to spend the day on Zoom together, making pasta alongside one another.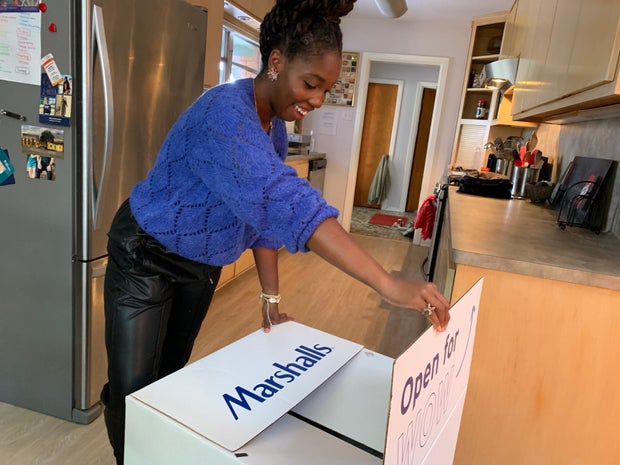 Courtesy of Marshalls
"She had the same pasta maker as I did, we had fun rolling pins, and we both had the same bowls we could serve and eat the pasta out of together virtually," De Laurentiis says. "We spent about six hours virtually over Zoom together making this pasta, and it was really inspiring for me, too, to get feedback from people in real time as to what is confusing to them about cooking and what steps do they still need, because sometime when you do something for so long, you kind of forget that there's so many intermediary steps that people need help with."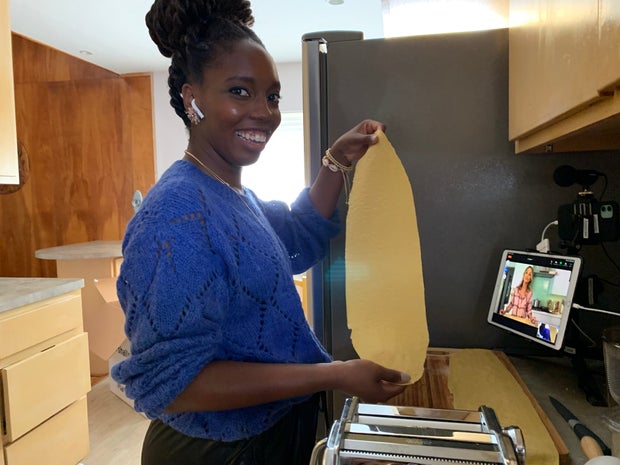 Courtesy of Marshalls
It was a win win situation, with Liz learning to make pasta and De Laurentiis getting to exercise her real-time teaching skills, and De Laurentiis was so excited to do it. "In the time that we're in, an extra bit of WOW in our day makes things really special," De Laurentiis says. "It was a really, really fun day." The two got to know each other really well before enjoying their homemade cacio e pepe together.
Every winner's experience will be something special just for them
And after having such a good day with Liz, Marshalls wanted to be able to invite all of their customers to have a chance to win their own, personal WOW experience. "So depending on what they find, they're gonna have their own tailored WOW," De Laurentiis says. "If you love yoga and you post a new yoga mat, it could be something that has to do with yoga, if you wanna redecorate your shelves you could get some kind of consultation with an interior designer to do that, or if you're a coffee lover maybe there's some sort of coffee bar situation that Marshalls might turn into an even bigger WOW." The possibilities are basically endless. "It's a really exciting program, and honestly it just made me feel good to help out and to do something to make people happy at this moment. To inspire them inspires me, too!"
The days blur together for us all
And De Laurentiis is no stranger to the quarantine blending of time, either. 69 percent of people polled for Marshalls report feeling like their days blur together at least once a month, and that can make it hard to do lots of things. Personally, I find it hard to make myself eat anything at all, let alone prepare something. You know that feeling when you open the fridge and nothing has miraculously appeared since the last time?
"What I like to do is make some snacks in advance," De Laurentiis suggests for situations like that. "I like to make my white bean dip and I have some pita chips – or if you wanna just do veggies, it could be endives, carrots, celery or whatever – and that's something hearty, something that feels really good to eat."
De Laurentiis also suggests a fun popcorn mix, homemade granola – she likes to add little chocolate chips in there to brighten her day ("That's my WOW!") – or bruschetta. "If you toast some bread and just rub some tomato on it – you don't even have to slice the tomato. Just take the tomato, cut it in half and just rub it over the top, add a little salt and you've got a snack!" Lining things like that up in advance and planning for what you need to shop for will leave your fridge stocked with several options, so you'll be good to go!
"In the beginning [of lockdown] I was super excited, I was like, 'I'm actually going to do all of these things!'" De Laurentiis says. She baked bread, she made bagels from scratch, but eventually she had to take a look at the takeout menu. "I love to cook, but three meals a day, every single day, with no breaks gets to be a little overwhelming, even for me!" It happened to her daughter, too. "I started to break down and ask my daughter, like, 'Okay, do you wanna just order takeout and do pizza, maybe, or?' And my daughter was all over it. She loves my food, but she also needed a break!" 
Whether you're a professional or not, being responsible for all of your meals gets exhausting after a while. "And I gotta tell you, the dishes are not my favorite part," she jokes. "I felt like all I did was cook and clean, 24/7. I didn't know what was a weekend and what wasn't a weekend [anymore]!"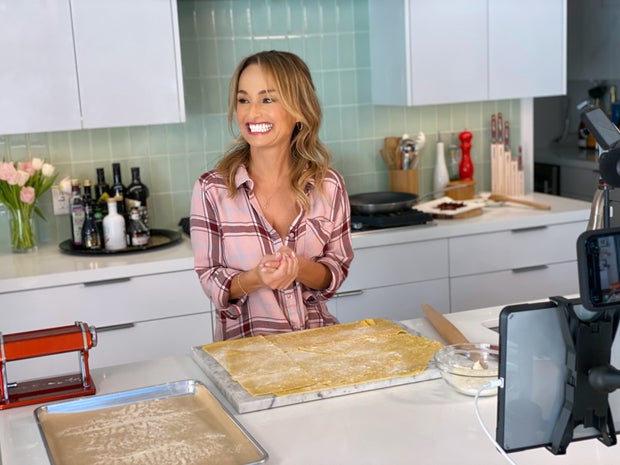 Courtesy of Marshalls
De Laurentiis is learning to live in the moment, which is what this program is all about
Unfortunately fans hoping to score their own WOW with De Laurentiis may be disappointed – every WOW will be brand new, tailored based upon the winner – but there are other things to look forward to! Besides the pandemic shows – shot in her own kitchen on an iPhone – which have been airing, she also shot a cookbook that will be coming out in March. "There's some new shows coming out as well that Food Network and Discovery have all planned out that people will start to hear about pretty shortly, so I've been keeping busy! And there are some things coming into the pipeline late this year into early next year," she says.
But for De Laurentiis, the most fun things are not what she's planning for but what she does on a daily basis. "That's what I like about this program," she says. "It's in the here and now, and it feels good for everybody. In this age, I feel like I'm really learning to live in the moment, and this is something that's happening in the moment, thanks to Marshalls."
Marshalls can't wait to make some other people really happy, and you could be one of them! Don't forget to share your most exciting in store find on Instagram before Halloween. Including the hashtags #MarshallsWOW and #contest, describe why your buy was so exciting, and it could become something even bigger!