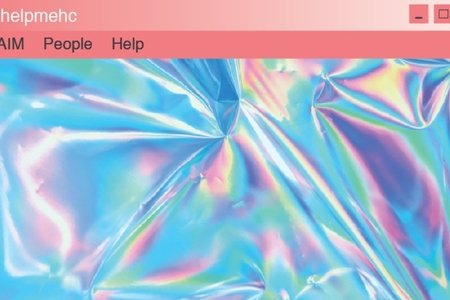 I DID A THING: Am I Messing Up My Chance Of Getting Into My Dream School?
I Did A Thing is our weekly advice column where the Her Campus editorial team helps you out when you ruin your own life (hey, we've been there). Email [email protected] for any and everything you need help with. We'll answer you (anonymously!) on hercampus.com so we can all learn, together. We've got your back.
@academicallyanxious: Hello, usually don't open up but since this is anonymous why not. Ever since I was young, I always knew I wanted to go Ivy League for college or go to the best Universities/Colleges available. I've always had confidence that I'd be going to these schools, but recently I have decided to do a different method of learning for Senior year and I'm afraid it won't be good enough to get me into Columbia University or Boston University.
 I only need one .5 credit left to graduate high school but, wanting to graduate with the rest of my class, I've decided to enroll into virtual school to complete the half credit as well as repeat a semester of Chemistry to bring it up from a D. During this time I'd be traveling, possibly being part of internships and/or taking classes at the local college. Is this good enough or is this a stupid idea that colleges will think I'm being lazy and deny me? I'm extremely anxious to know other opinions.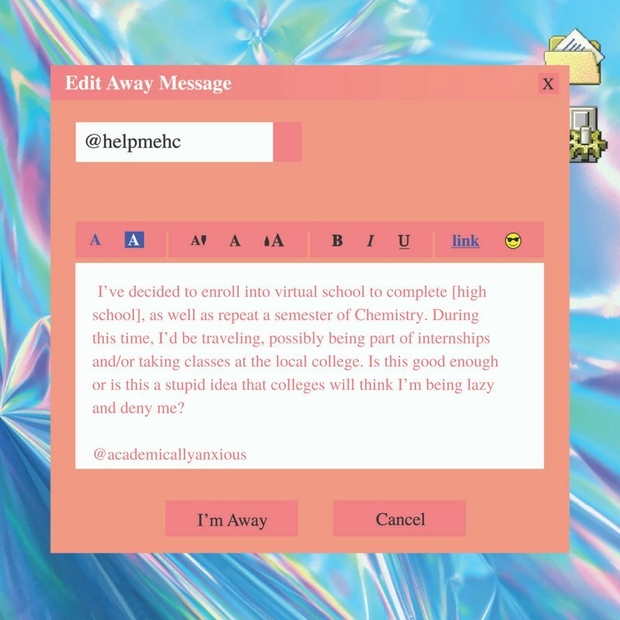 @helpmehc: First of all, congrats on making it to senior year and having your eyes set on some super inspiring, thoughtful goals and some rigorous academics. That in itself — getting to the point where you know, at least a little bit, the kind of environment you want to be in and starting to think critically about how to get there— is a pretty big deal when you're young.
The thing about applying to colleges, particularly those aggro prestigious ones with gigantic pools of applicants and loud AF brand recognition, is that it's always difficult to be sure how exactly your application will be received and how you may or may not fit into what admissions counselors see as what's gonna fit in to the campus community, class they're building out. Sometimes it really is a crap shoot depending on who else is in the applicant pool and what they bring to the table that is similar/different than you.
But, that is definitely not to say that your decisions (like traveling, doing some higher level academic work, getting internship experience) won't make you more desirable. Admissions folks always say that they are looking for someone dynamic and thoughtful and who will get the most out of the experience on whatever campus they'd want to be on. It's about being a good fit with high odds of being successful in that kind of environment.  
So doing what you're doing? Making moves that feel purposeful and thoughtful and like they are adding to and enriching your experience as a human while looking back critically at a mistake (like a D in a class) and trying to be better before heading to college? That doesn't sound at all like it's a stupid idea or something colleges will dismiss out of hand. The key to all of this is being purposeful and sharp as you can be about the decisions you're making and make sure the colleges you're applying to know that you have reasons for making those moves. If you can sit across from any interviewer/alumni/admissions counselor and eloquently explain how your senior year journey makes you the kind of student who is going to kill it come fall, you'll be prepping yourself for the best possible outcomes.
Going off the beaten path is scary as hell, no doubt. But, if you do your research and do the things that make you feel like you're a step closer to becoming the person you're meant to be, you're going to go far.