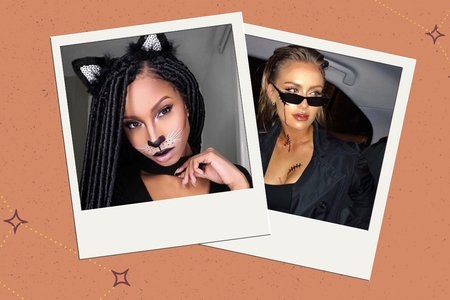 What Halloween Costume You Should Wear This Year, According To Your Sign
Well, it's that time of year where I'm perusing my Pinterest account night and day for all the Halloween costume inspo. Whether it's aiming to find the most clever costume to wear, or making sure it has a stylish ~twist~ to it, it's truly a hassle that even the biggest Halloween fan faces every year.
But when all else fails, what better way to land on an outfit idea than to turn to the stars? That's right, we've carefully curated a list of the best Halloween costumes out there, based on your astrological sign. Scroll on to see what the stars have in store for you.
1.

Aries (March 21- April 19): Cheerleader 

Aries are usually known to be eager, dynamic, and competitive. We can find most of these traits on the true warriors of the football field — Cheerleaders. Their eager spirit, competitive nature, and dynamic persona are few of the things that sets their school spirit and presence apart from the rest.

2.

Taurus (April 20- May 20): One of the Powerpuff Girls

Tauruses are strong, dependable, and creative — and to spice the characteristics up and add appeal, one of the Powerpuff Girls will always do the trick. They're always there when you need them, creative in their missions, and they're undeniably strong. 

3.

Gemini (May 21 - June 20): Duo Costume

Geminis, grab your BFF and channel your ~other side~. Try an iconic duo inspired by your fave childhood TV show.

4.

Cancer (June 21 - July 22): Superhero

These protective and compassionate signs are made for the superhero costume. The costume is so in tune with their empathetic and bold nature.

5.

Leo (July 23 - August 22): Bratz Doll

Ready to steal the show with their fiery personalities and confidence, the Bratz Doll is the perfect costume.

6.

Virgo (August 23 - September 22): Nurse

These gentle, analytical signs are best for the role of being a care-taker. A nurse wouldn't be too far from normal for them. Give it a zombie twist for an added layer of spooky.

7.

Libra (September 23 - October 22): Judge

These social butterflies are fair-minded and diplomatic — which is why a gavel and glasses are right up their ally. Serve justice and looks in this cute costume idea. Bonus points if you go as feminist icon Ruth Bader Ginsburg.

8.

Scorpio (October 23 - November 21): Cat

Scorpios are passionate and playful individuals. Much like our fierce, feline friends, they have a sleek and sassy nature about them.

9.

Sagittarius (November 22- December 21): Fairy 

Sagittariuses are optimistic and generous with great insight toward the future.

10.

Capricorn (December 22 - January 19): Spy

These independent and disciplined signs would look great in thigh high boots headed toward a problem to solve. The best fit for these tenacious individuals would be a spy. 

11.

Aquarius (January 20 - February 18): Vampire

Aquarians are imaginative and original — a vampire would go great with their unique spirit and individuality.

12.

Pisces (February 19 - March 20): Mermaid

Our water sign Pisces friends are the perfect fit for a mermaid costume with their fluid and imaginative nature.
Now that you have an idea of what's just right for you, don't be spooked to put your creatives touches to the test when curating these cute costumes!