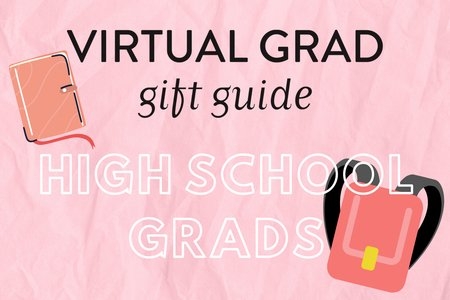 8 Gifts That Will Prepare Every High School Graduate for College
We're celebrating all high school graduates, too, and though move-in dates may be months–if not more–away, now's the perfect time to start budgeting and planning for your first year. Below are our top 8 essentials for your freshman year. 
Classes, late night study sessions and movie nights on the quad will have you toting your computer all across campus. Whether you're just carrying it or tucking it into your bacg, keep it (and your charger) protected with their own sleeves.  

Molly Hatch, $22; shop now

2.

A personalized planner

If you thought high school was busy, just you wait. Between classes and labs, work study and sport practices, movie nights and lunch dates, it's easy to lose track of what needs to happen when. With a personalized Erin Condren Life Planner, keep track of everything in one place, and make sure it always makes its way back to you. 

Erin Condren, $55; shop now

3.

A clear bag for game day

With most stadiums and arenas enforcing size restrictions on bags, a clear purse is a must to enjoy game days and concerts at night. Gloss Game bags come in a variety of sizes in a gray or nude colorway, with a variety of colored straps to choose from, so you don't have to leave your essentials at home.        

Gloss Game, $158; shop now

This Fair Trade certified comforter adds texture with its atypical quilting pattern and comes in four colors with optional matching shams and throw pillows. 

Pottery Barn, $99 (for the comforter only); shop now

5.

A supportive mattress pad

Any current or former college student can assure you that dorm mattresses are crap. This topper adds a plush layer and secures to the mattress with straps to prevent sliding!

Dormify, $129; shop now

6.

A bedside storage cart, with chargers

With drawers and shelves combined, this unit is perfect to put bedside. Featuring two USB ports and an outlet, phones and computers both can be charged within reach.

Dormify, $134; shop now

7.

A lockable storage trunk

For keeping your jewelry and makeup secure or hiding your illegal microwave during room inspections, a trunk provides additional storage space, can double as a coffee table, and keeps whatever you need it to hidden away.

Dormify, $190; shop now 

Anna Schultz / Her Campus

Above all else, incoming freshman are in for a rude awakening when they receive their book lists. It might wind up costing more than this whole list, so just throw some cash their way to help out.
The Her Campus National Editors write about products we love and think you'll love too. Her Campus has affiliate partnerships, so we get a share of the revenue from your purchase.