Where Did Galentine's Day Even Come From? A History, and How to Celebrate It Right
This piece has been syndicated from Her Campus at University of Puerto Rico. You can join a chapter at your school (or start your own!).
What is Galentine's Day, you ask?
​You could define it as:
Lilith Fair minus the angst (plus frittatas)

A day where ladies leave their husbands and boyfriends at home to kick it breakfast style.

The best day of the year.
According to Leslie Knope, anyway.
Or, the most generally accepted premise of what it should be: a day where ladies celebrate each other.
Galentine's Day lands on February 13th every year (for now, at least).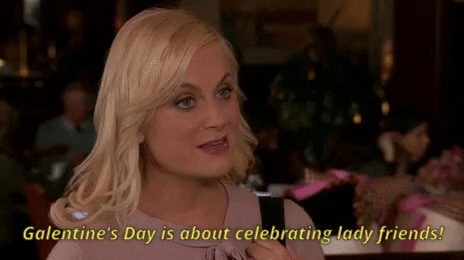 The idea of Galentine's Day comes from the 16th episode of the second season of the internet-beloved sitcom Parks and Recreation. Leslie Knope, the self-proclaimed feminist from the show, though it was necessary to spend time with the women who were close to her and treat them to a special day. Leslie considers that it's important to create spaces where women are represented and feel safe, as she constantly promotes this throughout the show in other endeavors (like leading the girl-scout troop). Even though we might see her antics as funny and sometimes a bit too optimistic for her own good, would it really be such a bad thing to embrace this idea? Some people are already celebrating this holiday and for good reason.
As a group, it should be noted that the intersectional struggles of every woman are different. There are no two women who are exactly alike, yet they all share something in common, which is being subjected to the standards that a patriarchy-driven society imposes upon them. One of the ways that women can truly find solace then must be among themselves.
Here's where Galentine's Day comes in.
We have the political side of being a woman and the identity politics that must be discussed at the end of the day, which are usually left for days like March 8th (although, realistically, when is it a bad time to talk about these issues?), but what about embracing female diversity on a cultural level? What about embracing each other in spaces that stray away from an explicit political discourse and decide that, on a day-to-day level, womanhood is empowered and celebrated? Galentine's Day opens the space for reflection upon what it means to create a sisterhood and maintain it even outside of political spaces.
So, next February 13th, drop the tubs of ice cream, drop the menial tasks of the day, drop your expectations for the following day, and as a woman, celebrate yourself and other women. Take the time out to remind yourself of all the beautiful things you have achieved despite the odds set against you. Recognize the struggles faced by every woman from their personal perspective, and then lift them up by recognizing that they have made it this far and are capable of so much more. Ideally, let your guy friends know that you're busy on February 13th. Or, maybe they'll find out on their own.
So, what's left to say? Support your sisters.