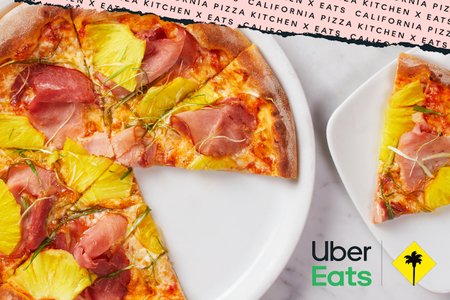 You Could Win a Hawaiian Vacation Thanks to California Pizza Kitchen & Uber Eats
Let's get one thing straight: I did not sign up to live at the North Pole, but that's what it currently feels like outside. I know, I know – in the dead of winter we beg for summer, and we pray for snow in the height of the heat. That's because extremes are the worst, and I'd really like to live somewhere that provides me with a happy medium year-round. That's not currently on my horizon, but a balmy, breezy island getaway might be!
Or, at the very least, a free Hawaiian pizza is. That's right, anti-pineapplers – this deal is NOT for you. California Pizza Kitchen and Uber Eats have teamed up to offer this deal to customers with taste, only.
Through January 19 at 11:55pm PST, customers who have added at least $25 and a Hawaiian pizza from California Pizza Kitchen to their Uber Eats cart can use the code "PIZZALOHA" to get their Hawaiian pizza for free. While supplies last, you'll also get a fun, vacation-themed surprise with your order. But best of all, you'll be entered for the chance to win a trip to Hawaii, so if you're the lucky grand-prize winner you could soon be saying "Aloha" to all the (pineapple) haters!