This Traditional V-Day Candy is Back, But it Still Needs a Little Work
If you're a stickler for tradition, you may have noticed a slight gap in last year's typical Valentine candy selection. One crucial, brings-you-back-to-1st-grade-construction-paper-mailboxes candy was missing: Necco's Sweethearts. After the company was bought out by Spangler Candy Co., it was announced that they wouldn't have the time to get the candy out for V-Day 2019, but assured the world that they'd be back on the shelves for V-Day 2020.
And Spangler Candy Co. kept their promise–sort of. Sweethearts made it back to shelves, but CandyStore.com found an unfortunate quality control error: 65% of the treats were totally blank, and 32% of them were misprinted. That left a whopping 3% of unboxed hearts to be the conversation hearts we know and love (though to be fair, Spangler knew about the production issues and pressed on with getting as many hearts onto the shelves in time for the season of love as they could (and they're confident that next year, Sweethearts will be better than ever)).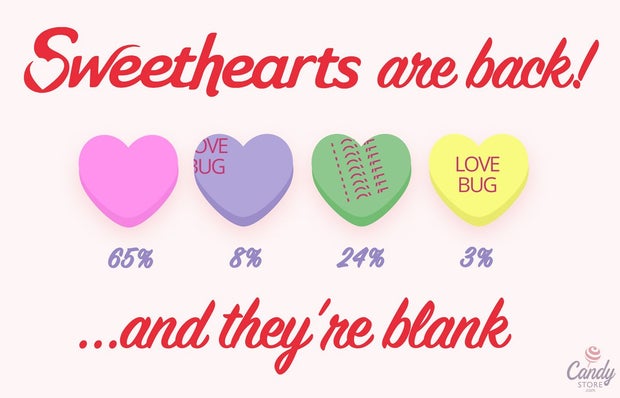 Courtesy of CandyStore.com
Courtesy of CandyStore.com
If you really missed out on these pure bites of sugar last year, don't be discouraged by this year's defects: may I suggest instead that you get yourself an edible marker and customize them yourself? Who wouldn't enjoy a nostalgic treat, upgraded with your own inside jokes, pet names or teases? I'd love to give my roommate a box of hearts labeled with our highest form of praise, "ur an idiot", tbh.
The Her Campus National Editors write about products we love and think you'll love too. Her Campus has affiliate partnerships, so we get a share of the revenue from your purchase. All products are in stock and all prices are accurate as of publication.