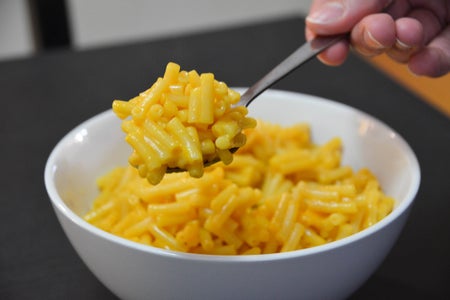 Velveeta Is Giving Out Free Boxes of Mac & Cheese to Anyone Named Shel, Chel, or Shell
To celebrate National Mac & Cheese Day, do you need to eat macaroni? Do you even need to eat real cheese? Velveeta says no. This year, the creamy cheese product — which is made of an undefined "liquid gold" rather than natural cheeses — wants you to celebrate the best day of the year with their Velveeta Shells & Cheese. 
What's a better way to commemorate National Mac & Cheese day than to eat America's favorite pasta? Eating free shells & cheese, of course. To promote shells instead of the traditional macaroni pasta shape, anyone who has "shell," "shel," or "chel" in their name can win a free box of Velveeta Shells & Cheese! 
On National Mac & Cheese Day us Shells gotta stick together. If your name or Twitter handle has some form of shell, shel or chel in it reply with #OneShellOfAPromo, there may be something cheesy in it for you. No Purchase Necessary 18+ US only. Rules: https://t.co/JfxSnaKnqv pic.twitter.com/tZGPES4qMa

— VELVEETA (@EatLiquidGold) July 14, 2020
All you need to do is reply to Velveeta's tweet by July 17 at 11:59 pm Central Standard Time using #ShellOfAPromo. Velveeta will be randomly selecting 100 spec-shell winners for a free box of liquid gold. To be eligible to win, you must be a resident of the United States and at least 18 — or 19 for those living in Alabama or Nebraska.  
However, for any Michelles, Rachels, Shellys, or Herschels interested, you have to act fast. This amazing promotion will end if Velveeta receive 1000 entries before the July 17 end date. For a mac & cheese lover like myself, I am s-hella jealous.