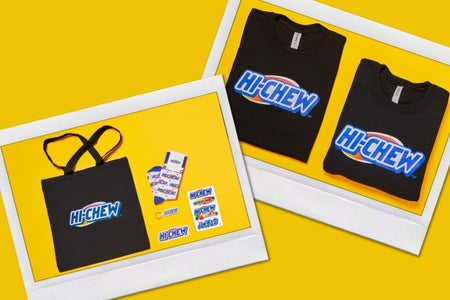 Calling all Candy Lovers: HI-CHEW Just Launched an Exclusive Merch Capsule
HI-CHEWs have long been a staple in the candy dish in our office – or at least they were, when offices were a thing – and I swear I could have lived off of Strawberry and Green Apple.
If you, too, are a HI-CHEW stan – or if you've got one on your shopping list – I've got excellent news for you. For a limited time, you can get your hands on a variety of HI-CHEW merch, perfect for sharing your love with the world, or for helping you show your love to the candy fan in your life. 
The limited-edition merch capsule couldn't have arrived at a better time for the holidays, and includes six fun options for every kind of fan: a sweatshirt ($40), a tee ($25), socks ($20), stickers ($2-$4), a keychain ($2.50) and a tote ($12)! The release also happens to coincide with the two-year anniversary of HI-CHEW's web store, where you can order all of your favorite flavors right to your door.
So don't mind me, I'm just off to order a tote to carry all of the candy that's waiting in my cart!