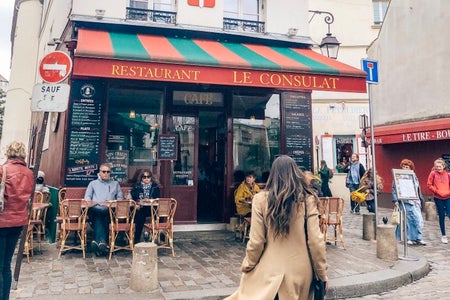 The 10 Cutest Parisian Cafes You Need to Add To Your French Bucket List
This article has been syndicated from Landry Has Landed, an InfluenceHer Collective Member. Read the full post here.
The quote above sums up why I love Paris. For me, it's not always just about what each city has to offer in terms of sightseeing or activities, but rather how much influence the unique culture and characteristics of that place can be captured and embodied by an individual visiting there. I think my favorite thing to do in Paris is sit in a cafe or bistro and embrace that experience firsthand. 
There's something about sitting in a street cafe, soaking in the Parisian culture, that makes my heart so happy. I could spend hours sitting outside a cafe in those quintessential Parisian rattan bistro table & chair sets, with a cappuccino or a glass of wine, watching the world pass me by. There is so much this beautiful city has to offer, but I felt the need to dedicate an entire post to a few of my favorite cafes that I feel cannot be missed when visiting the City of Lights.
1. La Maison Rose
The beautiful hilltop village of Montmartre is my favorite Parisian neighborhood in Paris, and the iconic La Maison Rose is a must when visiting this magical area (and possibly my favorite cafe due to its location and charming façade)! This insta-famous rose house has been serving coffee for over 100 years, and was a spot that Van Gogh and Picasso would visit while living here.
Before Montmartre became a part of Paris, it was a little village covered in farms, vineyards and windmills (some of which you can still find today.) During the late 1800's-early 1900's, it was a haven for artists such as Picasso, Van Gogh and Toulouse-Lautrec due to its more affordable costs of living and cheap wine. This is how the artistic community and cabaret culture (Moulin Rouge) in Montmartre began to form. Unfortunately, I've never been inside sense it is closed and under construction quite a lot, but I'm determined to get a cappuccino from there one day! The history behind this must-visit cafe is captivating, as well.
2. Le Consulat
This historic cafe in Montmartre is nestled on its own little island, and was also visiting by many acclaimed artists and writers that flocked in to the area in the 19th century (Picasso, Van Gogh, Toulouse-Lautrec, Sisley and Monet.) The inside showcases the quintessential, charming vintage Parisian cafe, plus an extensive wine and beverage menu. I haven't had the chance to eat here yet, but the French cuisine is said to be divine, so its definitely on my list next time! Isn't this the perfect spot to sit and people watch in the lovely, Montmartre?
3. Au Vieux Paris d'Arcole
I mean, can a storefront get any more beautiful than this? Wisteria adorn almost every corner of this magical cafe, and vibrant colors of aqua, purple and gold bring this charming cafe to life. The inside is something out of a fairy tale, embellished with so much history at every turn. You can even go upstairs and take a picture out of the balcony (like I shamelessly did, ha!) if you want to feel like a fairytale princess.
4. Shakespeare and Company Café
Shakespeare and Company has a new cafe attached to the legendary bookstore, that will give you all the feels! I love Shakespeare and Company so much, so I was super excited to see check out this new spot! As soon as you step into this historic bookstore, you will feel as though you have gone back in time to Paris in the 1920's! Shakespeare and Company, arguably one of the most famous independent bookstores in the world (and my personal favorite), was a gathering place in the 20's for several then-aspiring writers such as Ernest Hemingway, Ezra Pound, James Joyce and Ford Maddox Ford.✎ Every room and corner of this bookstore (and café) will captivate you with its enchanting nature. I didn't want to ever leave!
5. Odette
This charming cafe is right around the corner from Shakespeare and Company and has the cutest exterior!
6. Café Bohème Paris
If you know me, you know by these pictures that this boho-chic cafe speaks to my bohemian soul! The ambiance and eclectic decor in this cafe is captivating! As with all the cafes we visited, it was hard to leave! The cappuccino and croissants were amazing, as well.
7. Café de Flore
The iconic Café de Flore is a spot that is definitely not to be missed while visiting Paris! It is one of the oldest coffeehouses in Paris, celebrated for its famous clientele (both past and present). High profile writers and philosophers were known to dally in this corner cafe. The menu is a little more pricey here, but SO worth it. I had one of the best cappuccinos I've ever had here, and could have sat in that bistro table all day and watched the world pass me by.
8. Les Deux Magots
Iconic Brasserie opened in 1885 serving traditional French fare. I mean, just look how stunning it is!
9. La Galette Des Moulins
Another favorite charming Montmartre café! Situated right around the corner from the famous Place du Tertre, which is a square in the center of the neighborhood where you can find several artists displaying and selling their work.
10. Pierre Hermé
Pierre Hermé is a French pastry chef and chocolatier, known as the "Picasso of Pastry." Come here for the best macarons, as well as tarts, cakes, chocolates and ice cream.
I hope this list helps you when planning your next trip to the City of Lights!
Read the full post here.
Are you an aspiring influencer or blogger? Apply to join Her Campus's community of millennial and Gen Z influencers today!
Follow @InfluenceHerCollective on Instagram.