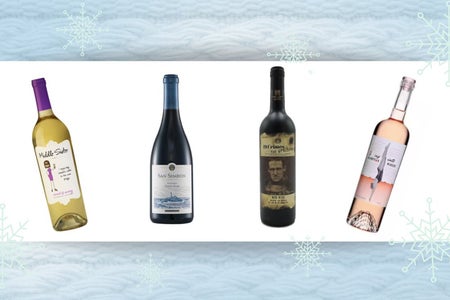 5 Wines All Your Friends Will Love As a Holiday Gift
Wine nights with your girlfriends are without a doubt the best evenings you'll have in college. Whether you're grabbing the $5 stuff from Trader Joe's or shopping online for something ~fancier~, and whether you're a white wine drinker or bitch for red, we can all agree that bevs are an integral part of the holiday season. Below is a list of all the wines the blew my mind this year that your BFF, your mom, your grandma – whatever – will totally appreciate finding in their stocking. There's something here for everyone – enjoy bbs! 
If you have a friend who loves to flash her boobs every time "Livin' on a Prayer" comes on post-midnight at the bar, get her this Rosé IMMEDIATELY. Though the song is subpar at best, this wine is fab. Inspired by Bon Jovi's summers in the Hamptons, Diving into Hampton Water Rosé is actually brilliant. The packaging has become a collector's item - instead of a traditional cork, the bottle is sealed with a millennial pink, reusable glass stopper. And the wine itself is amazing, with aromas of red fruit and citrus, it's the perfect endless summer wine to be shared at any time of the year.
If wines could be best friends, I think San Simeon would be mine. Hey San, wanna go out and get weird on a Monday? Wanna go to a fancy dinner at my mom's? Wanna binge Netflix alone with no pants on? The answer is always yes because this wine is versatile as fuck. It's just cheap enough to afford on a budget, but classy enough to admit that you actually drink it. (I'm looking at you, Barefoot lovers. You know who you are.) It's deep, aromatic and delicious. And you get in your daily serving of fruits. Not just grapes - but black cherries and raspberries too. Your childhood doc would be so proud.
Does this Rosé even need an introduction? Just buy it and make a bitch happy already. God.
If Hampton Water is the tits, 19 Crimes: The Uprising is definitely the balls. Aged in rum barrels with a dark brown sugar finish, this wine is deep, brooding and truly sinister AF. What's creepier is that each 19 Crimes wine tells the story of a criminal sentenced to exile during the Industrial Revolution. Download the app to hear the chilling tales, and share this wine with your true crime-obsessed bestie so you can both satisfy your morbid inner maniacs.  
As a middle and totally attention-starved sister myself, I obv need a wine that's all about me. If you're also doomed to be stuck in the middle, screw everyone else and snatch this smooth deliciousness up for yourself. Or gift it to your own middle sister or middle-cursed BFF and watch her drink it like the sweet little tarte she is.  
My mantra is that the holidays are better with bevs. So pour yourself a biiiiiig glass, cozy up with the fuzziest blanket, and watch a holiday movie while getting lit with the ones you love.