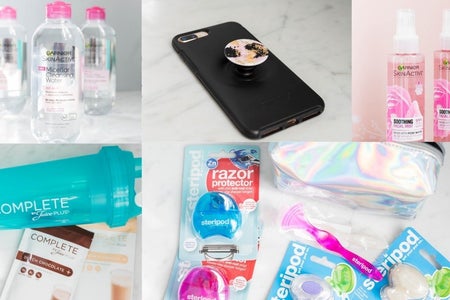 This Box Is Your Key to a Fresh Start This Semester - And We're Giving One Away
This is a sponsored feature. All opinions are 100% our own.
If last semester didn't go *exactly* as planned, let me be the first to tell you it's totally okay. Breathe! Things happen, and the upcoming fall semester is your chance for a fresh start. Your slate's been wiped clean, which is why we've partnered with OtterBox, Febreze® Air Purifiers, Steripod, Garnier, and JuicePlus+ to help you make it count with a giveaway from our InfluenceHER Collective. Enter HERE to win everything below!  
(1) OtterBox Symmetry Series case or Otter + Pop Symmetry Series Case 
(1) Febreze® OdorGrab™ Air Cleaner + linen & sky ™ scent cartridge  
(1) Steripod Kit for Women (includes 4 Steripod Clip-On Toothbrush Protectors, 2 Steripod Razor Protectors, and 2 Steripod Tongue Cleaners) 
(3) Garnier All-in-1 Micellar Cleansing Water 
(2) Garnier Soothing Facial Mist with Rose Water  
(1) Complete by Juice Plus+ shake mixes and blender bottle 
Enter for your fresh start right here, right now!